Gaza: Shell Kills 16 People at UN School; Secretary General Ban Ki-Moon Criticizes Both Sides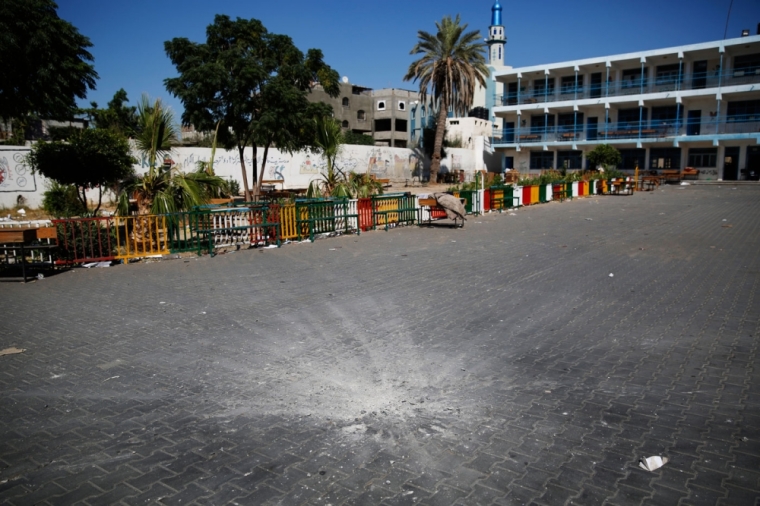 U.N. Secretary-General Ban Ki-moon has criticized both Israel and Hamas and urged them to stop the fighting after a shell destroyed a U.N. school on Thursday in Gaza, killing 16 people and injuring over 200.
"This is wrong," Ban said, according to CNN.
"I am telling to the parties – both Israelis and Hamas, Palestinians, that it is morally wrong to kill your own people. Whole world has been watching, is watching with great concern. You must stop fighting. And enter into dialogue."
The violent conflict and exchange of airstrikes between Israel and Hamas has raged on for over two weeks now, with Israel launching a ground invasion into Gaza a week ago.
While Israeli military spokesman Lt. Col. Peter Lerner has said that it is possible that the shell that struck the U.N. school was from an Israeli tank, he also said that it could have been a rocket fired from Hamas toward Israel that fell short and exploded.
"From initial inquiries done about the incident, during the intense fighting in the area, militants opened fire at ... soldiers from the school area," a military statement said. "In order to eliminate the threat posed to their lives, they responded with fire toward the origins of the shooting."
Most of those killed at the school, which is being used as a shelter, were reportedly women and children, though exact numbers were not yet released.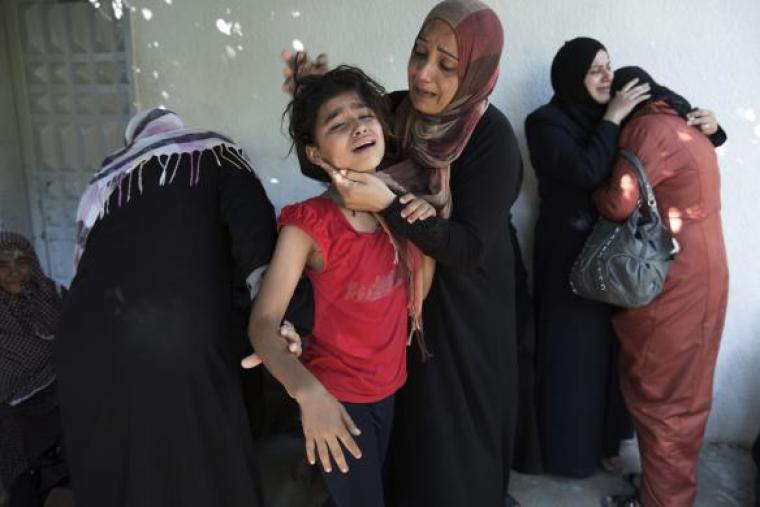 CNN said that it visited the school hours after the attack, and crew found a one-inch deep hole in the concrete in the courtyard where people were killed and injured. Shrapnel appeared to have struck people within a 30-meter radius.
Ban added that he "condemned Hamas rocket fire and called on Israel to exercise particular care to avoid any attack on United Nations premises where civilians have taken refuge," Reuters reported.
Rockets were found at a vacant U.N. school in Gaza for a second time earlier this week, and Ban warned that "those responsible are turning schools into potential military targets, and endangering the lives of innocent children."
Close to 750 people have been killed in the conflict in Gaza so far, and more than 140,000 Palestinians have fled.
Hamas has repeatedly rejected truce deals, the latest one proposed by U.S. Secretary of State John Kerry, insisting that there will be no cease-fire until a lifting of the Gaza blockade.
Israel has said that it is targeting terror tunnels and rockets being launched from Gaza into its territory, and has blamed the loss of civilian life on the militant group.
"Hamas uses schools, residential buildings, mosques and hospitals to fire rockets at Israeli civilians," Israeli Prime Minister Benjamin Netanyahu has said.
"Hamas uses innocent civilians as a human shield for terrorist activity."
U.S. State Department spokeswoman Jen Psaki added that the U.S. is "deeply saddened and concerned about the tragic incident" and "the rising civilian death toll in Gaza."
"This also underscores the need to end the violence and to achieve a sustainable ceasefire and enduring resolution to the crisis in Gaza as soon as possible," Psaki said.