Hamas Rejects Latest Cease-Fire Proposal From John Kerry, Insists Truce Depends on Lifting of Gaza Blockade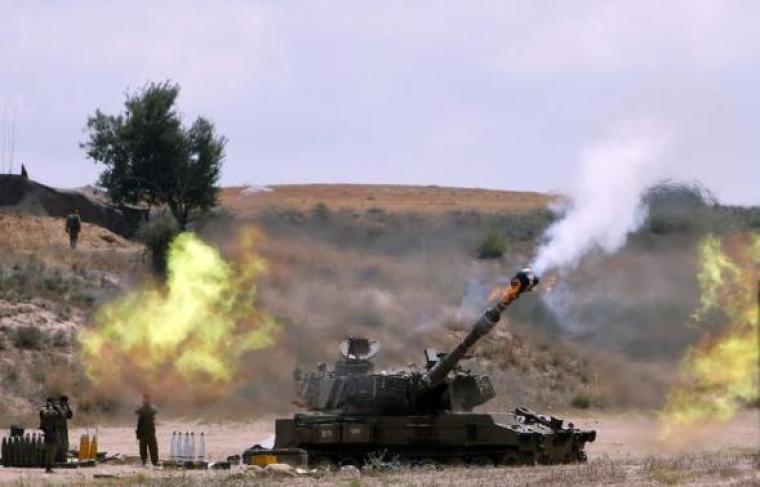 Militant group Hamas has rejected the latest cease-fire proposal with Israel pushed by U.S. Secretary of State John Kerry, and insisted that the only way for truce to be achieved is if the Israeli-Egyptian blockade on Gaza is lifted.
"When it comes to the balance of power in this crisis between us and Israel, they are the executioners, the aggressors, the occupiers, the settlers, and we are the true owners of the land," Hamas leader Khaled Mashaal said on Wednesday, Fox News reported. "We will not accept anything but the end of the siege."
Over two weeks of intense fighting, including the launching of a ground invasion by Israel, has left over 650 Palestinians dead, with thousands more injured. Israel has said that is targeting terror tunnels and sites in Gaza, and is retaliating against continuous rockets being launched from Hamas into its territory.
While Israel and Hamas are blaming each other for the conflict, Israeli Prime Minister Benjamin Netanyahu has claimed that "Hamas uses schools, residential buildings, mosques and hospitals to fire rockets at Israeli civilians," The New York Times reported.
"Hamas uses innocent civilians as a human shield for terrorist activity."
Dr. Munir S. Kakish, Chairman Council of Local Evangelical Churches in the Holy Land, told The Christian Post earlier this week about the blockades in question:
"They (Hamas) want a meaningful ceasefire to end the seven years of blockade and travel restrictions that make Gaza one large prison. They want a deal to make life livable," Kakish asserted. "The West did not address the problems in the Gaza strip. The blockade, travel restrictions, economic disaster, lack of any healthcare have all created a condition where life is not acceptable."
At the same time, he added, Israel "wants to make sure her southern borders are safe with no more rockets being thrown at them."
Kerry flew to Egypt earlier this week and worked on a truce proposal, speaking with the foreign ministers of Qatar and Turkey, a US official said.
Hamas has repeatedly called for the blockade to be lifted, and last week rejected another cease-fire proposal from Egypt, claiming that its terms had not been met.
The Wall Street Journal noted that any lifting of the blockade will likely be resisted by Israel, which is concerned about the trade of weapons bound for Hamas.
Meanwhile, Reuters reported on Wednesday that Hamas fighters are using tunnels, mines, booby traps and snipers on Israeli soldiers, applying years of training in urban warfare with a "new tactical acumen and suicidal resolve." At least 32 Israeli soldiers have been killed so far, which is almost three times as many as in the last major ground clashes in the 2008-2009 conflict.
"The al-Qassam brigades continue to give repeated surprises, and every day the holy warriors arise from where the (Israeli) occupation could not foresee," Hamas said in a statement last week.
"They fight... face to face with the enemy in retaliation for the blood of the martyrs that the occupier spills daily."
The United Nations has continued calling on a cease-fire between the two sides, with U.N. chief Ban Ki-moon also flying to Egypt and Israel earlier this week to assist in creating a possible truce deal.