Jerusalem Catholic Patriarch: Israel Must Recognize Palestinian State, Warns 'Useless Massacre' in Gaza Will Not Bring Peace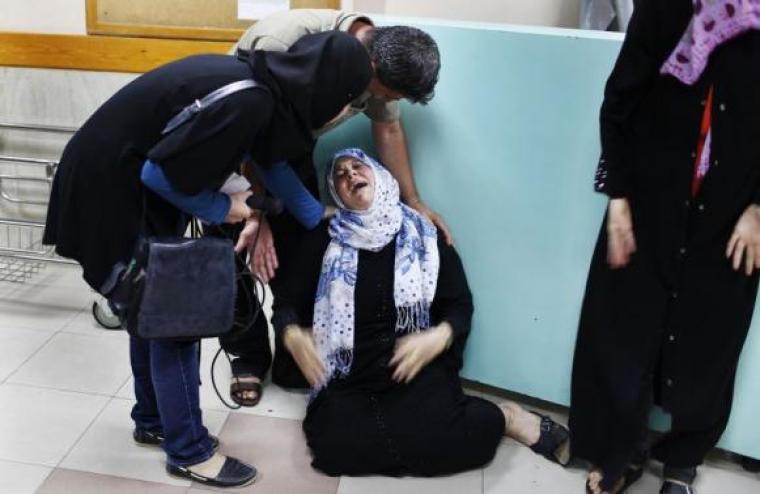 The Patriarch Emeritus of the Latin Catholic Church in Jerusalem has said that the violent conflict between Israel and militant group Hamas in Gaza is a "useless massacre" that will not bring peace, and insisted that Israel must recognize the sovereignty of the Palestinian territory if the cycle of violence is ever to end.
"What is happening in Gaza is not a war, but rather a massacre," Michel Sabbah, Patriarch Emeritus of Jerusalem of the Latins, told Fides News Agency on Tuesday. "A useless massacre, which will not advance even one step Israel towards peace and security. On the contrary, with all these human sacrifices, the hearts of Israelis and Palestinians are full of new hatred."
He added: "The only way out of the spiral of violence and destruction is to address the underlying issue, which is the Israeli occupation of Palestinian territories. There will be peace and security only when Israel will recognize the freedom and sovereignty of the Palestinian state."
Israel and Hamas have been locked for over two-weeks in an intense exchange of airstrikes, with Israel's military launching a ground operation into Gaza late last week. As many as 580 Palestinians are said to have been killed so far, including women and children, while 27 Israeli soldiers have lost their lives.
Protests against Israel's military actions have been held in major cities around the world, but Israel has stated that it is targeting terror tunnels and other targets that they say pose a direct threat to its people. It has also blamed Hamas for the civilian casualties, saying that the militants are using people as human shields.
"We're sad for every civilian casualty. They're not intended. This is the difference between us. The Hamas deliberately targets civilians and deliberately hides behind civilians. They embed their rocketeers, their rocket caches, their - their other weaponry from where - which they fire - which they use to fire on us in civilian areas," Israeli Prime Minister Benjamin Netanyahu said on Sunday.
Sabbah, who served as Patriarch between 1987 and 2008, argued that the only way to achieve peace is through peaceful means.
"For sixty years we have seen that wars, weapons, massacres are unable to secure any kind of peace," he noted.
He also criticized Israeli leadership, claiming that it believes "only in military force," and suggested that a new generation of leaders will have to arrive before peace can be achieved.
Other Christian leaders in Jerusalem have warned against playing a "blame game" over the crisis, and suggested that both sides will have to agree on compromises if the war is to end.
"As long as Palestinians want all of the 1967 borders, there will be no peace," Dr. Munir S. Kakish, Chairman Council of Local Evangelical Churches in the Holy Land, told The Christian Post in an email interview on Monday, referring to the Six Day War of 1967 when Israel captured the Gaza strip and the West Bank.
"As long as Israel feels Judea and Samaria is their homeland without respect to the inhabitants that have lived there for thousands of years, there will be no peace," he said.
Pastor Charles Kopp, Chairman of Evangelical Alliance – Israel, added:
"Let us avoid entering the trap of the blame game, but rather, admitting that we are ALL sinners saved by grace and without Him we are destined to return to this same table of accusatory negotiations."
He continued: "We need to come out of this latest round of death and destruction and agree to place this quagmire of despair behind us and transcend these latest attempts to assassinate what is left of our brotherhood in Christ by loving one another more fervently. Then, and only then, will we be able to demonstrate a difference that the world would envy."
Roman Catholic Church leader Pope Francis has continuously been praying for an end to the violence in the Middle East.
Archbishop Giuseppe Lazzarotto, the Holy See's Nuncio to Israel and Apostolic Delegate in Jerusalem and Palestine, said in a recent interview with Vatican Radio that the situation in Gaza is becoming "truly tragic."
"There is a loss of human life that is not acceptable; we must put an end to violence because this creates other conflict situations. They open new wounds that continue to produce even more death," Lazzarotto said.
"It is urgent that those responsible understand that there is no other path than that of dialogue and negotiation; stakeholders must be helped and should be brought to the negotiating table."