Glenn Beck Accuses Evangelical Christians Supporting Trump of 'Not Listening to Their God'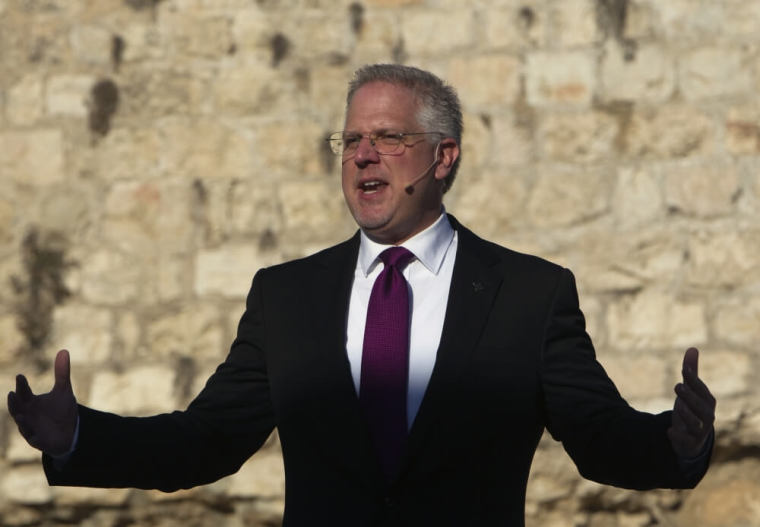 At a campaign rally for Sen. Ted Cruz in Utah Saturday, popular radio host Glenn Beck accused evangelical Christians who are supporting Republican frontrunner Donald Trump of "not listening to their God."
"Utah has an incredible opportunity. So many Christians have been standing up. But all throughout the South the evangelicals are not listening to their God. Let us raise a standard in Utah," Beck said in support of Trump's Republican rival.
Addressing Mormon voters directly, Beck then asked: "Where the hell are the priesthood holders? Where are you? Thank you. It's time to stand up. It's time to stand up. You know what time it is. The priesthood is supposed to rise up and restore the Constitution. Now is that time. Period."
Cruz went on to win the Utah caucuses Tuesday, capturing 69.2 percent of the vote and taking all 40 delegates, though he still trails Trump in the delegates race.
Beck has strongly criticized Trump's portrayal of himself as a Christian, suggesting back in February that even the idea that Trump reads the Bible is a "crock of [expletive]."
Beck said at a South Carolina Cruz rally that "too many people are looking at Trump and believing that man has ever opened a Bible … that's the biggest crock of [expletive] I've ever heard."
Trump has insisted that he is a Presbyterian and has a "great relationship" with God. He's also claimed that "nobody reads the Bible more than me."
Polls have showed that there is an important distinction to be made in regard to what type of evangelicals are voting in the elections, however.
A Pew Research analysis found that 39 percent of self-identified evangelical voters in the Republican Party do not believe that the Bible is the literal Word of God, while a separate Wall Street Journal poll showed that only 38 percent of Trump supporters attended worship on a weekly or more basis.
Anthony B. Bradley, chairman of the program in religious and theological studies, who also serves as associate professor of religious studies at King's College in New York City, told The Christian Post during an interview last month that evangelicalism is not among the top concerns of evangelicals going to the polls.
"Trump evangelicals are evangelicals who have been on the margins. They are not mainstream evangelicals who are burdened by the sort of traditional concerns of the Church. Trump evangelicals are angry. They are mad at the Obama administration. They believe that the Obama administration has ruined the country," Bradley told CP.
Dr. Richard Land, president of the Southern Evangelical Seminary and executive editor of The Christian Post, questioned the self-identified evangelical supports of Trump, and said that true evangelicals vote for their values.
"I vote my values, my beliefs and my convictions, I'm not pragmatic. Which means I don't compromise my values, beliefs and convictions for what I may perceive to be my own narrow self-interests. I don't see pragmatic in the New Testament, I see being salt and light," said Land.