'Hands Off Our Kids,' Protesters Say to Judge in Transgender Custody Case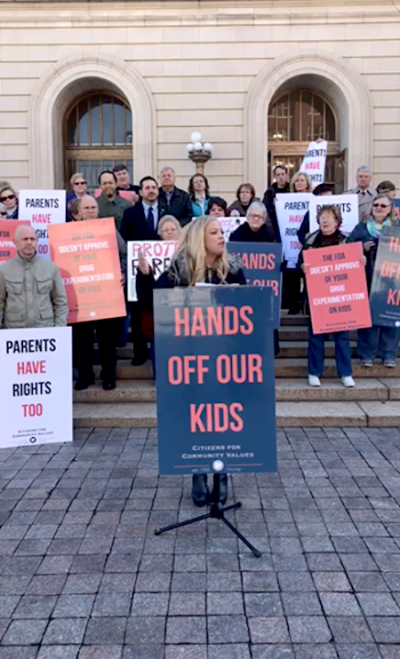 A backlash is ensuing over an Ohio court decision which removed a 17-year-old child from her parents' custody so she could begin a gender transition process her parents opposed. 
Demonstrators assembled outside the Hamilton County Courthouse Monday to speak out against Judge Sylvia Hendon's Feb. 16 move to grant custody to the grandparents of an unnamed teenage girl who was diagnosed with gender dysphoria and desired to begin taking testosterone and other transgender treatments against the wishes of her parents.
Aaron Baer, executive director of conservative group Citizens for Community Values, said an ethics complaint would be filed Monday, according to Cincinnati.com.
"We're demanding they research this," Baer said, referring to the medical practices associated with gender transition.
"Stop experimenting on our children and start caring for them the way Cincinnati Children's Hospital was designed to."
He and others believe that the transgender clinic at the hospital is deeming every child they see as a candidate for hormone treatment and are asking the state medical board to investigate the clinic's director.
The lawyer representing the teenager in this case, however, has said that denying the 17-year-old the ability to go forward with the hormone therapy makes suicide more likely. And a spokesman from the Cincinnati Children's Hospital has defended the institution, saying that their practices are in line with professional guidelines for transgender health.
Christian activist Elizabeth Johnston, who is both an Ohioan and is known as the Activist Mommy — she has over 500,000 followers on Facebook — also spoke at the rally, blasting the judge's decision and calling "Mama bears" everywhere to fight.
"Our kids are ours, not yours ... Our kids don't belong to lawyers who get paid to prosecute cases in which our kids are stolen from us. Our kids sure as heck don't belong to doctors and transgender clinics who profit from drugging and mutilating gender-confused children who need love and therapy, not surgery," she said.
"Parents have rights, and trampling our parental rights is unlawful. This case is the first [of its] kind, to our knowledge, in America, in which the slippery slope has begun of parents having no authority to lovingly direct their children in what we believe is best for them," Johnston said.
"Homeschooling parents, Christian parents, free-thinking parents, you're not safe anymore in America. The courts aren't keeping you safe, the schools aren't keeping you safe, the medical institutions aren't keeping you safe, and being an American is no longer keeping you safe from the tyranny of transgender activists, [the Department of] Job and Family services, and rogue judges who think they know better than you do for your child."
She noted that children are not legally permitted to buy cigarettes or alcohol because of the health risks but that transgender activists and their "doctor puppets" do not hesitate to prescribe untested and non-FDA approved drugs to kids.
"What in Sam Hill are we doing, people? This is war," she said, visibly outraged, to considerable applause.
Andrew Walker, director of policy studies at the Ethics & Religious Liberty Commission, wrote Monday in The Public Discourse that this Ohio case sets a disturbing precedent.
"This particular case involves a child who is almost a legal adult. But, given that children with gender dysphoria can be administered cross-sex hormones when they are as young as twelve, it is only a matter of time before cases arise in which younger children wish to use puberty suppressants or hormone therapy against the wishes of their parents. In a contest between politicized medicine and parental rights, who wins?
"As one would expect, the media framed the story entirely in defense of the child's right to transition, giving no serious consideration to the question of whether it is reasonable, wise, or even safe to leave an enormous and irreversible decision such as gender transition in the hands of an adolescent and legal minor."
He added that the case "ought to send a chill down the spine of every citizen, religious or not, who has questions or concerns about the rapid acceptance of transgender dogma throughout America" and reveals not only how vulnerable parental rights now are but also how willing the state is to intervene.
Ohio state Rep. Tom Brinkman, a Republican from Mount Lookout, also asserted Monday that parental rights are under assault and said he will be introducing legislation "to make sure this never happens again."
"This is big business for somebody," he explained.
"Their concern is whether they can make more money — not whether it's in the child's interest."
Environmental activist and radical feminist Jennifer Bilek documented in The Federalist last week how much of the money funding the promotion and institutionalization of transgenderism is coming from very wealthy LGBT individuals, mostly white men, and left-wing foundations. Once people are put on puberty blockers and cross-sex hormones they become medical patients for life, creating a steady income stream for pharmaceutical companies, she explained.
"The massive medical and technological infrastructure expansion for a tiny (but growing) fraction of the population with gender dysphoria, along with the money being funneled to this project by those heavily invested in the medical and technology industries, seems to make sense only in the context of expanding markets for changing the human body," she said.