Heartwarming: Viral Video of Texas Police Officer Playing Game of Catch With Lonely Boy Shatters Antagonistic Police Stereotype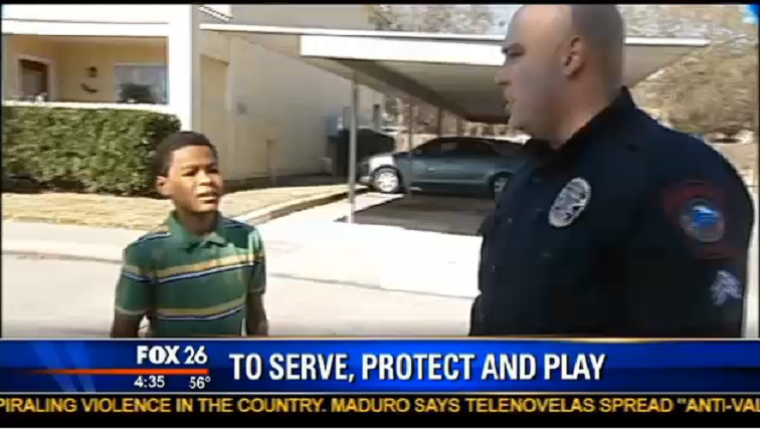 A viral video showing a Texas police officer playing a game of catch with a lonely 10-year-old boy is drawing praise across America for its surprising departure from the antagonistic relationship that often appears to exist between officers and the communities they serve.
The dashcam video of the encounter shows Rosenberg Police Department Sgt. Ariel Soltura noticing Jermaine Ford playing with a football alone. Soltura, who was on patrol at the time, decided to stop his vehicle and engage the boy in a game of catch.
On Saturday, the Rosenberg Police Department posted the dashcam video of the encounter on its Facebook page with the note: "While a 2 minute game of football might not mean anything, to some it could mean everything!"
The public responded to the video by heaping praise on Soltura's gesture and sharing it more than 7,000 times as of Tuesday evening.
"This just melts my heart. My son always says he has no one to play football with. So to imagine this kid feeling the same way and along came a police officer just had to brighten his day. It's the littlest things in life that make the biggest impact! God bless this police officer," said Amy Granger Carter.
"See, honestly, THIS right HERE, is what community policing is ALL about! If cops were in the community, being PART of the community, the community would be more apt to assist when it's needed and wouldn't be so much against the police. I'm not old enough to remember when police officers WALKED their beat and knew their neighbors and even LIVED in the same neighborhood they patrolled," noted Allen L. Coates Jr.
"I commend this officer for being PART of the community. Who knows, this kid he simply played ball with may have the opportunity to go right or left, but just from this experience he had with this officer he will chose the CORRECT life path! We need to see more of this!" he added.
Houston weather, traffic, news | FOX 26 | MyFoxHouston
In an interview with FOX 26, Soltura agreed with Coates' analysis of the video.
"The message is something that was created years ago. Is that we cannot simply police the community. We have to police with the community," noted Soltura. "That's why our department is different in, in that we went to a drawing board and we tore down all the walls that separated law enforcement and the community in general," he added.