House Majority Whip Steve Scalise Remains 'Critical' After Shooting That Left Him in 'Shock'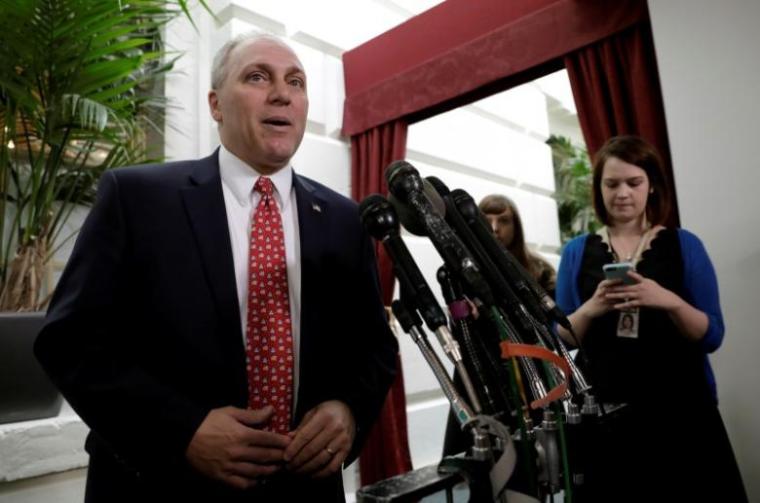 House Majority Whip Steve Scalise, 51, was listed as "critical" Wednesday night after being shot along with several other victims at a Congressional baseball practice in Alexandria, Virginia, Wednesday morning.
A statement from the MedStar Washington Hospital Center where Scalise is being treated said the conservative Republican arrived at the facility in "shock" after suffering injury to his internal organs from the shooting.
"Congressman Steve Scalise sustained a single rifle shot to the left hip. The bullet travelled across his pelvis, fracturing bones, injuring internal organs, and causing severe bleeding. He was transported in shock to MedStar Washington Hospital Center, a Level I Trauma Center," the statement released just after 8 p.m. Wednesday said.
"He underwent immediate surgery, and an additional procedure to stop bleeding. He has received multiple units of blood transfusion. His condition is critical, and he will require additional operations. We will provide periodic updates," it further stated.
A "critical" diagnosis means the "patient has unstable vitals that are not normal, and could be unconscious. Indicators for recovery are unfavorable," according to the Association of Health Care Journalists.
Rep. Mo Brooks, R-Ala., who was at the baseball practice when the shooting happened, told CNN that after Scalise was shot he was "dragging his body" to escape, leaving behind a trail of blood.
President Donald Trump made a surprise visit to MedStar Washington Hospital Center about sunset Wednesday, CNN reported. A senior administration official told the network that the mood inside the hospital was somber during Trump's visit, which happened hours after the shot congressman had completed surgery still in critical condition.
The statement from the hospital comes after President Trump, in an address from the White House, called Scalise a "fighter" and promised him the prayers of the nation and "frankly the entire world."
"Congressman Scalise is a friend, and a very good friend," Trump said. "He's a patriot. And he's a fighter. He will recover from this assault — and Steve, I want you to know that you have the prayers not only of the entire city behind you, but of an entire nation, and frankly the entire world. America is praying for you and America is praying for all of the victims of this terrible shooting."
At least six people, including Scalise, were hospitalized after alleged shooter James Hodgkinson, 66, of Belleville, Illinois, opened fire at the Congressional baseball practice and engaged in a shootout with law enforcement officials. Hodgkinson was injured and later died from his injuries.
Others injured include two members of the Capitol Police, Crystal Griner and David Bailey, according to House Speaker Paul Ryan.
Chief Matthew R. Verderosa of the United States Capitol Police said in a statement that the injured agents were doing well.
Kentucky Sen. Rand Paul told CNN had the police not been present "it would have been a massacre."
"Nobody would have survived without the Capitol Hill police," Paul said. "It would have been a massacre without them."