Hurricane Florence Tracker: Projected Path Map; Relief Groups Prepare for Catastrophic, $170B Storm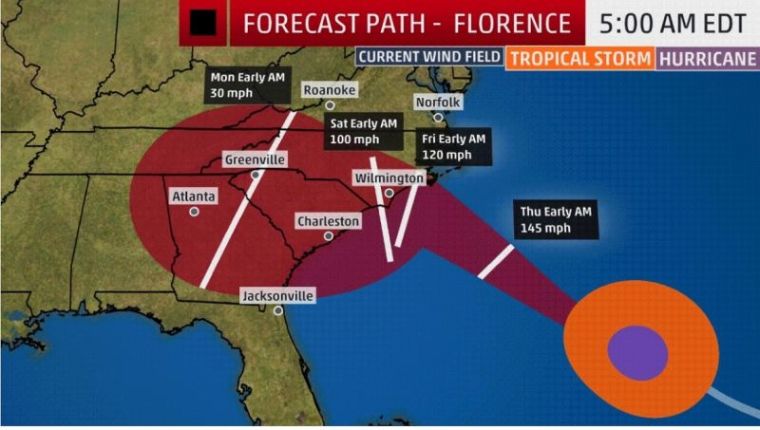 As Hurricane Florence continues advancing toward the U.S. East Coast, several Christian relief groups are prepping to help in the potentially catastrophic aftermath.
"All of our volunteers are on alert, and all of our equipment is being checked to make sure that everything is operational and road-worthy," said Richard Brunson, executive director of North Carolina Baptists on Mission, which handles disaster relief for the Baptist State Convention of North Carolina.
"We haven't had a Category 4 hit North Carolina since Hurricane Hazel, 50 years ago," Brunson added. "It just depends where it comes in, but it's a very powerful hurricane that could be devastating, catastrophic. Those are the words they're using to describe Hurricane Florence."
Florence, which is a Category 4 hurricane, is threatening North and South Carolina, as well as Virginia, where millions have been told to evacuate.
The National Hurricane Center said on Wednesday morning that the storm is expected to make landfall on Thursday, underlining that it will bring life-threatening storm surge and rainfall.
"A Storm Surge Warning means there is a danger of life-threatening inundation, from rising water moving inland from the coastline, during the next 36 hours in the indicated locations," the center explained.
"This is a life-threatening situation. Persons located within these areas should take all necessary actions to protect life and property from rising water and the potential for other dangerous conditions. Promptly follow evacuation and other instructions from local officials," it advised.
The peak impact of the hurricane is presently expected to hit the southeastern U.S. coast late Thursday and into Friday, but could extend into the weekend as well.
Real estate data provider CoreLogic separately warned that besides the threat to life, Florence could cost more than $170 billion in damage, with close to 759,000 homes in its path.
It explained that hurricane-driven storms have the potential to cause so much property damage due to the high winds and low pressure that cause water to amass inside the storm, which creates a powerful rush over land when it moves onshore.
Samaritan's Purse North American Ministries meanwhile called for prayers as it announced it is ready to respond "in Jesus' name."
"If Florence makes landfall in the Carolinas or Virginia as a Category 4 storm, it would be the strongest storm to blast the region since Hurricane Hugo in 1989," warned the relief group, which is headed by evangelist Franklin Graham.
"Please pray as this terrible storm bears down on the eastern seaboard. Pray for safety for residents and for our preparations to respond," it added.
The group revealed that it has prepared tractor trailers filled with tools and supplies, and is ready for a possible deployment. It said that teams of volunteers will be mobilized to help with the cleanup, while chaplains from the Billy Graham Rapid Respond Team are prepared to offer emotional and spiritual support to those in need.
Brunson of NAMB said that the hurricane represents an opportunity for believers to feed, shelter, and assist in repairs when the storm hits.
"God has given us some quality resources with our volunteers and our equipment. We want to glorify God with all that we have," Brunson stated.
"We also have great partners in other states and if the storm comes in as big as they say it will, those partners through the nationwide Southern Baptist network will come to help. That's a real assurance."
Ronnie Floyd, pastor of Cross Church in Northwest Arkansas, and president of the National Day of Prayer Task Force, added in a statement:
"As many of our fellow Americans brace themselves for the coming of Hurricane Florence, I want to urge Christians and churches to pray for the protection of life in the next several days. If there's even the remotest possibility, let us ask God for a miracle — for this storm to pass without causing the catastrophic damage that's been forecasted."
Floyd continued: "But whatever the outcome, let us pray in confidence for the families who're seeking shelter during the storm and for the first responders who will be away from their own families, ready to help anyone in need."