Hurricane Florence Tracker: Projected Path Map; 'Destructive Strike' Likely as 1M Told to Evacuate
Hurricane Florence Tracker: Projected Path Map; 'Destructive Strike' Likely as 1M Told to Evacuate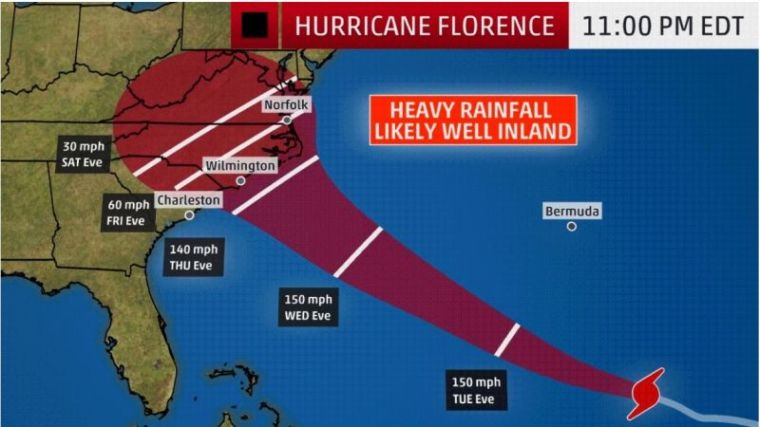 Hurricane Florence is preparing a "destructive strike" on the U.S. East Coast as it moves toward the mainland, with over 1 million people told to evacuate.
The Weather Channel warned on Tuesday morning that the Category 4 hurricane is set to bring a life-threatening storm surge, destructive winds and massive inland rainfall flooding, with a strike likely for Thursday.
On Monday night, Florence was moving west-northwestward and was located 1,000 miles east-southeast of Cape Fear, North Carolina. At greatest risk of major impact are regions from the Carolinas to Virginia, with areas further south, such as Georgia, also urged to monitor the situation.
More than 1 million people around coastal North Carolina, South Carolina and Virginia have been ordered to evacuate, CNN added, with National Guard soldiers mobilized to help.
"This is a real hurricane we have coming," said South Carolina Gov. Henry McMaster. "We don't want to risk one South Carolina life."
McMaster added that government offices, schools and medical facilities will be closed in 26 counties this week.
Virginia Gov. Ralph Northam echoed the threat: "Everyone in Virginia needs to prepare. This is a serious storm and it's going to affect the entire state of Virginia."
The Weather Channel warned that it's too early to pinpoint the exact locations that will be hit hardest by the storm surge, wind and rainfall flooding, but said that all evacuation orders should be followed, as significant beach erosion is likely.
"Numerous downed trees and long-lasting power outages could occur near and inland from where the center of Florence strikes," it added.
"This threat of tree damage and power outages may also extend across Florence's larger swath of tropical-storm-force winds. Structural damage to homes and buildings is possible, particularly where the core of any hurricane-force winds moves through."
President Donald Trump tweeted several times about Hurricane Florence, writing on Monday that his administration has been briefed on the incoming storm, calling it "very dangerous."
"Heed the directions of your State and Local Officials - and know that WE are here for you. Be SAFE," Trump urged, adding that Florence is shaping up to be "one of the worst storms to hit the East Coast in many years."
Christian charities, such as World Vision, which helps children in need around the world, urged people to pray for all those in the path of the hurricane.
"Join us in prayer for communities threatened by #HurricaneFlorence: Lord, please calm the waters and protect everyone in #Florence's path this week. Be with our staff as we monitor the storm. Amen," the charity tweeted on Monday.
Major Christian institutions, such as Virginia's Liberty University, also tweeted warnings.
"Liberty University is actively monitoring weather conditions in light of #HurricaneFlorence. Students and employees are encouraged to monitor local news for forecasted changes in the weather and Liberty's official social media for any university-related updates," the university's account wrote.