Samaritan's Purse to Rebuild 55 Churches and 390 Homes in Hurricane-Damaged Puerto Rico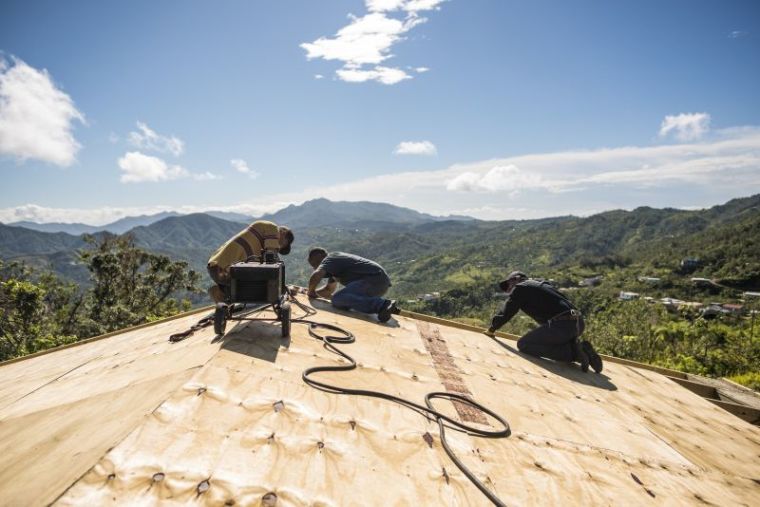 Franklin Graham's evangelical humanitarian organization, Samaritan's Purse, has launched a multi-year recovery plan to rebuild 390 homes and 55 churches in central and southern Puerto Rico that were severely damaged by Hurricane Maria that struck its shores last September.
As the United States territory continues to slowly recover from the Category 5 storm, Samaritan's Purse is on the ground providing support to communities that have remained in need even nine months after the hurricane completely destroyed the island's power grid.
One of the 55 churches that Samaritan's Purse is helping to restore is the 45-member Iglesia Cristiana Carismática Monte De Sión in Adjuntas. Because of the storm, the church's roof was destroyed.
Over a foot of water flooded the 40-feet-by-38-feet church building, Pastor Roberto Vega Santiago told The Christian Post in an interview via a translator. Santiago was bunkered down inside the church with his family when he heard and explosion and saw that part of the roof was missing. 
"They helped us with the roof. They helped us with getting windows. They helped with plumbing, wiring, cement, rebar. Samaritan's purse has given [us] everything," Santiago said over the phone from his tire shop. "Without Samaritan's purse, [we] could not have done it."
Santiago explained that it would have likely taken his church as long as three years to completely rebuild had Samaritan's Purse not come to help.
The church initially tried to rebuild by itself and applied for loans from a few different institutions, including a government entity and a private bank, but were turned down and stuck with no way to repair the building.
"Samaritan's Purse is what God provided to get the church rebuilt," Santiago stated.
Tom Ovington, Samaritan's Purse Ministry Program Manager for Puerto Rico, told CP that he first went down to assess the damage facing churches on the island in January.
"I came upon his church and met him and I did an assessment of his church in January and then we returned later in February," Ovington said of Santiago. "We found him and went back to the church and Samaritan's Purse started the process in early March of securing supplies for his reconstruction and finding labor contract people to do that work."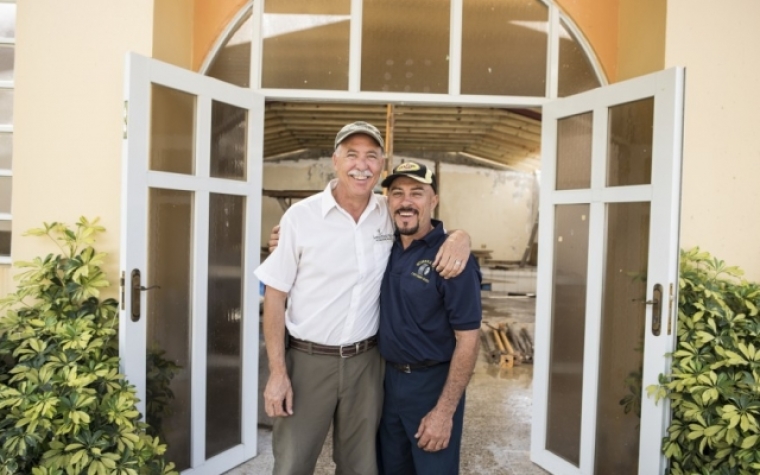 Ovington explained that he found damaged churches and homes spread throughout the country.
"Part of the situation is that if you had a house that was made out of concrete and well made with a concrete roof, your house probably survived the storm," Ovington said. "A house that has sheeting on it for a roof would have, particularly if it is older construction, those houses were severely impacted. The people that we help are in houses of that type."
Samaritan's Purse is also looking for ways to provide for the pastors who are bogged down by the stress caused by the situation.
"A lot of them have had congregants leave to move to the United States," Ovington said. "Other congregants have suffered so much damage that their contributions to the Church have had to diminish because they are fixing their own homes. It is a real stress on the pastors."
In addition to the construction of the homes and churches, Samaritan's Purse also plans to launch a solar energy project that will help 100 homes in the town of Yabucoa. Although much of the island's power has been restored, residents of Yabucoa are still affected by intermittent power outages as their town was one of the hardest hit parts of the island.
The project marks the first time that Samaritan's Purse has done this type of solar project, which will begin this summer. The aim is to be able to provide enough electricity to power a small home and a refrigerator.
"It's important for people in Puerto Rico to know they are not forgotten, and that God loves them," Samaritan's Purse President Franklin Graham, the son of the late evangelist Billy Graham, said in a statement. "We have been on the ground in Puerto Rico since the day Hurricane Maria hit, and we will continue to help them rebuild their lives."
Since Hurricane Maria hit last year, Samaritan's Purse has provided over 1,900 generator kits, 6,000 solar lamps, 1,400,000 water purification tablets, 1,500 bibles and 34,000 grocery boxes through its partnership with the Federal Emergency Management Agency. Additionally, over 3,100 people have been served by the charity's mobile medical clinics.
Last month, a Harvard University study estimated that 4,645 deaths can be linked to Hurricane Maria, a number that far exceeds official data that tallies only 64 deaths caused by the storm.
The study, published by the New England Journal of Medicine, suggests that disruption in health care for the elderly and loss of utility services for the chronically ill had a devastating impact as many Puerto Ricans were left without power and some communities were cut off because of road closures.
Samaritan's Purse is also active in other areas of the Caribbean as Hurricanes Maria, Irma and Jose all impacted the region last year.
The organization first deployed disaster response teams to a number of Caribbean islands in the direct aftermath of the storms last year to provide medical help and distribute food, hygiene supplies, solar lights and emergency shelter material. The organization has also worked to provide sources of clean water to as many as 16 communities throughout the Caribbean.
Samaritan's Purse's DC-8 cargo jet made a total of 44 round trips from North Carolina to the Caribbean and airlifted over 1,000 tons of emergency relief supplies, a press release explains. The organization is also shipping additional supplies on barges.
In Barbuda, the organization has helped repair over 53 homes and aims to repair as many as 112 others by the end of 2018. The organization has repaired at least one church in Barbuda and plans to work on five others.
In Dominica, the organization plans to assist with an estimated 1,000 roof repairs and rebuild as many as 30 churches over the next two to three years.
In St. Martin, Samaritan's Purse plans to repair 40 churches and restore 315 homes.