Interview: Roma Downey Teaches God's Love to Preschoolers in Faith-Based DVD Series (VIDEO)
And we see the rain come in and we see Noah save the animals and the flood waters rise and wash the children back into the nursery and the little boy says, "I get it. I get the importance of not quitting and now I'm going to tie my shoelace." And with the help of his sister, he ties his shoelace and all of that happens in seven minutes.
CP: Oh, I see. A lot of people may know you from "Touched by an Angel. "
Does the inspiration for Little Angels come from that series or how did the inspiration for this Bible-based series come about?
Roma: Well, you know, for almost 10 years I've played an angel on Touched by an Angel, bringing the message of God's love. It was such a privilege for me as a person of faith to deliver the message.
 And I thought, "Wouldn't it be marvelous if we had a faith-based series for very young children." They are such sponges at this age and there is such an opportunity here to sow seeds of faith in our little children. So the idea was born and I've been working on it and developing it now for almost 18 months. I got a fabulous team of animators. The animation has a lovely, nostalgic feel to it but yet it's fresh and funny. The characters are really well designed. We've found a great writer in Phil Lollar….Phil wrote Adventures in Odyssey and has really brought the stories to life.
CP: From Focus on the Family?
Roma: Yes, and the music component is a very important one. It's lively, upbeat and engaging because I could have all the best intentions in the world of bringing a faith-based product into the market space but if it's not compelling and they are not drawn in and it's not exciting then they are not going to watch it.
So, I'm super excited on how it's turned out.
And the message here is really, you know, straight forward I guess. We're teaching them practical life skills, we're teaching them Christian values, and we're introducing them to age-appropriate stories from our Bible, both Old and New Testament.
CP: Well, I'm looking at the series and it looks very well done. A lot of times when people are trying to make Christian-based series, the quality or the budgeting is not on par with what you see in secular children entertainment.
When I'm looking at this, it looks like something you would see on ABC Family on TV. Was that intentional?
Roma: That was the absolute goal: to make sure it was the highest quality.
I think the proof is in the product. The books are lovely. They are hardcover books. The DVDs each have 40 minutes of content. And there are musical videos along with it and I also have musical CDs which we had a great time doing it. We have very musical children. I, myself, am the only Irish person I know who can't sing a note. But my daughter Riley is a great singer and she sings many of the tracks on the albums for me. My oldest boy James is fine musician and he plays guitar so it was very meaningful for us to all be involved in the project.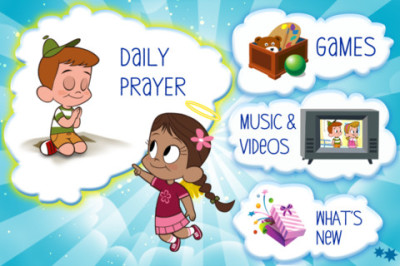 CP: There is also an app (for Little Angels) you have that has a daily prayer that parents can use with their kids. Can you tell us a little bit about that?
Roma: Yeah, it's available on iTunes under "Roma's Little Angels." It's a really fabulous and interactive app. It has many features, games, puzzles and coloring. I recorded 365 prayers and I think it's really good opportunity to go in there with your little preschooler and maybe find a moment each day to spend a moment in prayer.
I know that particularly in the car or emergency moments in your life, I don't how my children were raised with all the particular features we have today.
One of my hope is that it's an opportunity to start that discussion with your preschooler. I think that Little Angels provides the gateway into that conversation about faith and about the Lord and about God's love for us. Remembering that the angels are just the messengers and the message is the message of love. Quite deliberately, I placed the little angels on a mural on a ceiling in the nursery so it's the first thing they see in the morning when they get up and it's the last thing they see in the evening before they go to sleep.
The mother doesn't have a very big part in the DVD because of course, the angels come to life when the parents aren't around. But when the mother does have a voice, I've voiced it myself. There is one scene that will appear on every episode and that's the final moment that the mother comes into the moonlit room and the little four-year-old twins Zoe and Alex are fast asleep in their bunk beds and the moon is streaming into the room. And their mom just pops her head into the room to check on them and she says a little prayer:
God in heaven, my Savior dear,
Watch over my children and draw them near,
Send your little angels to be at their side,
To light and to guard,
To love and to guide.
And this was a little prayer that my parents shared with me when I was a child so it also has particular meaning that I added that little prayer in here. It also served as one of the inspiration for the series.
I don't think there's been a complete docudrama that has told all of our stories from the beginning of the Bible to the end. It will be a marvelous way to bring to life - in new and exciting ways, with all the technology that is available to us - our beautiful, beloved Bible stories.
many people think, "Well, I'm just one person, what difference can I make?" And yet the truth is when we step up together and when you do something combined with something that I do and combined with something that everyone else does then the truth is: We can change the world and we can make a difference.
At the end of the summer, I have a Little Angels Storybook Bible coming out. I have other DVDs on colors and shapes in the pipeline that should be out by the end of the year. I'm just thrilled that I've got a line of dolls that will be out by the beginning of the new year.
CP: Now, your husband in Mark Burnett. Both you and your husband are Christians.
Roma: Yes.
CP: How has faith played a role in your career choices and also in raising your family?
It's central to everything we do. Our children go to a wonderful Christian school in Westlake, California, where we live.
For me, I felt so fortunate that I was able to combine what I believe with what I do for so many years on Touched by an Angel. You know, the year that I was cast to play that part, I was an actress looking for a job. I wasn't on any kind of a mission especially. But I was so grateful that I was selected to play that part. The central theme of every episode was that there is a God and God has a plan for your life and that God wanted to be part of your life and that God loves you. And over the years, I can't tell you the kinds of feedback that I've had where people said it was the exact message they needed at the exact moment they received it. At the height of that show's success, we had over 20 million people tuned in every week.
One of the lasting things for me from that show is my relationship with my co-star Della Reese. She has really become a mom and mentor in my life. When we were filming together, her only daughter tragically passed away. And when I was a little girl, my mother had tragically passed away. She took me in her arms not long after and she said, "Baby, God is just so amazing because I always knew that He brought you into my life because He knew you needed a mother. I just hadn't realized that He brought you into my life because I was going to need a daughter. Will you be my baby girl?" And I said, "Yes." And she said, "Then I am your mama." And she has been from that day forward. She also godmother to my daughter Riley. She's been such a wonderful part of our lives.
Together with our husband Mark, we are getting ready to head off to Morocco where we start filming March 5 on a docudrama on the history of THE BIBLE. We're telling the story of the Bible from Genesis to Revelations. We're very excited to do be doing so. We're very humbled to be doing so.
CP: How would that be different from other docudramas or things on the Bible that we see on PBS or KQED?
Roma: Well, you know, I don't think there's been a complete docudrama that has told all of our stories from the beginning of the Bible to the end. Clearly, we have to condense it for 10 hours. We're hoping that the series can be shown in two-hour blocks over five weeks. I'm guessing The History Channel who we're thrilled to be partnering with will it air it around Easter 2013.