ISIS Beheads 7 Men and 3 Women in Syria; US-Led Airstrikes Hit Stronghold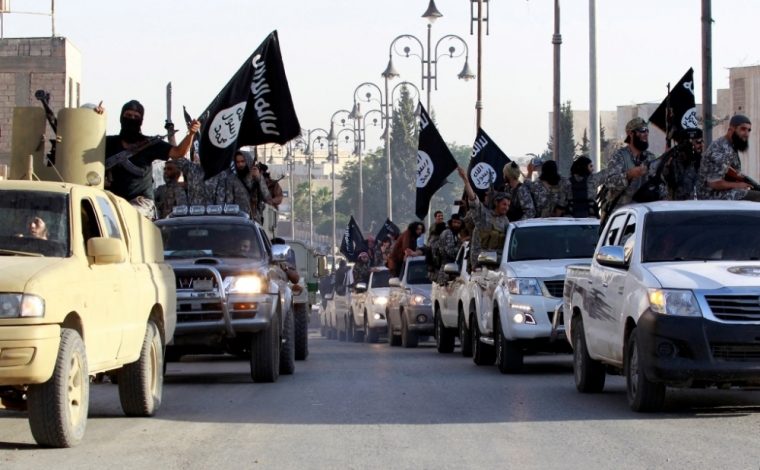 Terror group ISIS has beheaded seven men and three women in Syria as part of a campaign to scare locals to drop their resistance against the Islamic militants' advances. U.S.-led airstrikes have meanwhile hit an ISIS stronghold near the Syria-Iraq border.
"I don't know why they were arrested or beheaded. Only the Islamic State knows why. They want to scare people," said Rami Abdulrahman, the head of the Syrian Observatory for Human Rights, Reuters reported.
The beheadings were apparently carried out on Tuesday, 8 miles west of Kobani, a Kurdish town near the Turkish border, which has been battling ISIS. The victims included five anti-ISIS Kurdish fighters, three of them women; four Syrian Arab rebels, and a Kurdish male civilian.
USA Today added on Thursday that the British Royal Air Force bombed an ISIS stronghold on the Iraq-Syria border, where close to 30 militants are holed up. The ISIS soldiers are allegedly remnants of a larger 400-man force that ISIS had sent to Rabia.
Kurdish fighters revealed that 50 Islamic militants had been killed during a bloody day of fighting, while the others fled to Syria or back toward another ISIS stronghold in the city of Mosul.
A U.S.-led coalition has been carrying out heavy airstrikes in the region, giving cover to Kurdish forces and attempting to push back the jihadists.
The Islamic State, as the group is also known, has carried out a number of beheadings in the region, using the executions as a form of punishment or scare tactic to push their agenda. It has targeted a number of westerners as well, and in recent weeks has beheaded two American journalists, a British aid worker, and a French tourist.
There has been some debate over the effectiveness of using airstrikes against ISIS, with world leaders including President Barack Obama insisting that is the correct strategy, while Catholic peace leaders have warned that they only serve to help ISIS recruit more fighters.
"The terrorist group known as ISIL must be degraded, and ultimately destroyed. This group has terrorized all who they come across in Iraq and Syria," Obama said at the United Nations General Assembly in New York in September, and announced an expansion of airstrike operations.
"Mothers, sisters and daughters have been subjected to rape as a weapon of war. Innocent children have been gunned down. Bodies have been dumped in mass graves. Religious minorities have been starved to death. In the most horrific crimes imaginable, innocent human beings have been beheaded, with videos of the atrocity distributed to shock the conscience of the world," he added.
A number of Pax Christi International leaders said last week, however, that the airstrikes place more innocent people in danger.
"We believe that especially the expansion of bombing is more likely to create significant recruiting bonanza for some of the extremist groups, ISIS included," said Marie Dennis, Pax Christi co-president.
"The Islamic State, ISIS, is very well funded and steps must be taken to identify the sources of their funding and to stop them."