ISIS Calls for New Year's Eve Attacks on Churches, Public Places 'Regardless of Presence of Children'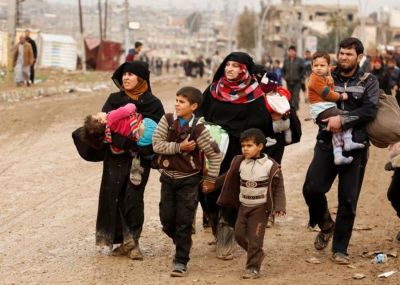 The Islamic State terror group has called on its supporters around the world to carry out New Year's Eve attacks on churches and other public places, demanding violence regardless if children are present or not.
SITE Intelligence Group, which monitors extremist activity online, said earlier this week that the terror group released its inaugural official video from Somalia, where it calls on "lone wolves to attack during #Christmas and #NewYearsEve, and to hit nightclubs, churches, and markets, regardless of the presence of children."
IS apparently urged its followers to "hunt down" nonbelievers during the celebrations, and take advantage of people's "drunkenness."
IS has released a number of posters through different channels over December, calling on attacks during Christmas and New Year's.
Earlier this month, the terror group posted "Wait for us on your year parties" posters, along with other photoshopped images showing armed terrorists approaching holiday celebrations with a "Soon on your holidays" warning.
Security experts, such as Jeffrey Treistman, an assistant professor of national security at the University of New Haven, have warned that the threats over the holidays must be taken seriously by law enforcement agencies.
IS' disregard for the fate of children follows a recent UNICEF report that said that 2017 was a year filled with violence and horrific abuses against children.
The children's agency warned that conflicts around the world, including in a number of countries where IS is active, have led to children being used as human shields, or being forced to fight in armies.
"Children are being targeted and exposed to attacks and brutal violence in their homes, schools and playgrounds," UNICEF Director of Emergency Programs Manuel Fontaine said in the report.
"As these attacks continue year after year, we cannot become numb. Such brutality cannot be the new normal."
IS has lost the vast majority of the territory it held in Iraq and Syria, but it has been expanding its efforts in other countries, such as Egypt and Somalia.
SITE Intelligence Group pointed out that a number of the IS fighters in Somalia are defectors from the al-Qaeda-linked al-Shabaab group, which has been carrying out terror attacks specifically targeting Christians and civilians in neighboring Kenya.
United States Africa Command reported in November that the U.S. military bombed IS fighters in Somalia for the first time, killing several militants in air strikes in the country's northeast.
"U.S. forces will continue to use all authorized and appropriate measures to protect Americans and to disable terrorist threats," it said, warning of further strikes in coordination with the Somali government.