ISIS Defeated in Iraq, PM Declares Amid Warnings of Terror Sleeper Cells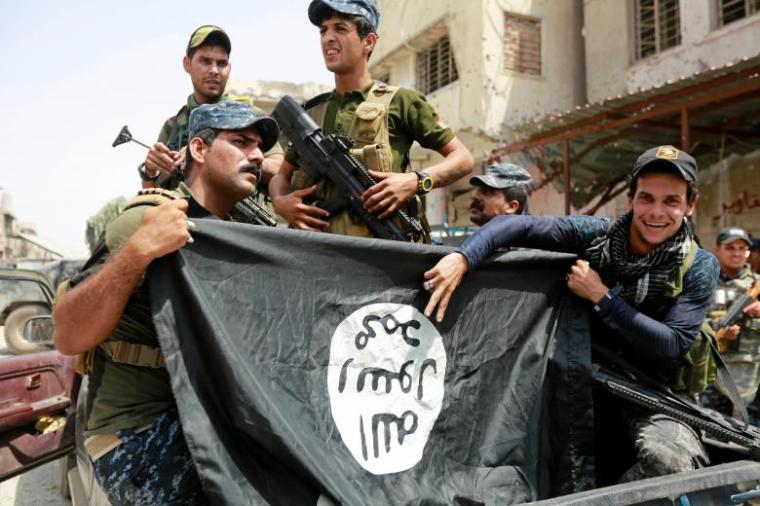 Iraq declared Saturday that its territory is now "fully liberated" from the Islamic State, overlooking warnings by allies that the terror group still poses a threat to the country in the form of guerrilla warfare.
"Honourable Iraqis: your land has been completely liberated. The dream of liberation is now a reality," Iraqi Prime Minister Haider al-Abadi said in a televised address Saturday, according to Reuters. "We have accomplished a very difficult mission. Our heroes have reached the final strongholds of Daesh and purified it. The Iraqi flag flies high today over all Iraqi lands."
Islamic State is also known as Daesh, IS, ISIS or ISIL.
Al-Abadi declared Dec. 10 a national holiday to be celebrated every year.
Brett McGurk, the U.S. Special Presidential Envoy to the international coalition that has been supporting Iraq's fight against IS, congratulated al-Abadi and the Iraqi people "on this significant achievement, which many thought impossible."
"We honour the sacrifices of the Iraqi people, its security forces, and the Kurdish Peshmerga, and admire the unity in their ranks that had made this day possible," McGurk added.
The announcement by al-Abadi means an end to the Iraqi military's war with IS. However, British Prime Minister Theresa May, while congratulating the Iraqi prime minister and the people of his country "on this historic moment," warned that the threat is far from over.
"We must be clear, however, that whilst Daesh is failing, they are not yet defeated. They still pose a threat to Iraq, including from over the Syrian border," she said, according to Independent.
Numerous IS fighters in Mosul fled to the border so that they can regroup later.
"IS was defeated militarily in Iraq but not eliminated," Abu Mahdi al-Muhandis, a commander in the Hashed al-Shaabi militia, was quoted as saying. "It is still present in some places and its members are trying to infiltrate civilians and villages. IS has changed its method."
A coalition spokesman was quoted as saying, "As ISIS continues to lose land, influence, funding streams and conventional capabilities, we expect them to return to their terrorist roots by conducting high-profile attacks on helpless civilians such as those we've already seen in Nasiriyah, Ramadi, and elsewhere over the past weeks."
The U.S. State Department issued a statement, applauding the Iraqi government but also saying, "The United States joins the Government of Iraq in stressing that Iraq's liberation does not mean the fight against terrorism, and even against ISIS, in Iraq is over. The United States, along with the Global Coalition to Defeat ISIS, will continue to partner with the Iraqi Security Forces, advising, training, and equipping them."
Meanwhile, U.S. Vice President Mike Pence met with Chaldean Archbishop of Erbil Bashar Warda last week to discuss how the U.S. government can best help the recovering Iraqi Christian community in the aftermath of the Islamic State.
In a statement, the 48-year-old Warda explained that he and the vice president had a "substantial discussion."
"I updated him on the situation facing our people and expressed our hope that peace would soon come to Nineveh," Warda, who said in an AFP interview recently that there are as many as 20,000 Christian families who still need help returning home.
Iranian influence is now present in Nineveh towns once mostly populated by Christians before IS took over, and has prevented some from returning to their homes.
Amir Yaqu, a Christian man from the once predominantly Christian town of Bartella who has yet to return to his home village even though it's been more than a year after its liberation from IS, told the pro-Kurdish news outlet Rudaw last month that he has not returned home because the situation in his hometown of Bartella has not improved due to the presence of Shia militias and Iranian influences.
"Bartella and Hamdania are our [Christians'] historic places. ISIS came and destroyed our churches in the name of Islam. We waited for three years until ISIS militants were gone. We thought life would go back to normal after ISIS. Now our situation is even worse," Yaqu was quoted as saying.
Bartella, which was once home to about 40,000 Christians, was liberated from IS in October 2016. However, human rights advocates have warned that Iran has funded the opening of a school, mosque and library in the once predominantly Christian town. The new school in Bartella was named after Iran's Ayatollah Khomeini.
Al-Abadi has said he will keep close ties with both the U.S. and Iran. "What we are telling everyone, including our Iranian neighbors and the U.S., who have become our friends by supporting us in our fight against Daesh, is that we welcome your support, we would like to work with you, both of you, but please don't bring your trouble inside Iraq," he told The Wall Street Journal in October. "To impose something on us, this is something very unacceptable."
A senior U.S. official responded at the time that Iran's actions will determine U.S. involvement. "We have no intention of conducting a campaign against Iran in Iraq. But it will really be up to the groups that may or may not be under the control of the prime minister," the official said, referring to Iran-backed Shiite militias. "What will happen will depend upon the actions of the proxies of Iran inside Iraq."