Pence Meets Iraqi Archbishop to Discuss US Aid to Christians Rebuilding Their Lives After ISIS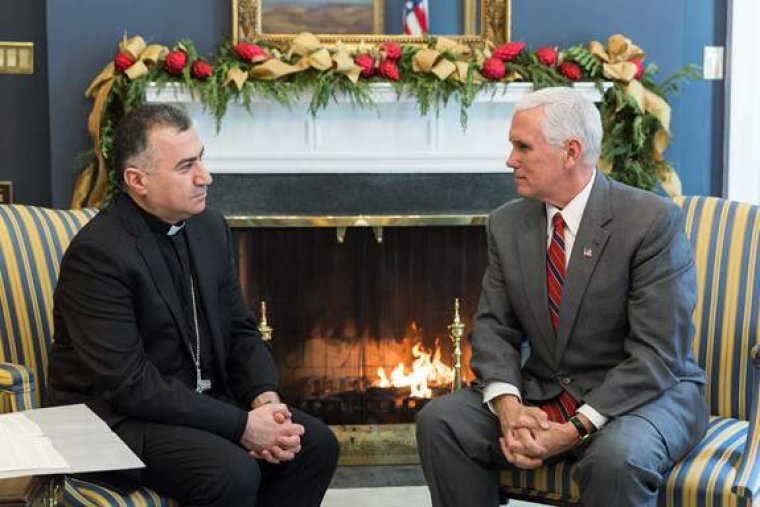 United States Vice President Mike Pence met with a leading Chaldean Archbishop on Monday to discuss how the U.S. government can best help the recovering Iraqi Christian community in the aftermath of the Islamic State.
In Washington, Pence met with Chaldean Archbishop of Erbil Bashar Warda, a man who oversees the archdiocese that has sheltered and aided thousands upon thousands of Christians who were forced to flee their home three years ago and feared going to United Nations camps to face further persecution.
As the Nineveh Plains and Mosul have been liberated and IS (also known as ISIS, ISIL or Deash) has been defeated from a military perspective, Pence wrote in a tweet Monday afternoon that his discussion with Warda was "important dialogue."
According to the tweet, he reiterated to Warda President Donald Trump's commitment "to directly assist persecuted Christians [and] religious minorities in Iraq."
In a statement, the 48-year-old Warda explained that he and the vice president had a "substantial discussion."
"I updated him on the situation facing our people and expressed our hope that peace would soon come to Nineveh," Warda, who said in an AFP interview last week that there are as many as 20,000 Christian families who still need help returning home.
The meeting comes as Iranian influence is now present in Nineveh towns once mostly populated by Christians before IS took over, and has prevented some from returning to their homes.
"On behalf of our people, I expressed our gratitude for his promise of swift assistance to our communities who suffered genocide at the hands of ISIS," Warda was quoted as saying after the meeting with Pence by the Catholic News Agency. "I also mentioned to the vice president the importance of the aid and support we have received from the Knights of Columbus in the United States, and Aid to the Church in Need in Europe."
Warda came to town for the week of awareness for the persecuted Church and spoke at a press conference last week at The National Press Club during which he thanked Pence and Trump for announcing in early November that the administration plans to change existing policy so that U.S. aid would go directly to those aiding Iraqi Christians without having to go through the U.N.
A frequent complaint with the previous U.S. policy was that the aid given to the U.N. was not going to displaced religious minority communities such as Christians and the Yazidis, many of whom had their families and homes ripped apart and destroyed by the brutal terrorist organization whose atrocities have been widely considered to be an act of genocide.
"I am grateful to the Trump administration. Vice President Pence's remarks last month about helping the communities targeted for genocide was incredibly [heart-warming] for the Christians and Yazidis in Iraq," Warda said during the press conference. "It marks an important shift because it shows that the American government considers the situation of those who suffer this persecution at the hands of ISIS to be a priority."
Later this month, Pence will head to the Middle East to "discuss U.S. plans to accelerate funding those impacted in the region."
Iraqi Christians have been begging for funding to not only provide humanitarian assistance but also reconstruction aid.
Despite receiving millions in help from charities and a $2 million grant from the Hungarian government, Warda warned at the press conference that the Iraqi government's recent air ban on Iraqi Kurdistan has negatively impacted humanitarian efforts in the region.
"Before the referendum, our liberated villages were under the attention of [international] aid agencies that used to travel to Erbil and go to see these villages and evaluate the situations themselves and provide help," Warda said. "Closing the airports has affected very much the help. Now, we have no one coming to these villages. We are afraid that this will affect the level of help. That is why we have requested from the government of Baghdad to provide more help and more assistance to those who would like to visit and provide help."
"We as a Church ... we were never asked to centralize all the help," Warda added. "We were there to help others helping us."