Mike Pence Announces Major Policy Change That Iraqi Christians Have Been Begging For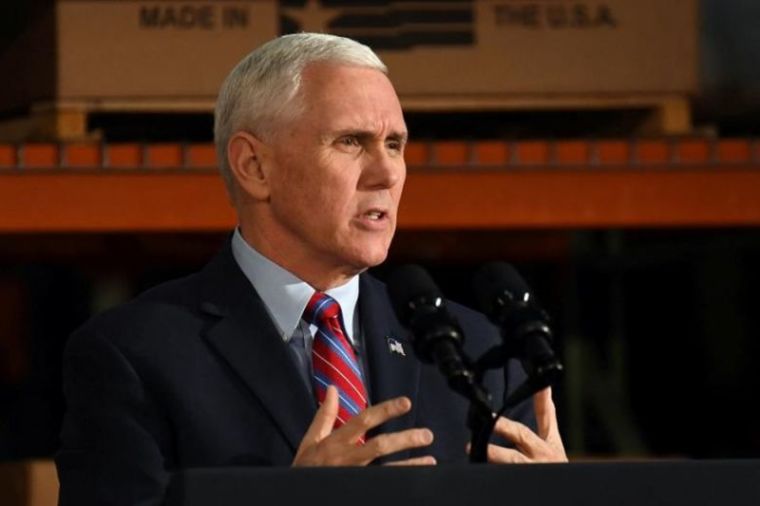 WASHINGTON — Vice President Mike Pence promised Christian leaders from the Middle East Wednesday night that their days of receiving little to no help from the United States government to rebuild their ancient communities "are over."
While giving the keynote address at an annual solidarity dinner sponsored by the international advocacy organization In Defense of Christians, Pence announced that President Donald Trump has ordered the State Department to enable U.S. aid funding to go directly to faith-based organizations actively supporting Christians and other religious minorities displaced by the Islamic State.
The announcement comes as human rights advocates have urged the administration to make a change to a previous policy that required all U.S. humanitarian and reconstruction aid funding for Iraq to be funnelled through the United Nations. However, displaced Christians and other religious minorities have not received much help to rebuild their destroyed ancient communities even though the U.S. has given more than $1 billion in humanitarian aid and hundreds of millions in reconstruction aid.
"Our fellow Christians and all who are persecuted in the Middle East should not have to rely on multinational institutions when America can help them directly," Pence assured. "And tonight, it is my privilege to announce that President Trump has ordered the State Department to stop funding ineffective relief efforts at the United Nations. And from this day forward, America will provide support directly to persecuted communities through [the United States Aid Agency.]"
Pence's announcement was met with a 25-second applause.
"We will no longer rely on the United Nations alone to assist persecuted Christians and minorities in the wake of genocide and the atrocities of terrorist groups," he added. "The United States will work hand-in-hand from this day forward with faith-based groups and private organizations to help those who are persecuted."
Pence slammed the U.N. for too often failing "to help the most vulnerable communities" and leaving "countless people [to] continue to suffer and struggle needlessly."
"Here is the sad reality," Pence explained. "The United Nations claims that more than 160 projects are in Christian areas. But for a third of those projects, there are no Christians to help. The believers in Nineveh Iraq have had less than 2 percent of their housing needs addressed and the majority of Christians and Yazidis remain in shelters. Projects that are supposedly marked finished have little more than a U.N. flag hung outside an unusable building, in many cases a school."
"While faith-based groups with proven track records and deep roots in these communities are more than willing to assist, the United Nations too often denies their funding requests," the vice president added. "My friends, those days are over."
During Pence's speech, his official vice president Twitter account posted about the policy change.
"As we begin to see the tides of terror recede, I can assure you that President Trump is committed to help persecuted peoples reclaim their lands, return to their homes, rebuild their lives and replant the roots in their ancient place of birth," Pence continued.
Pence also announced in his speech that the president has asked him to visit the Middle East in December. Pence will travel to Israel and Egypt.
"I promise you that one of the messages that I will bring to leaders across the region is that now is the time to bring an end to the persecution of Christians and all religious minorities," Pence said.
Pence also assured that the Trump administration is calling the acts committed by ISIS against the religious minority communities in Iraq and Syria for what they truly are — "genocide."
"They are genocide and they are crimes against humanity and we will call them what they are," he stressed.
Carl Anderson, supreme knight of the Knights of Columbus who introduced Pence at the event, celebrated the Trump administration's actions, noting: "A year ago, the U.S. used the right word to describe what was happening to Christians and other religious minorities in the Middle East. That word was genocide. Tonight, those words were put into action.
"For almost two years, the K of C has warned that Christians and other religious minorities in the Middle East have been falling through the cracks in the aid system, and has been urging the U.S. government to provide aid directly to genocide-targeted communities. We are pleased that the administration has promised to do just that," said Anderson, who also serves as vice president of the Washington session of the Pontifical John Paul II Institute for Studies on Marriage and Family.
"The hope this announcement will give to Christians in the Middle East — and the real world impact it will have on the survival of threatened minority communities — cannot be underestimated," he added.
Frank Wolf, distinguished senior fellow at the 21st Century Wilberforce Initiative who recently returned from Iraq and has since testified before both the House and the Senate about the dire situation, said the Trump administration's policy change "should impact humanitarian aid for those living as Internally Displaced Persons and refugees and stabilization assistance for the Christians and Yezidis returning to areas seized from them by ISIS."
The 21st Century Wilberforce Initiative released a report in August containing recommendations regarding northern Iraq where the Christian population has dwindled from 1.5 million in 2003 to just 250,000 today.