ISIS Forcing Children, Elderly to Carry Out Barbaric Executions in Mosul
(Photo: Reuters/Ahmed Jadallah)
5 photo slide
(Photo: Reuters)
(Photo: Reuters/Goran Tomasevic)
(Photo: Reuters/Azad Lashkari)
(Photo: REUTERS/Alaa Al-Marjani)
The Islamic State is forcing children and elderly people to carry out executions in its stronghold of Mosul in Iraq, as liberation forces backed by the U.S. are planning to carry out their operation to drive out the jihadists and free the city.
The Mirror released parts of new IS propaganda footage that shows the terrorists carrying out various punishments and executions in the embattled city.
"In the sickening new footage, children and pensioners are shown being forced to carry out horrific executions," the report describes.
"Ruthless ISIS leaders are also shown crucifying alleged traitors in a bid to terrorize the remaining population under their control," it adds.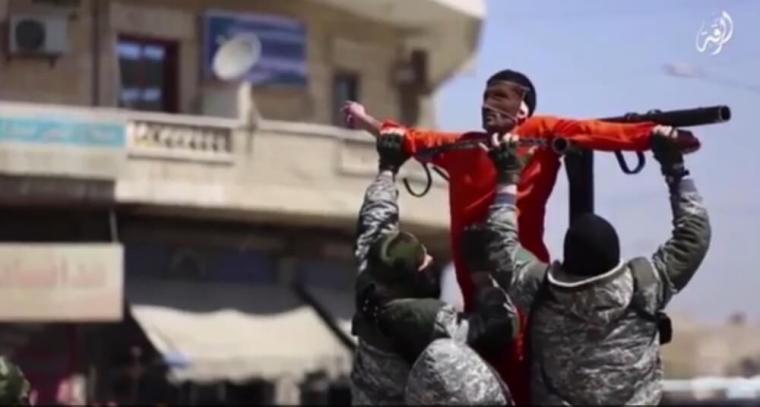 Iraqi government forces have warned that the battle for Mosul could take months, with as many as 5,000 IS forces believed to be stationed inside the stronghold.
"The battle of Mosul will not be a picnic. We are prepared for the battle of Mosul even if it lasts for months," said Hadi al-Amiri, leader of the Badr Organisation, the largest Shia militia fighting with the Iraqi government.
Mosul is IS' largest remaining stronghold in Iraq, and is home to close to 1.5 million residents who have been living under the terror group's control for the past two years.
IS has carried out killings of Christians, Yazidis, and other religious minorities in its captured cities throughout Iraq and Syria, but it has also executed its own fighters on a number of occasions. Reports from the end of October claimed that the jihadists burned alive nine of their fighters for attempting to flee the battlefield.
"ISIS terrorist gangs executed nine of its members for fleeing the battle against the security forces in Mosul by throwing them in trenches containing burning oil, after tying their hands and legs," Al Sumaria News reported.
"ISIS used the burning oil trenches to impede the visibility of the Iraqi Air Force and international coalition air force," the report added.
A separate Al Sumaria report described the actions of an Iraqi marksman known by the name "Sniper of Mosul," who has been killing off IS jihadis in the war-torn city.
The marksman reportedly helped save the life of an Iraqi teenager accused of supporting the coalition offensive to push IS out of the city only moments before a militant was going to behead him.
"The emergence of the Sniper of Mosul, as the residents call him, increased the pace of the popular resistance against ISIS," the article described.
"The presence of the sniper in four neighborhoods emphasizes that there are many snipers and not only one."
Iraqi ground forces have already liberated several villages surrounding Mosul as part of their advancement, but so far the terror group has not hinted at any plans for surrender in the main city.