ISIS Slaughters Civilians Begging for Their Lives in Video as Obama Claims Terror Group Is Losing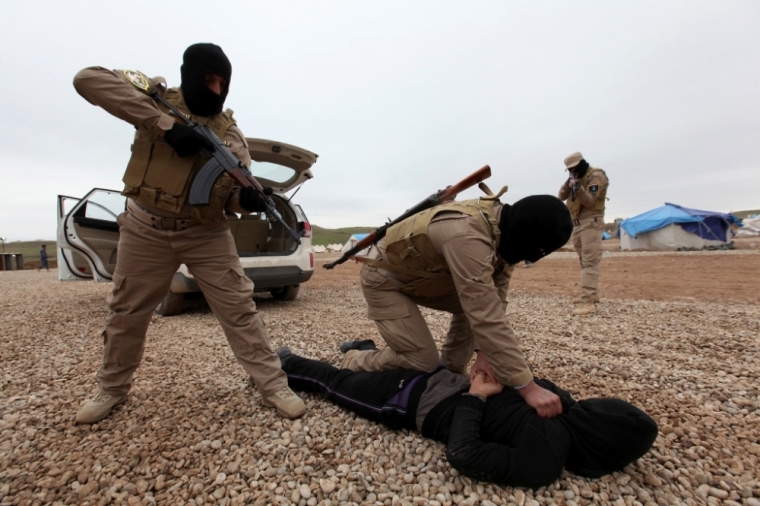 The Islamic State terror group has released a new propaganda video that shows militants executing civilians who are begging and crawling for their lives, almost at the same time President Obama claimed the extremists are losing ground.
MailOnline reported that the new video, although undated, seems to have been filmed primarily in the Anbar Province in Iraq, and depicts several scenes of executions, including jihadists beheading and shooting their victims.
One clip shows a man dressed in civilian clothing as he crawls on the ground and begs for his life, before being executed, while other men are shown dressed in the infamous orange jumpsuits as they await to be beheaded.
The propaganda footage also depicts IS fighters driving through towns, foreign fighters pledging their allegiance to the terror group, and bomb attacks on Iraqi government vehicles.
Obama meanwhile claimed during a speech Wednesday that U.S. has made notable gains in fighting the radical group, stating that IS' forces have been reduced to their lowest level in two years.
He warned, however, that the terrorists could still "inflict horrific violence on the innocent," such as the burning of 15 civilians who tried to escape the IS-captured city of Fallujah earlier this month.
The terror group continues to persecute Christians and other minorities as well. It has executed groups of Christians on multiple occasions, with Patriarch Ignatius Aphrem II, the head of the Syrian Orthodox Church, revealing last week that a group of 21 Christians were killed in the Syrian town of al-Qaryatain after IS captured the city last year.
Those Christians were part of a larger group of 230 Christian who were kidnapped by IS in the town, though many of those have been released back to their families after ransoms were paid to the jihadists.
In his speech, Obama insisted that IS' core in Iraq and Syria "continues to shrink."
"Once again, they have failed," the president said about terror attacks aimed at weakening America's resolve.
"Their barbarism only stiffens our unity and determination to wipe this vile terrorist organization off the face of the Earth."
Obama added that due to IS' depleting numbers, "more and more of them are realizing that their cause is lost.
"Our cyberoperations are disrupting their command and control and communications. We continue to target ISIL's financial infrastructure," he said, using another acronym for the terror group.
The Commander-in-Chief also pointed out that U.S. armed forced continue going after remnants of al-Qaeda, declaring that "if you target Americans, you have no safe haven — we will find you."
He added: "Our intelligence professionals and those of other nations have stopped numerous terrorist operatives in Syria and Iraq from entering Europe, thereby preventing attacks and gaining valuable intelligence."