James Dobson Answers Hypocrisy Charge: 'Trump Has Never ... Had Oral Sex in Oval Office'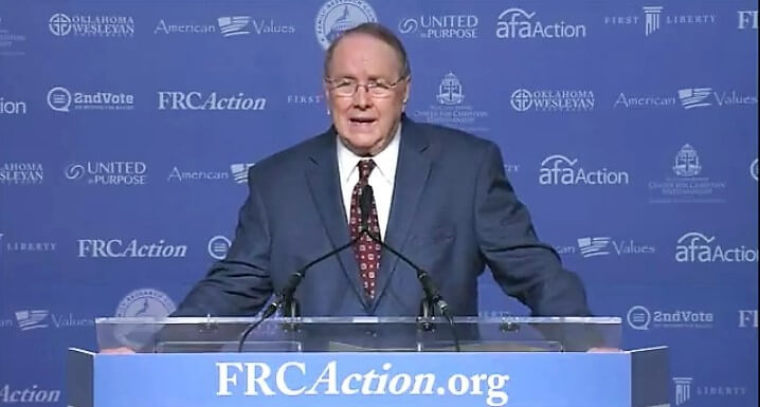 James Dobson is not mincing words in response to questions from journalists suggesting he is duplicitous for supporting of Donald Trump for president, given his previous denunciations of President Bill Clinton's sexual shenanigans.
In light of tapes that surfaced on October 7 where Donald Trump made profane comments about groping women, the host of Family Talk who founded Focus on the Family did not hold back in a statement released Tuesday.
"First, I do not condone nor defend Donald Trump's terrible comments made 11 years ago," Dobson said.
"They are indefensible and awful. I'm sure there are other misdeeds in his past, although as Jesus said, 'Let him who is without sin cast the first stone.' I am, however, more concerned about America's future than Donald Trump's past," he continued, adding that he wondered about the nature of Bill Clinton's language in private.
Dobson insists that his criticisms of the 41st President is altogether different.
"To my knowledge, Donald Trump has never abused women physically or had oral sex in the Oval Office with a vulnerable intern. Nor has he committed perjury by lying to Congress for many hours. Clinton, on the other hand, lost his license to practice law for that criminal act. Trump hasn't been impeached by Congress for his lies."
A passionate defender of the unborn, Dobson then reiterated his disgust for Clinton's fervent support of abortion and praised Donald Trump's stance on the issue.
"Donald Trump hasn't vetoed bills that would have outlawed the procedure known as partial-birth abortion. Bill Clinton alone is responsible for the brains being sucked out of unanesthetized babies during delivery. That naziesque procedure continued for years until the Supreme Court declared it illegal. Donald Trump is pro-life. Clinton and his wife disrespect the Constitution of the United States, although Trump has promised to protect it, especially the First Amendment. Shall I go on?" Dobson declared.
Dobson, who endorsed Ted Cruz during the Republican primaries has backed Trump soon after he won the nomination, and his distaste for the Clinton's is indeed strong.
As The Christian Post reported last month, at the Family Research Council's Values Voter Summit in Washington, D.C. Dobson told attendees that he loses sleep "thinking about having Hillary Clinton pack that [Supreme] court with people from the far Left, and what that would mean for the institution of the family."
If Americans elect the wrong person, he contended, the United States would never recover and might go down in flames.
Dobson asserted in his July 21 endorsement of the billionaire real estate mogul, that "most evangelicals I know have decided ­for various reasons ­that they will really have only one choice for president, and that is Donald J. Trump."
"I believe it's a good choice. America needs strong and competent leadership," Dobson concluded.