Jeremiah 29:11 Is Not About 'You;' Frequently-Quoted Bible Verse Often Misinterpreted
Correction appended
"'For I know the plans I have for you,' declares the Lord, 'plans to prosper you and not to harm you, plans to give you hope and a future.'" Christians quote Jeremiah 29:11 all the time, nearly as often as they quote John 3:16, but some apparently fail to understand the meaning of the Old Testament verse.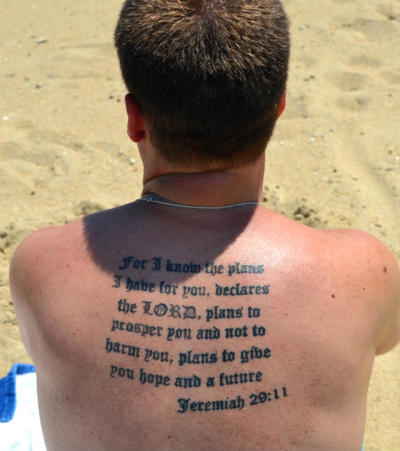 "Now most people know that verse and we use that out of context to say 'this the college I want to go to, this is the boyfriend or girlfriend I want and this is the job I want, so those are my plans and now God declares that,'" offered spoken word poet Jefferson Bethke in his recent YouTube video.
Bethke threw his two cents into the discussion Wednesday on "the most misinterpreted verse in the Bible," joining the likes of Christian minister John Piper, who recently offered a take that varies from the 24-year-old author'sr assessment.
"The first thing we have to understand is that we can't just take one verse out and kind of prostitute it out on our Facebook and our Twitter without looking at the narrative," said Bethke, suggesting that readers should always consider the historical and literary contexts of a Biblical passage.
"I think sometimes we take verses that God meant for a specific people for a specific time and we then wrench it out of its context and use it for (our) individual walk."
The Washington state resident, who formely attended the Neo-Calvinist Mars Hill Church, explained in his five-minute YouTube video that Jeremiah 29:10-11 appears in a letter written by the prophet Jeremiah to the Jewish community taken exiled in Babylon (6th century BCE). The letter, expressing God's comfort to and judgment of the former inhabitants of Jerusalem, informs the recipients that they will return to their homeland after 70 years because God intends to fulfill His promises to bless them.
"First off all, He's not saying that in the context of 'right now it's all gonna get better,'" according to Bethke. "He said (for) 70 years you will be in exile longer. Some people don't even live 70 years."
He further added, "Notice that He says 'for I know the plans I have for you.' I think a lot of time with this verse, we really prostitute God out, turn Him into a Santa Claus or turn Him into a genie... We make our plans and then say 'now God do them.'"
Watch Bethke on "The Most Misinterpreted Verse In The Bible (Jeremiah 29:11)" below:
While many agree that Jeremiah 29 applies only to a specific group (as opposed to an individual), living in a specific period of time, Piper, on the other hand, believes the promises made to the ancient Jewish exiles in Jeremiah 29:11 are transferable to the Christian community.
The Calvinist Baptist minister and theologian recently tackled Jeremiah 29:11 and the question of whether the passage applies to Christians.
"Yes, Christians can lay claim to this, and they do it because of Christ," said Piper in a May 29 recording of his "Ask Pastor John" series.
Piper suggested that Christians "love" the Jeremiah 29 passage due to the setting in which God devlivered His message to the Jewish community exiled and enslaved in Babylon.
"We Christians, we Gentiles especially, go to it and we love it because it holds out the prospect of not destruction for us, but life and hope and joy in the future," said Piper. "The reason we can do it is because at the Last Supper, Jesus lifted up the cup which represented his blood and he said 'this cup is the new covenant in my blood.'"
Piper went on to suggest that Christ's crucifixion meant that the Old Testament promises would be fulfilled with those who come to faith in Jesus.
"Everything that God meant to be fulfilled for His people Israel now is going to be fulfilled in his people of the New Covenant. So that not only Jews but also Gentiles, through faith in the messiah, become part of the covenant people of God, so that every promise can be laid hold on by Gentiles who are in the messiah, in Christ Jesus," Piper added, citing 2 Corinthians 1:20 and Romans 8:32 to support his argument.
Listen to "Ask Pastor John" in which Piper Discusses Jeremiah 29:11:
Voddie Baucham, pastor of Grace Family Baptist Church and lecturer, has suggested that Christians tend to twist Jeremiah 29:11 in three ways.
"First off all, we twist it because we make it a promise directly to us when it was a promise made directly to a specific group of people under specific circumstances during a specific time and in a specific place," he said in a sermon.
"Secondly, we twist it because we make it for now when it was actually a multi-generational promise. And thirdly, we twist it because we make it for me, when it's supposed to be for us," added Baucham.
Baucham was also critical of prosperity teachings that point to Jeremiah 29:11 as a promise of health and wealth for individual Christians living in modern times.
David Lamb, a professor of the Old Testament and author of God Behaving Badly: Is the God of the Old Testament Angry, Sexist and Racist?, echoed Baucham's statements in his caution to Christians who ignore Jeremiah 29's historical context and place themselves at the center of verse 11.
"We don't need to be exiles living in Babylon to faithfully appropriate Jeremiah 29:11," writes Lamb. "But let's remember at least two things about the whole chapter when we quote verse 11. First, it was written to people in incredible pain, more than most of us will ever experience. They were mourning death, a move, and a transition to enslavement all at once. And yet into that context, God can still speak words of hope. That's amazing.
"Second, they aren't plans for 'me' but plans for 'us.' The 'you' in 29:11 is plural ('you all,' or 'youse guys' if you're from Philly), which should be obvious since it was a letter written to a community. Yes, they'd lost almost everything, but they still had their community, which is how God often blesses us."
Correction: Saturday, Aug. 10, 2013:
An article published on Friday, Aug. 9, 2013, about misinterpretations of the Bible verse Jeremiah 29:11 incorrectly stated that Jefferson Bethke is a member of a Mars Hill Church congregation. Bethke no longer attends Mars Hill Church. Bethke and his wife attend a 100-person community church in Auburn, Wash.