Joel Osteen's Church Did Not Check Tithes Before Sheltering Hurricane Harvey Evacuees: Viral Story Confirmed as Fake
A story went viral recently claiming that Pastor Joel Osteen's Lakewood megachurch only provided shelter for evacuees affected by Hurricane Harvey after checking how much tithe they gave to see who should get preferential treatment. The story sparked wide criticism on social media, however, the news has now been confirmed as completely fabricated, and spread only with the intention to further attack Osteen and his church ministry.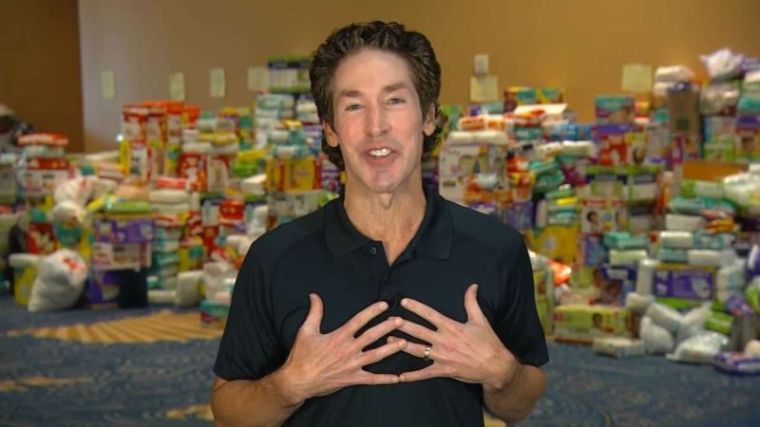 In the now-confirmed fake news, some of the evacuees allegedly spoke to ActionNews3 about the process they had gone through. One mom, Tiana Williams, claimed that Osteen's Lakewood Church workers told her there was an instruction "to check tithing records of members" before evacuees could be given beds and shelter.
The news prompted wide criticism on social media, and many swarmed to the Facebook page Democrats for Blue America to bash Osteen's ministry.
"Checking tithing records for preferential treatment! Boycott this ministry. It lacks humanity," one commenter, Judith Allison, posted in the comments.
"Another Rich man trying to get richer at the lowest point of someone with nothing's life," another Facebook user, Frances L. Owens, said. "He is not a true Christian."
But Snopes fact-checked the report on Lakewood Church's tithing process and concluded that it was false and fabricated. Snopes also confirmed that ActionNews3 is a "fake news web site" and thus the report was rubbish.
The fake news apparently was created to piggy-back off the recent controversy directed at Osteen, where he was slammed by some for his church's alleged inaction in the immediate aftermath of Hurricane Harvey. Critics were unhappy that Osteen's church did not open its doors sooner to those seeking shelter from flooding.
However, Osteen addressed the criticisms, and explained that the church was not designated or requested to be an official shelter, and so was not immediately prepared to provide the staff needed to safely convert the church into a shelter. In addition, the church itself had sustained some flood damage in the immediate aftermath of the hurricane, and it was not immediately clear whether the church would be a safe shelter for people.
Osteen also explained that the church never turned away a single person who came to the building to request shelter, and the handful of people who did prior to the church fully opening as a shelter were welcomed in.