John McCain Says He Is 'Ashamed of America' for Failing to Help Ukraine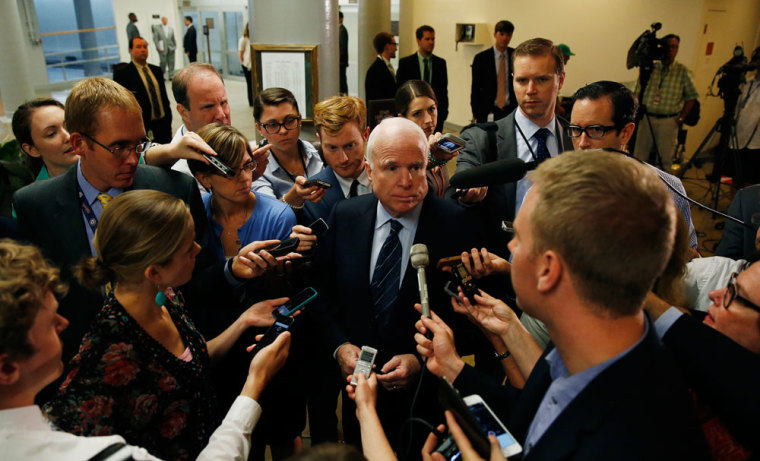 Sen. John McCain, R-Ariz., has said that he's ashamed of America, President Barack Obama, and himself, for failing to seriously help the people of Ukraine who are caught in a war against pro-Russian separatists.
"I'm ashamed of my country, I'm ashamed of my president and I'm ashamed of myself that I haven't done more to help these people," McCain said in an interview on CBS' "Face the Nation."
The latest attempt at a peace agreement in eastern Ukraine has fallen apart after heavy fighting continued last week, and the eastern town of Debaltseve was captured by pro-Russian rebels. A ceasefire agreement had earlier this month been reached by Russian President Vladimir Putin, Ukranian President Petro Poroshenko and major European leaders, but the conflict, which has led to the deaths of over 5,600 people, continues.
While the U.S. has strongly criticized Russia's role in directly helping and arming the rebels, an accusation that Russia denies, the Obama administration has said that it has no interest in participating in a proxy war with Putin's government.
"Our belief here in the administration, and I would be surprised if others disagree, is that getting into a proxy war with Russia is not anything that's in the interest of Ukraine or in the interest of the international community," White House spokeswoman Jen Psaki said last week. "And certainly, as we weigh options, we weigh that as one of the factors."
McCain has criticized European leaders such as German Chancellor Angela Merkel and French President Francois Hollande for not doing more to oppose Putin, arguing that they had "legitimized for the first time in 70 years the dismemberment of a country in Europe."
McCain clarified that he's not suggesting that the United States should send soldiers to engage the pro-Russian separatists, but noted that Ukrainian citizens are asking for weapons to allow them to fight back against the rebels.
"The Ukrainians aren't asking for American boots on the ground; that's not the question here. They're asking for weapons to defend themselves and they are being slaughtered and their military is being shattered," the former GOP presidential candidate said.
"Some of the best Russian special forces are there and they will continue this aggression for as long as they can get away with it. ... [Russian President] Vladimir Putin wants Ukraine not to be part of Europe and he is succeeding in doing so."
Obama has yet to announce his decision on whether he'll send lethal weapons to help Ukraine's military defeat the Russian rebels, despite the fact that two weeks ago he said he would help the soverign nation.