Ukrainian Ceasefire Falls Apart as Putin Calls on Ukraine to Surrender; Obama Says US Won't Fight 'Proxy War' With Russia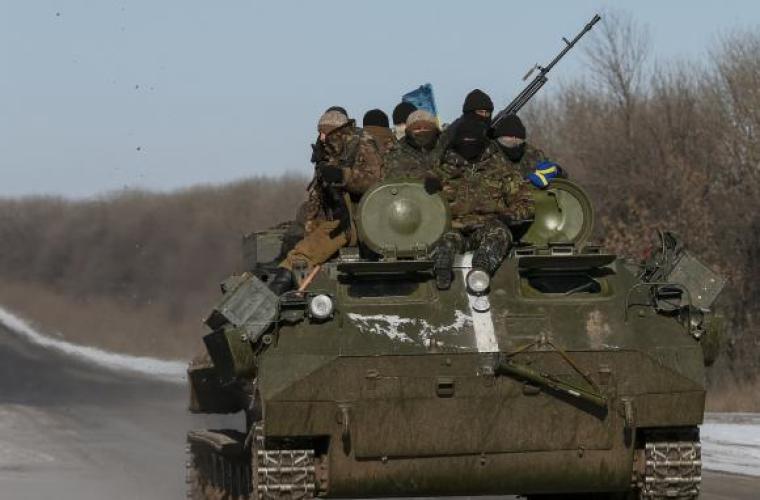 A ceasefire between the Ukrainian government and pro-Russian rebels is reportedly falling apart in the eastern town of Debaltseve, where government forces have been forced to flee and abandon the rail hub. Russian President Vladimir Putin has called on rebels to allow the Ukrainian troops to leave, for which he said the only choice is to surrender.
"The actions by the Russia-backed separatists in Debaltseve are a clear violation of the ceasefire," said European Union foreign policy chief Federica Mogherini.
"The EU stands ready to take appropriate action in case the fighting and other negative developments in violation of the Minsk agreements continue."
The Associated Press reported from Ukraine that several dozen government troops left Debaltseve on Wednesday morning, looking defeated.
"Some were driving to the nearby town of Artemivsk in trucks while several others, unshaven and visibly upset, were on foot," the report described. "One soldier spoke of heavy government losses, while another said they had not been able to get food for days because of the rebel shelling."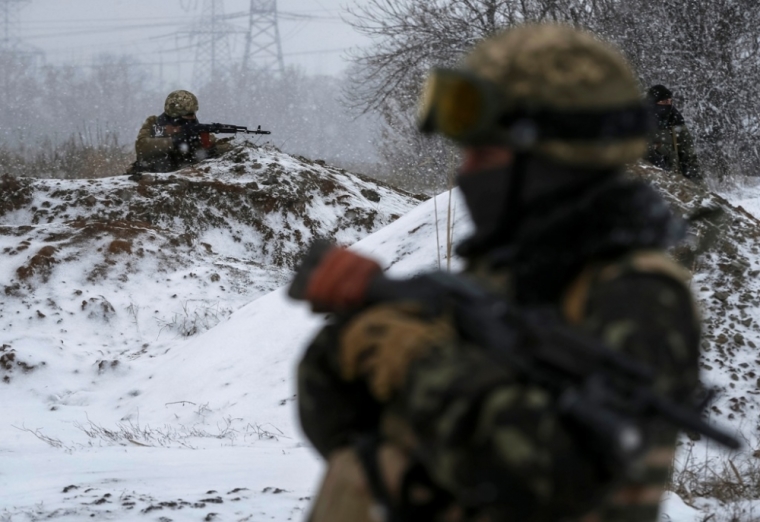 Voice of America added that Putin, who has repeatedly denied that his government is involved in the Ukrainian war, has called on the pro-Russian separatists in Debaltseve to allow the government troops to leave.
Putin also asked the government in Kyiv to allow its troops to surrender, arguing that the only choice before the soldiers is to "leave behind weaponry, lay down arms and surrender."
Intense fighting across eastern Ukraine has continued despite major European leaders reaching a peace deal last week.
"The main thing which has been achieved is that from Saturday into Sunday there should be declared without any conditions at all, a general ceasefire," Ukrainian President Petro Poroshenko told journalists last week.
Fighting continued throughout the weekend and into this week despite this deal, however, with Ukrainian troops unable to halt the advances of the separatists.
The U.N. has said that at least 5,600 people have lost their lives in the conflict which began in 2014, though the real death toll is expected to be higher.
Poroshenko noted on Wednesday that he ordered government troops in Debaltseve to leave with their weapons and ammunition.
"Debaltseve was under our control, it was never encircled. Our troops and formations have left in an organized and planned manner," he said.
The Ukrainian president attempted to portray the development as a tactical move that "laid shame on Russia, which called on the Ukrainian troops yesterday to lay down arms, raise the white flag and surrender."
Poroshenko added: "The Ukrainian troops ... gave a blow in the teeth to those who were trying to encircle them."
The U.S., which has still not announced whether it will send lethal aid to the Ukrainian government, said that it has no interest of getting into a "proxy war" with Russia.
"Our belief here in the administration, and I would be surprised if others disagree, is that getting into a proxy war with Russia is not anything that's in the interest of Ukraine or in the interest of the international community," White House spokeswoman Jen Psaki told reporters. "And certainly, as we weigh options, we weigh that as one of the factors."