Obama Considers Sending Lethal Aid to Ukraine as Pro-Russian Rebels Intensify Attacks, Look to Build Army of 100,000 Fighters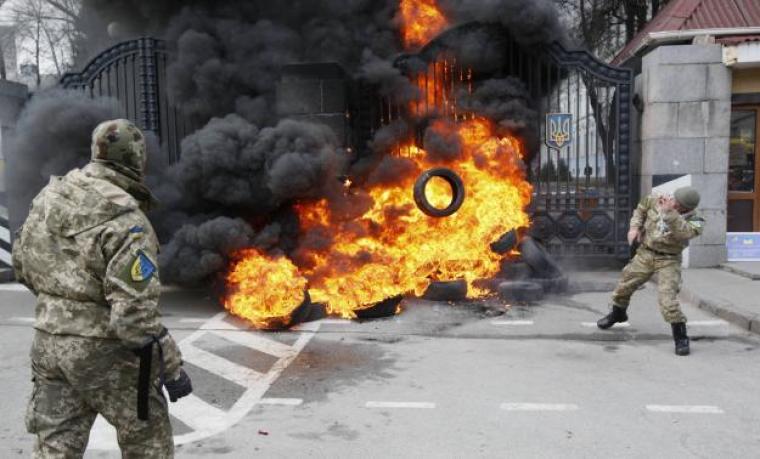 U.S. officials are considering sending lethal aid such as defensive weapons to the government of Ukraine in its ongoing battle against pro-Russian rebels, as the clashes have been intensifying in recent weeks. The rebels, who are attacking a number of cities in the eastern parts of the country, are looking to build an army of 100,000 fighters.
"Although our focus remains on pursuing a solution through diplomatic means, we are always evaluating other options that will help create space for a negotiated solution to the crisis," said Bernadette Meehan, a spokeswoman for the National Security Council.
Several media outlets, including The New York Times, noted an independent report on Monday that was issued by eight former senior American officials which urges President Barack Obama to send $3 billion in defensive arms and equipment to Ukraine. This aid would include weapons such as anti-armor missiles and armored Humvees.
"The West needs to bolster deterrence in Ukraine by raising the risks and costs to Russia of any renewed major offensive," the report says. "That requires providing direct military assistance — in far larger amounts than provided to date and including lethal defensive arms."
While Obama has not yet announced the U.S.'s next step in the war in Ukraine, Secretary of State John Kerry is set to visit Kiev on Thursday, and is expected to discuss sending lethal aid to the Ukrainian forces.
Some major European countries such as Germany, which has opposed the rebels' actions in Ukraine, have ruled out sending such aid.
"This crisis cannot be solved militarily," said German Chancellor Angela Merkel, stressing that she will look at further sanctions and diplomacy.
The war for control over several cities in eastern Ukraine, which began in 2014, has led to the deaths of over 5,000 people. BBC News noted that dozens died over the weekend in the battle for the town of Debaltseve, following a failed truce between the rebels and the government.
Separatist leader Alexander Zakharchenko announced that the rebels are looking to build an army of 100,000 fighters.
"This is to increase our army to 100,000 people," Zakharchenko said. "It does not mean we will take in 100,000, but the joint army of Donetsk and Luhansk People's Republics' army should be 100,000."
The rebel leader said that new recruits will be trained and separated into several army brigades.
"This is the reserve which will guarantee us an ability to withstand any attack, and in case of success, to develop a counter-attack," he added.
The U.S. has blamed Russia for sending both troops and weapons such as tanks to fight for the rebels, something which Russian President Vladimir Putin has denied. In November, however, NATO released several photographs of Russian troops and tanks entering the eastern parts of Ukraine.
"The pattern is clear," Samantha Power, the American envoy to the U.N., told the Security Council. "Where Russia has made commitments it has failed to meet them."
"Russia has negotiated a peace plan and then systematically undermined it at every step. It talks of peace but it keeps fueling war," Power said.
NATO officials have said that as at least 1,000 Russian military and intelligence personnel are active in Ukraine, while Kiev has said that that number is much bigger. NATO added that rebels have captured close to 193 square miles of territory in the past four months, and are continuing to make advances.
Michèle A. Flournoy, a former senior Pentagon official who helped prepare the Obama administration's report, said that it's possible to stop the Russian advance in Ukraine.
"One of the best ways to deter Russia from supporting the rebels in taking more territory and stepping up the conflict is to increase the cost that the Russians or their surrogates would incur," Flournoy said.
"Providing the Ukrainians with something that can stop an armored assault and that puts at risk Russian or Russian-backed forces that are in armored vehicles, I think, is the most important aspect of this," she added.