Russian Troops, Tanks Photographed Entering Ukraine as Ceasefire Collapses; US Says Russia Fueling War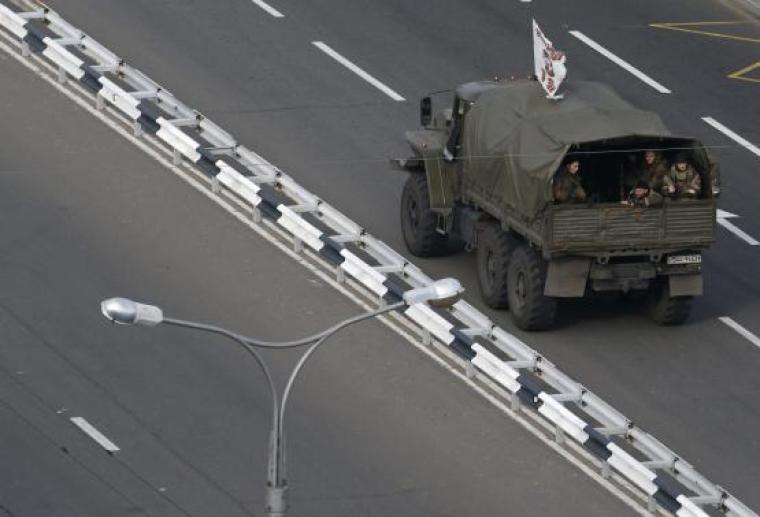 Russian troops and tanks have been photographed entering Ukraine as the ceasefire in the Eastern European country has all but collapsed. The U.S. responded by accusing the Russian administration of talking peace while at the same time fueling war with its every action.
"The pattern is clear," Samantha Power, the American envoy to the U.N., told the Security Council on Wednesday. "Where Russia has made commitments it has failed to meet them."
"Russia has negotiated a peace plan and then systematically undermined it at every step. It talks of peace but it keeps fueling war."
NATO released several photos earlier this week of Russian forces entering Ukraine's territory. Heavy artillery fighting was also reported in the eastern cities of Donetsk and Luhanks, which are both being held by pro-Russian rebels, BBC News noted.
Russia has continuously denied any involvement in the fighting in Ukraine, which has killed over 4,000 people since it began earlier this year. A ceasefire was agreed in September, but there have been numerous reports of fighting between rebels and government forces since then.
Gen. Philip M. Breedlove of the U.S. Air Force said that "Russian tanks, Russian artillery, Russian air defense systems and Russian combat troops" had been spotted entering Ukraine earlier this week. He suggested that the Russian troops are being sent to reinforce separatist control in eastern Ukraine, which can help them form "a more contiguous, more whole and capable pocket of land in order to then hold on to it long term."
The Organization for Security and Cooperation in Europe (OSCE) also reported seeing a convoy of unmarked green military trucks on Tuesday moving toward the Donetsk city center. The monitoring group noted that some of the trucks were towing 120-millimeter howitzer artillery pieces, while others were transporting partly concealed multilaunch rocket systems.
Breedlove added that "there is no question any more about Russia's direct military involvement in Ukraine," according to Reuters.
Despite the photos released by NATO, Russian defense official Maj-Gen Igor Konashenkov said "there was and is no evidence" to support the claims. At Wednesday's Security Council meeting, Russian deputy ambassador to the U.N. Alexander Pankin also described the allegations as "propaganda."
The central government of Ukraine has responded, however, by redeploying its own troops in preparation of a new offensive by the pro-Russian rebels.
"The main task I see is to prepare for combat operations. We are doing this, we are readying our reserves," Ukraine's defense minister Stepan Poltorak said.
U.N.'s assistant secretary general, Jens Anders Toyberg-Frandzen, warned of the possibility "of a return to full-scale fighting" in Ukraine as a result of these developments, speaking at the Security Council meeting.
He said a conflict "with sporadic low-level battles" would be "a catastrophe for Ukraine." Toyberg-Frandzen also warned of another scenario, where a "frozen or protracted conflict that would entrench the status quo in south-eastern Ukraine for years or decades to come."
Russia and Ukraine have accused each other of bearing responsibility for the continuous fighting. On Thursday, Russian Prime Minister Dmitry Medvedev spoke out against economic sanctions imposed on his country by several Western states.
Medvedev told Interfax news agency that it is necessary "to abandon sanctions, move relations to a normal, working order, return to normal, calm, productive talks."
Ukraine's ambassador to the U.N., Yuriy Sergeyev, had earlier said that it is only due to Ukraine's "restraint" that the conflict in the eastern cities has not led to an all-out war between Ukraine and Russia.
"The only reason why... open war in the east of Ukraine hasn't started yet is because of Ukraine's restraint," Sergeyev said.