Ukraine Archbishop at Catholic Synod: 'Ukraine Cannot Be Killed, Not Even With Russian Tanks'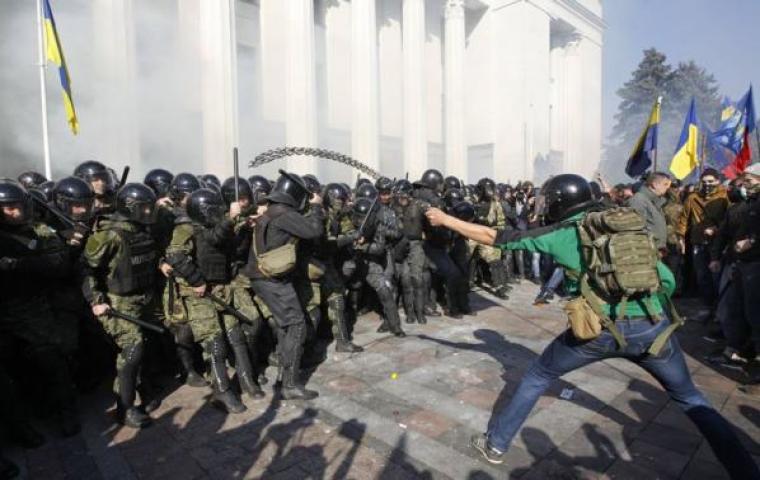 A Roman Catholic Archbishop in Ukraine has said that the nation "cannot be killed, not even with Russian tanks," referring to the ongoing war, while speaking at the Synod of Bishops on the family taking place at the Vatican. Major Archbishop Sviatoslav Shevchuk also discussed the crucial role of the Catholic family in protecting human rights.
"The new Ukraine that is being born amid suffering is a new society" yearning for full freedom and full democracy, bringing together people from every religion and ethnic group, Shevchuk said, according to Catholic News Service.
"This new Ukraine that is being born cannot be killed, not even with Russian tanks."
Several conflicts have torn Ukraine apart in the past year, most notably the ongoing war with pro-Russian rebel forces that have captured a number of cities in the eastern parts of the country.
Despite Russian president Vladimir Putin's denial of Russian influence inside the country, the territory of Crimea was annexed by Russia in March, sparking fears from the Kiev government that other territories might also be claimed by the Russian Federation.
Shevchuk called on Ukrainians at the time to be ready to sacrifice their lives to protect the country's freedom in the face of Russian aggression.
"Our people and our country are currently in danger," the archbishop said. "We must stand up for our country, to be ready, if necessary, to sacrifice our lives in order to protect the sovereign, free, independent, and unified state."
The conflict has left over 3,660 dead, according to U.N. statistics.
Speaking at the two-week Synod, Shevchuk reflected on his role as leader of the minority Catholic population in Ukraine, noting that for over 40 years the Church was outlawed by the ruling Soviet Union.
"Everything I learned about church, about Christ, the ambience where I learned to pray — before I met a priest for the first time — was my home, my family," the archbishop reflected.
He said his people's experience was that the family was "the last defense of human dignity; only inside the family did we feel ourselves protected because society outside your own home was very dangerous, not human, not Christian."
Reflecting on the horrors of war, he described pain as a common experience, especially for mothers who "have to send their sons to a war and many of them will receive their sons (back) in a coffin. This is a tragedy."
He continued: "War brings poverty, economic crisis (and) unemployment, so mothers and fathers today are thinking, 'How will we heat our house next winter?' 'Where will we find money to buy food for our family? How will we provide an education for our children?'"
Unrest meanwhile continues in Ukraine, with Reuters reporting that anti-government protests flared up in Kiev on Tuesday. Thousands of protesters threw stones and smoke bombs outside the parliament, clashing with police.
"This is a provocative action directed on destabilisation of the situation in Ukraine," said Zoryan Shkiryak, aid for Ukrainian interior minister.
The protesters apparently declined to explain what the protests were about, or what political forces they represented.