Pro-Russian Rebels Kill 12 in Ukraine Despite Ceasefire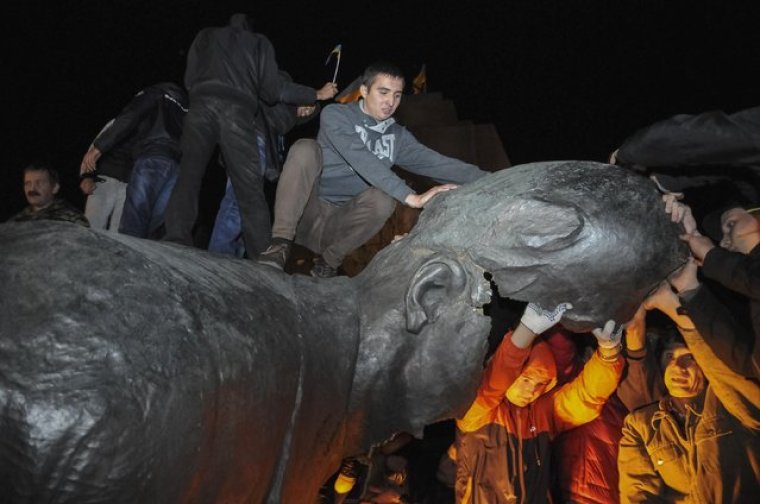 At least 12 people were killed in eastern Ukraine on Monday, including three civilians, despite a ceasefire in the region. Officials noted that the conflict has cost over 3,500 lives in total since it began in April.
Col. Andriy Lysenko said that nine soldiers were killed and 27 were wounded by tank fire at the government-held airport in the city of Donetsk. Three civilians were killed and five were injured in a separate incident during an overnight shelling of a residential area, where rebels have been trying to capture the airport, The Associated Press reported.
The Donetsk city hall described the situation in the city as "very tense" with artillery heard throughout the night, AFP added.
Fighting between Ukraine forces and pro-Russian separatists has continued despite a ceasefire agreed on Sept. 5. Western governments have blamed Russian President Vladimir Putin for arming and backing the rebels, though Putin has denied all Russian involvement in the conflict.
Thousands of Russians marched in Moscow eight days ago in the first anti-war protest against Russia's actions, however, and demanded the Russian president to "stop lying."
Ukrainian President Petro Poroshenko has also travelled to the U.S. and spoken before Congress, asking for U.S. military assistance for his country.
"If they are not stopped now, they will cross European border(s) and they will absolutely spread throughout the world," Poroshenko said. "The choice is simple: It is between civilization and barbarism."
The U.S. government, which has backed Ukraine financially with over $350 million in aid packages this year, detailed its support for Poroshenko's government in a White House fact sheet, but did not share any plans to offer military intervention.
"The United States is firmly committed to supporting Ukraine as it works to establish security and stability, respond to humanitarian and reconstruction needs, conduct democratic elections and carry out constitutional reforms, restore its economy, and combat corruption," the statement read.
"Along with our international partners, including the IMF, the United States is committed to supporting Ukraine's reform agenda while also ensuring that Ukrainians are able to determine their future without intimidation or outside coercion.
On Sunday Ukrainians tore down a large statue of former Russian leader Vladimir Lenin in Kharkiv, the second-largest city. Nationalists have torn down a number of statues of the former Communist figure throughout Ukraine as a sign of anti-Russian sentiment.