Ukrainian President Poroshenko Asks Congress for Military Assistance Against Russian Aggression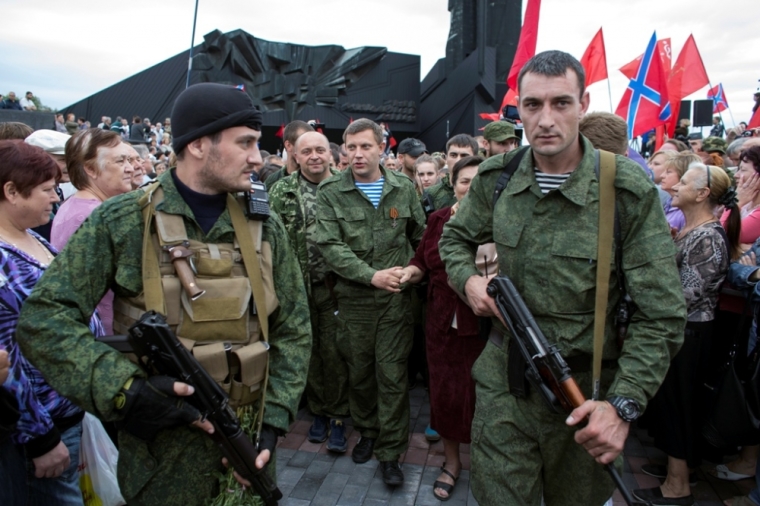 Ukrainian President Petro Poroshenko spoke before Congress Thursday and asked the U.S. to provide military assistance against Russian aggression. Poroshenko described the critical situation in eastern Ukraine, where several towns have been captured by pro-Russian forces, and said that Ukrainians are fighting a "war for the free world."
"If they are not stopped now, they will cross European border(s) and they will absolutely spread throughout the world," Poroshenko said, according to USNews. "The choice is simple: It is between civilization and barbarism."
The Ukrainian president said that his country appreciates the help the U.S. has sent in terms of supplies, but said that more will be needed in order to combat separatists who are tearing the country apart.
"Blankets, night-vision goggles are important, but one cannot win the war with blankets," Poroshenko told Congress.
He added that Russia is motivated by an "imperial mindset" and "nostalgia for the Soviet Union," and reminded U.S. politicians of how it annexed Crimea earlier in March.
Russian President Vladimir Putin continues to deny all Russian involvement in Ukraine, and frames the issue as a civil war where separatists are fighting for independence from the central government.
A ceasefire between Ukraine and the occupying forces in the eastern parts of the country that was agreed earlier this month is still holding, though the fighting has led to great devastation in the regions of Donetsk and Luhansk. Over 3,000 people are said to have died in the conflict since April.
In a Fact Sheet released on Thursday, the White House outlined U.S. support for the government of Ukraine, but made no mention of any plans for military intervention.
"The United States is firmly committed to supporting Ukraine as it works to establish security and stability, respond to humanitarian and reconstruction needs, conduct democratic elections and carry out constitutional reforms, restore its economy, and combat corruption," the statement read.
"Along with our international partners, including the IMF, the United States is committed to supporting Ukraine's reform agenda while also ensuring that Ukrainians are able to determine their future without intimidation or outside coercion."
In terms of financial assistance, the U.S. government said it has provided close to $291 million to Ukraine in 2014 alone, as well as a $1 billion loan guarantee.
A new assistance package totaling $53 million in aid will go to Ukraine's military and border guards, as well as support international relief organizations that are providing humanitarian aid to those affected by the conflict.
Poroshenko met Thursday with Secretary of State John Kerry and President Barack Obama before his trip to Capitol Hill to speak before Congress.
The Ukrainian president was reportedly cheered by Congress during his introduction, BBC News noted, and his speech was "punctuated by repeated applause and standing ovations."
"But Poroshenko, no doubt gratified by the reception, had an agenda wider than just bathing in the love of Congress. He wants action: enhanced military status, weaponry, tougher sanctions against Russia," BBC analyst Jon Sopel offered.
"That might prove more difficult to obtain than the backslaps and warm handshakes."