Thousands March in Moscow Against Russian Involvement in Ukraine, Ask Putin to 'Stop Lying'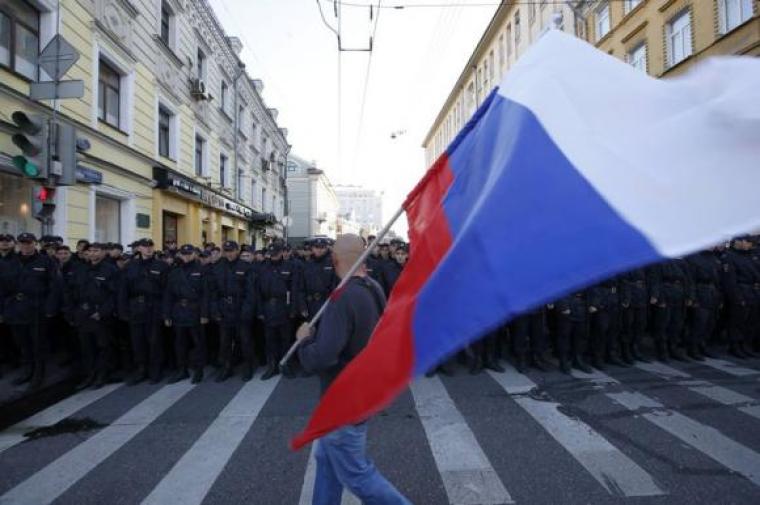 Thousands of Russians marched through Moscow on Sunday in what was the first anti-war protest against President Vladimir Putin's actions in Ukraine. Some protesters held up signs asking the Russian president to "stop lying."
"The Peace March," as it is called, came as Putin's government continues to deny any responsibility for the ongoing crisis in Ukraine, where pro-Russian rebels in the eastern parts of the country have captured several cities.
AFP reported that thousands carried placards reading "Forgive us, Ukraine" and "Putin, stop lying."
"I believe the war has been provoked by Putin," said one protester, identified as 44-year-old Vladimir Kashitsyn.
The war in Ukraine has claimed close to 3,000 lives since the escalation of hostilities began in April.
The Ukraine government has called on support from the U.S. and the world's powers, arguing that Russia is carrying out a full-fledged invasion into its territory by sending troops across the border and arming the rebels with tanks.
Last week, Ukrainian President Petro Poroshenko spoke before Congress to ask for American military assistance for his country.
"If they are not stopped now, they will cross European border(s) and they will absolutely spread throughout the world," Poroshenko said. "The choice is simple: It is between civilization and barbarism."
While a ceasefire between the government and rebels is officially still active, reportedly there was fighting on Sunday close to the eastern city of Donetsk.
"In the last 24 hours we have lost two Ukrainian soldiers, eight have been wounded," Ukrainian military spokesman Andriy Lysenko told the media.
Nato's supreme commander in Europe, Gen Philip Breedlove, added that the ceasefire existed "in name only."
BBC News noted that a separate rally in support of the pro-Russian separatists was held in Moscow, but there were only minor scuffles reported between the rival groups.
The ITAR-TASS News Agency reported on Sunday that another unsanctioned protest took place in front of the U.S. embassy in Moscow, where about 30 people gathered holding signs "Obama, keep your hands off Ukraine."
The protesters reportedly blamed President Barack Obama and Poroshenko for the bloodshed in Ukraine and demanded an end to hostilities.
A spokesman for the group explained that police asked the protesters to leave since the rally was not authorized by the executive authorities, and they obliged.
The White House explained in a fact sheet last week that the U.S. has sent significant assistance to the government of Ukraine, but did not share any plans to offer military intervention.
"The United States is firmly committed to supporting Ukraine as it works to establish security and stability, respond to humanitarian and reconstruction needs, conduct democratic elections and carry out constitutional reforms, restore its economy, and combat corruption," the statement read.
"Along with our international partners, including the IMF, the United States is committed to supporting Ukraine's reform agenda while also ensuring that Ukrainians are able to determine their future without intimidation or outside coercion."
The White House also noted that the U.S. government has provided close to $291 million to Ukraine in 2014 alone, and is sending out a new $53 million aid package that will go to Ukraine border guards and to relief groups providing humanitarian assistance in the region.