Ken Ham, Bill Nye Debate Whether Sin or Evolution Affected Morality, Spurred Humans to Wear Clothes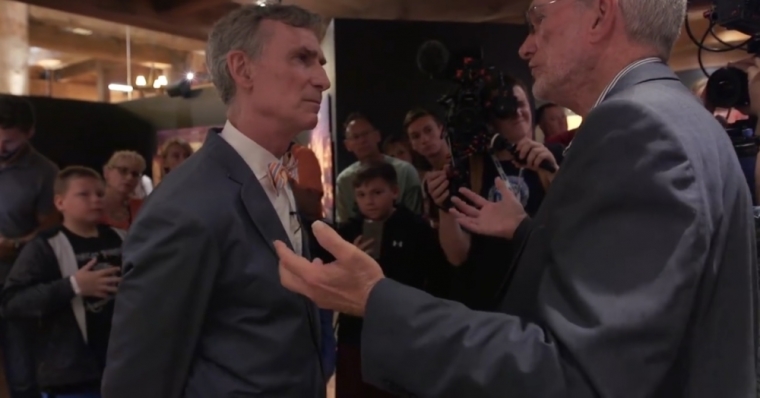 Answers in Genesis CEO and President Ken Ham has posted another video of his debate with Bill Nye "The Science Guy" at the Ark Encounter in July, in which the two debated morality and why humans wear clothes.
In the video, Ham asked Nye to provide a moral basis for why people wear clothes. Nye responded that people in the scientific community believe that human feelings and emotions are a result of evolution.
"So that we have sympathy for each other, that we get angry with each other, that we work very hard to raise our children, provide them with resources – [it] is deep within us. It's part of who we are. It's not a result of a top-down issuance of laws. That's the claim in science, and we observe this in other species," Nye explained.
Ham countered, however, by stating that God gave people clothes "because of sin."
"The fact that we are wearing clothes is a reminder that God killed animals and clothed Adam and Eve," the Young Earth Creationist said, arguing that this eventually paved the way for Jesus, who would one day come to "die for our sins."
"Died for your sin, Bill, and died for mine, be raised from the dead, and offer the free gift of salvation," Ham said.
Nye thanked Ham, but said that he remains "very skeptical that sin caused us to wear clothes."
Ham, who opened the life-size Noah's Ark theme park in Kentucky on July 7, said that even if Nye disagrees, it is still a reminder that "God provides salvation through the Lord Jesus Christ."
The AiG President then explained that he is a born-again Christian, and told Nye that he can be "born again too."
"The Bible says that if you are not born again, you suffer a second death, which is eternal separation from God," Ham said.
"I'm not gonna suffer that second death, I don't want you to suffer that second death. I really don't."
Nye replied: "I know you don't, but I would prefer you weren't indoctrinating young people with anti-science."
Ham and Nye have consistently accused each other of trying to brainwash children, with the "Science Guy" arguing that Ham is pushing an anti-science agenda, while Ham insisting that Nye is trying to convince children that they are "just animals."
"He wants to brainwash kids, to indoctrinate them, in his naturalistic (atheistic) religion of meaninglessness and hopelessness," Ham said following Nye's visit.
Ham and Nye participated in another debate focused on creationism and evolution in February 2014, and have continued their discussions and disagreements on the topics of science, God, and the creation of the world ever since.
In an interview with NBC News following his Ark visit, Nye argued that the theme park was not only "disturbing," but that on the third deck every single one of the science exhibits was "absolutely wrong."
"Not just misleading, but wrong," Nye said.
Ham responded to that claim by stating that Nye was being irrational.
"Yes, Ark exhibits do have signs on them offering interpretations based on a biblical worldview, and understandably Bill Nye disagrees with them. But there's a lot of information presenting facts from geology, genetics, anthropology, and so on that everyone agrees with, as we observe such things in the present," Ham wrote.