Louisiana Rep. Vance McAllister Will Seek Re-Election After 'Much Thought and Prayer'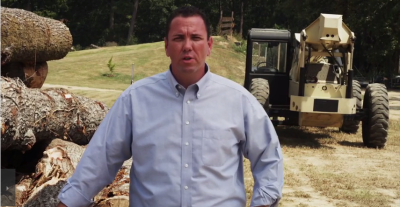 Louisiana's Christian congressman, Vance McAllister, will be running for re-election this coming November, despite an adultery scandal that earned him the nickname "the kissing congressman" earlier this year.
McAllister, a Republican who represents Louisiana's 5th District, made his announcement Monday morning before holding a press conference in Monroe. The congressman from Swartz said that after spending the weekend with his five children and wife, he has decided that he will leave it up to Louisiana voters whether he should stay in office.
 "Without a doubt this decision comes after much thought and prayer," McAllister said in the statement, as reported by The Washington Post.
"This district has been home to me and my family all of my life. I know the needs of this congressional district very well. I also know that this district needs a strong, conservative voice in congress. I plan to continue to stand up for our veterans, bring common sense solutions to our nation's problems and most importantly I will fight to get our fiscal house back in order."
The congressman added in an interview with the Monroe News Star that his adultery scandal from earlier this year will not be discussed during his campaign for re-election. Back in April, a surveillance video from McAllister's district office showed him kissing one of his female staffers who was also married at the time. She has since been removed from her position.
"I've publicly apologized to the people in the 5th District and more importantly worked through it with my family," the 40-year-old congressman told the Monroe News Star. "I've said all I'm going to say about it. Now it's up to the voters."
Although McAllister has received support from his wife, who said she was "proud of [her] husband" for seeking re-election, other top Republican politicians have called for the congressman's resignation in the wake of the scandal. Previously, Louisiana Gov. Bobby Jindal and House Majority Leader Eric Cantor expressed their opposition to McAllister's re-election campaign.
"Congressman McAllister made the right decision earlier when he said he would not run again," Jindal said in a statement this week, according to the Monroe News Star. "It is disappointing he changed his mind."
McAllister will now be vying for his congressional seat against a mounting number of competitors, including a businessman from Calhoun, Zach Dasher, who is the first cousin of the Robertson family from "Duck Dynasty." McAllister's decision to seek re-election creates an interesting political atmosphere, as the Robertson family used their popularity to drum up support for the congressman during last year's election.
Now that their family member, Dasher, is running, the Robertson family has put their support behind the pharmaceutical representative, who is running as a Republican on a Christian, conservative platform.
McAllister has stated that there are no hard feelings between him and the reality show family for their switch in support, saying, "[The Robertsons] wouldn't be the people I know them to be if they didn't support someone from their family."
The congressional election for Louisiana is set for Nov. 4.