Mariam Ibraheem Secretly Read the Bible While Jailed for Apostasy; Says Muslim Cellmate Accepted Christ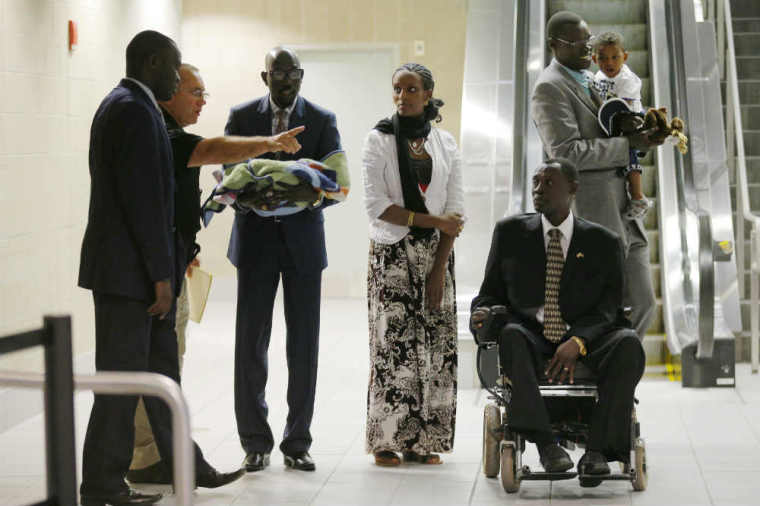 WASHINGTON — Mariam Ibraheem, the Sudanese Christian mother who was sentenced to death in 2014, revealed on Saturday that she secretly read the Bible at night while she was imprisoned for apostasy and trusted a Muslim inmate to hide the Bible from prison guards.
The 29-year-old Ibraheem, who was raised by her Christian mother but was considered by Sudanese courts to be a Muslim because it was her father's faith, became the center of an international human rights outcry after she was sentenced to death in May 2014 because she married a Christian man, Daniel Wani, an American citizen.
Not only was she imprisoned, but her 20-month-old son, Martin, was also jailed with her and she was forced to deliver her baby daughter, Maya, while in shackles.
Ibraheem, who was released in June 2014 by the order of a Sudanese appeals court and now lives in Virginia, sat down with The Christian Post to discuss her time in prison before she spoke Saturday at an annual prayer night for the Persecuted Church held at Christ Our Shepherd Church in Washington.
Ibraheem told CP that she didn't sleep much at nights when she was in prison. She often had to use her blanket to create a soft area so that her son would have a place to sleep. She explained that she had to stay up nights to watch over her son and make sure nothing happened to him.
"Sometimes, I have to have time at night when the prison guards are not going to be around, I have to get my Bible and read it," Ibraheem said, adding that she could only have her Bible at night. "I have to hide it with someone else, with one of the women I know."
She said the guards didn't know that she was keeping a Bible but they would get skeptical if they found a pen or pencil and would ask her, "Why are you using that? You writing?"
Although Ibraheem was sentenced to 100 lashes and death by Muslims who objected to the fact she was a Christian, it was a Muslim inmate who enabled her to read the Word of God despite being jailed for her faith.
"She was an inmate. She is from Ethiopia. She is a Muslim but she had to keep [the Bible] for me," Ibraheem said of her unnamed friend, who was arrested for being in Sudan illegally. "Sometimes, she had to help me out with Martin, my son, because if I wanted to go and use the bathroom, I can't leave him alone. Sometimes I would have to pay for someone to come watch him."
Ibraheem told CP that she had the Bible smuggled into the prison through a paid-off guard.
"I got from one of the guards," she said. "I had to pay something to get some stuff for me."
Although some Muslims wanted to kill Ibraheem, she said that her Ehtiopian Muslim inmate who secretly held her Bible was more accepting of her faith.
"She was sad because she was watching them attacking me," Ibraheem said, recalling a time when the inmate asked her why she looked so peaceful while reading the Bible.
"This is the Bible. This is why I am in prison, because I believe what is in this book," Ibraheem told her.
"She understood," Ibraheem continued. "And, when her time [in jail] ended and she had to pay to get out, she asked me for help."
Ibraheem said she is still in contact with her friend and has been told that she converted to Christianity after she was released from prison.
"She went somewhere with some people I know. She later told me that she became a Christian and married someone I know," Ibraheem said. "I sent her to those people because she needed someone to take care of her."
As Ibraheem was eight months pregnant at the time of her sentencing, she was forced to give birth to Maya while she was in shackles at the medical clinic in the Omdurman Federal Women's Prison.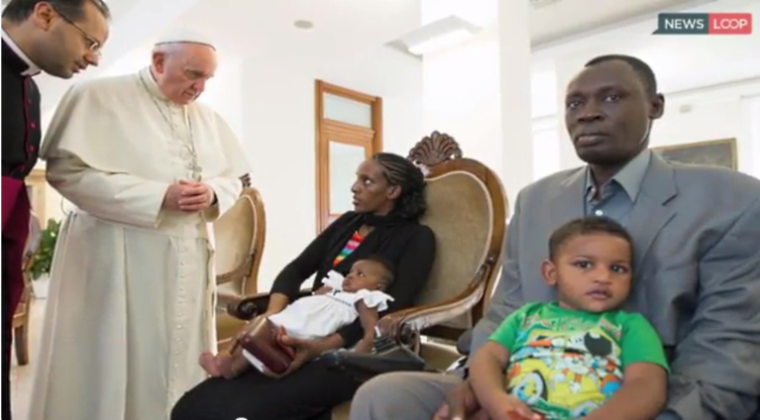 As she was dealing with labor pains and came close to delivering Maya, she recalls the head of the prison coming in and telling her that if she would just recite the Islamic declaration of faith, she would be released and taken to a hospital.
"While I am in pain before I gave birth, [I was told,] 'If you want to get out of here and go to the hospital, [just say the] Shahada.'"
Like all the other times Ibraheem was told that she could have been released for reciting the Shahada, she refused.
"I didn't want to say that," Ibraheem said. "I am not going to lie. My kids are not going to respect their mom if I did something like that."
Not only did the officials keep Ibraheem in chains, but she also said that they even cut the power out in the clinic at 3:30 in the morning. Despite all the obstacles and challenges, Ibraheem said she was thankful for the nurse who helped deliver Maya.
"God blessed me with a good woman, the nurse, who was with me when I was delivering her," Ibraheem said. "She had to take the chance and stay closer to my body because there was a chance that the shackle could hit [Maya's] head and she had to pull her up like that. It's hard."
Because she was in prison, Ibraheem said it took 28 days after Maya was born before she could be evaluated by a doctor, which didn't happen until she visited a doctor at the U.S. Embassy after the appeals court ordered Ibraheem to be released.
Although there was some initial concern that Maya could have trouble walking or other developmental problems, Ibraheem says her daughter is in good health today.
Ibraheem credits Pope Francis, who met with Ibraheem and her family and prayed over Maya when she was just 1-and-a-half months old.
"My daughter is doing good. After we met with the pope and he blessed and touched her leg, a lot of change happened with her," Ibraheem said, adding that the change in Maya's health was rather rapid after meeting with the pontiff. "At the time, her head looked big and her legs were small and not growing, I had to cover them."
Even though Mariam desperately wanted to return to her home after her release, she was warned by the U.S. Embassy not to return home because she and her husband faced the possibility of being killed if they did.
"A Muslim group sent video saying if they saw me or my husband around, they were going to kill us," she said. "I am not afraid to die but I have to respect the people telling us that this is something dangerous for you. I just took their advice."
Now that she is free from the persecution she faced in Sudan, Ibraheem now serves as a human rights and religious freedom advocate and even launched her own charity organization called the Mariam Ibraheem Charitable Foundation, which raises awareness of global persecution in the U.S. and provides assistance to women throughout the world.