Media Baffled as Trump Asks Ben Carson to Lead Cabinet Meeting in Prayer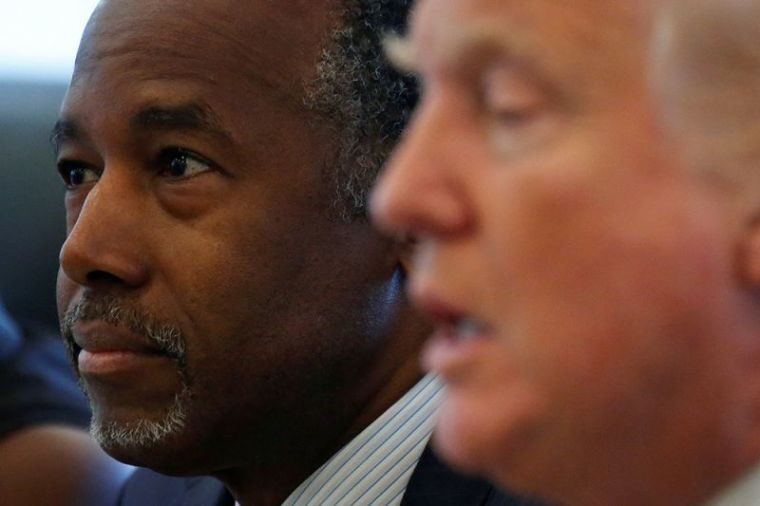 Some in the media appeared baffled by an "unusual" prayer during a Cabinet meeting that HUD Secretary Ben Carson said at President Trump's request shortly after Congress finalized a sweeping tax reform bill Wednesday.
President Trump asked Carson to begin a Cabinet meeting with a prayer Wednesday morning, inviting journalists to stay because "you need the prayer more than I do, I think, you may be the only ones."
"Maybe a good solid prayer and they'll be honest, Ben, is that possible?" he joked, pointing at reporters in the Cabinet room.
In his prayer Carson thanked God "for a President and for cabinet members who are courageous, who are willing to face the winds of controversy in order to provide a better future for those who come behind us" and for "the unity in Congress" that brought about passage of the Republican tax reform legislation. He also thanked God for the current economic expansion "so we can fight the corrosive debt that has been destroying our future."
"We hope that that unity will spread even beyond party lines so that people recognize that we have a nation that is worth saving and recognize that nations divided against themselves cannot stand," the HUD secretary prayed.
Washington reporters remarked that the prayer seemed odd.
"That I don't think I've ever seen in the Cabinet room, something other than a White House prayer breakfast," said MSNBC anchor Andrea Mitchell of the "unusual nature" of Carson's prayer.
MSNBC White House correspondent Kristin Welker appeared to agree, noting "that moment where you had Ben Carson effectively leading everyone in prayer ... it was striking to see everyone bow their heads in that context," referring to a discussion of legislative goals and accomplishments, mainly the tax bill President Trump intends to sign.
USA Today senior politics reporter Heidi Przybyla pointed out on Twitter: "Ben Carson's prayer is emphasizing what the tax bill does for the future for 'those who come behind us' and the 'corrosive debt.' This bill does a number of things, but it is the antithesis of fixing the debt for future generations ...."
Yet others who openly admire Secretary Carson cautioned him about his use of prayer in the public arena.
"I know #BenCarson as a Christian & like him very much, but when it comes to prayers at Cabinet meetings: Remember, Ben, politics must always be put at the service of prayer; never is prayer to be put at the service of politics. I know—I'm a recovering offender. Careful, brother," tweeted Rob Schenck, an evangelical minister who is the president of the Washington-based The Dietrich Bonhoeffer Institute.