'Messiah' Baby Name Not Allowed by Tenn. Judge; Says Only Jesus Is Messiah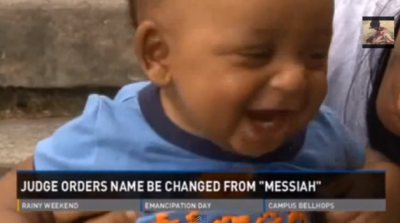 A U.S. judge in Tennessee has ordered that a child's first name must be changed from "Messiah" to Martin, saying that the word "Messiah" was a title that had been earned by only one person – Jesus Christ.
The parents of a seven-month-old boy, who had been named Messiah DeShawn Martin at birth, had gone to court in Tennessee fighting over what the child's last name should be.
However, when Child Support Magistrate Lu Ann Ballew found out that the child's first name was "Messiah" she ordered that the baby's first name must be changed as well. She argued that Messiah was not a name but a title, and that the title had been earned by just one person, and "that one person is Jesus Christ."
Judge Ballew, who has confirmed that this is the first time she has ever ordered a child's first name to be changed, said: "It could put him at odds with a lot of people and at this point he has had no choice in what his name is."
Ballew settled the dispute about the baby's name between the parents by ordering that his name be changed to Martin DeShawn McCullough, which includes both parents' last name.
The judge argued that the name change was in the best interests of the child as the name Messiah could cause him problems if the child grows up in Cocke County, which has a large Christian population.
Ballew said, "The word Messiah is a title and it's a title that has only been earned by one person and that one person is Jesus Christ."
However, the baby's mother, Jaleesa Martin, of Newport, has expressed dissatisfaction at the ruling and has said that she plans to appeal. Martin told WBIR, "I didn't think a judge could change my baby's name because of her religious beliefs."
Martin argues that the name Messiah is unique, and she had not chosen the name because of its religious connotations, but simply liked how the name would have fitted in alongside her other two boys' names – Micah and Mason. She said, "Everybody believes what they want so I think I should be able to name my child what I want to name him, not someone else."
According to the Social Security Administration, in 2012 more than 700 babies were named Messiah across the United States.
Christians herald Jesus as the one and only Messiah, where as Jews also use the term Messiah but in reference to a future anticipated savior of the Jews.
Messiah was number 387 in the list of the most popular of baby names in the U.S. in 2012.