Mike Huckabee to Host International Tour for Evangelical Pastors From Early Primary States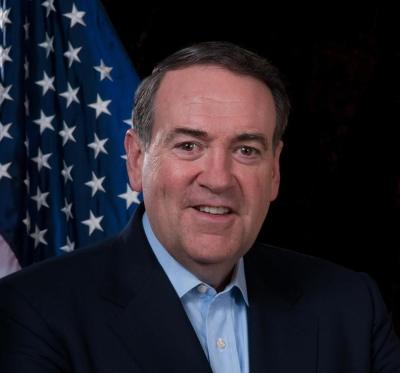 Former Arkansas Gov. Mike Huckabee is inviting pastors from early Republican primary states to join him on a 10-day tour through Europe to explore the places where former political and historical leaders thrived.
Huckabee's tour, "Reagan, Thatcher, Pope John Paul II Tour: God Raising Extraordinary Leaders for Extraordinary Times," is strictly by invitation only for evangelical church leaders in New Hampshire, Nevada, South Carolina and Iowa, who will have the opportunity to delve into the history of politics, religion and power during the trip.
"Three remarkable leaders, Ronald Reagan, Margaret Thatcher, Pope John Paul were the human instruments God used to change the course of all world history," said Huckabee in a video invitation sent to the pastors. "None of them were qualified according to the press and political pundits or professional critics but rooted in their unshakable beliefs, they rose to become prophetic voices for freedom and opportunity."
In his video, Huckabee notes that historical, social and spiritual forces shaped Regan, Thatcher and Pope John Paul II's leadership to become the world influencers they are recorded in history as. In addition, he speaks about how the fall of communism, the restoration of economic freedom and the spiritual renewal of cultures took place during the course of these leaders' lives
Huckabee, who is also a former Republican presidential candidate as well as a Southern Baptist pastor, is hosting the tour with the intent to encourage pastors to speak more boldly about key cultural issues from the pulpit, according to CBN News.
During the trip, pastors will have the opportunity to visit Krakow, Poland and London, England before ending the tour in Los Angeles, California. They will also make stops in Auschwitz to tour Schindler's Factory, have dinner at the historical Galicia Jewish Museum and visit important sites of Pope John Paul II. Furthermore, they will have dinner at the Churchill War Rooms in London, visit the Parliament and interact with Parliament members.
The tour will begin after the midterm elections in November with the intent to gain the support of spiritual leaders as Huckabee is reportedly considering placing a bid for the GOP presidential nomination for 2016.
Conservative activist David Lane, who has organized similar events for Huckabee in an effort to include pastors in the realm of politics, is the operative behind the European tour.
During a "Pastors and Pews" event last December, organized by Lane to inform pastors about important political issues pertinent to their communities, Lane noted that it was the first time he had seen Huckabee "aggressive" about running for president.
Huckabee joined the 2008 presidential campaign but ended his bid after finishing second to U.S. Sen. John McCain of Arizona.