Mike Pence on Why He Ignored Kim Jong Un's Sister: Leads Propaganda for 'Evil We Have Witnessed Rarely'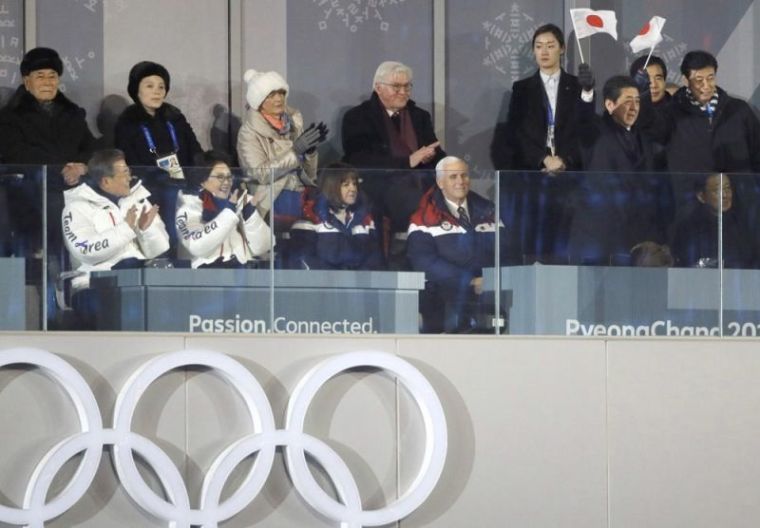 Vice President Mike Pence has defended his treatment of North Korean dictator Kim Jong Un's sister during the opening ceremony of the 2018 Winter Olympics in PyeongChang, South Korea on Sunday.
Pence, the 58-year-old former governor of Indiana, admitted during an event hosted by Axios on Wednesday that he did ignore Kim Yo Jong when he was seated in the same club box with her and North Korea's 90-year-old nominal head of state, Kim Yong Nam, during the ceremony.
Pence explained that he had no interest dealing with a woman who is helping lead the North Korean government's propaganda machine.
"Let me be clear, I didn't avoid the dictator's sister. But I did ignore her," Pence told Axios' Mike Allen. "I didn't believe it was proper for the United States of America to give any countenance or attention in that forum to someone who's not merely the sister of the dictator, but is the leader of the propaganda effort."
"You have to remember this is a family that very recently ordered that their brother [Kim Jong Nam] be murdered using chemical weapons, and the world saw that in horror on airport videos reproduced," Pence said.
"This is a regime and a family that also ordered that their uncle be executed with artillery fire in front of a crowd of 10,000 people, and she's the leader of the propaganda effort of that government."
Pence said that the Kim regime, which began with Kim Jong Un's grandfather Kim Ill-Sung, is "evil in the likes of which we have witnessed rarely in our time around the world."
"I wanted to send, by my silence, a very clear message that the people of the United States know who we are dealing with," Pence said. "And that we are going to continue to stand firmly and strong with resolve and with our allies until the regime in North Korea ceases to threaten our country and our allies with nuclear and ballistic missiles and we will continue to hold them to account on their appalling record of abuse of human rights of their own people."
For the past 16 years, North Korea has ranked as the worst country in the world when it comes to the persecution of Christians, according to Open Doors USA's 2018 World Watch List.
As tens of thousands of Christians and dissidents are suffering from torture and forced labor in North Korean "re-education" camps, others have been killed on the spot for trying to defect or for worshiping in house churches.
Imprisonment in North Korea is likely responsible for the death last year of U.S. citizen and 22-year-old college student Otto Warmbier, who was arrested in 2016 while he was traveling to the rogue nation with a tour group.
Warmbier's death came after he was released from a North Korean prison in a comatose state. Warmbier died days later after his return to the United States.
Pence, along with Warbier's father, met with a group of North Korean defectors during his visit to South Korea.
"I'm a Christian, and when I was in North Korea, I came across a Bible," defector Ji Hyeon-A said during the meeting. "And because I read the Bible, I was taken by the national security agency, and as a result, I decided to escape North Korea. And it was back in 1998. Afterwards, I made three more attempts, but every time I was ... sent back to North Korea. And I was successful on my fourth attempt."
In his interview with Axios, Pence explained that the administration is open to "communicating" its policy desires to the North Korean regime.
However, he stressed that "nothing will change until the day comes that North Korea permanently abandons its nuclear weapons and ballistic missile programs and ceases to threaten the United States of America and our allies in the region."