Mike Pompeo Pressed on Gay Marriage Beliefs, Views on Radical Islam at Senate Hearing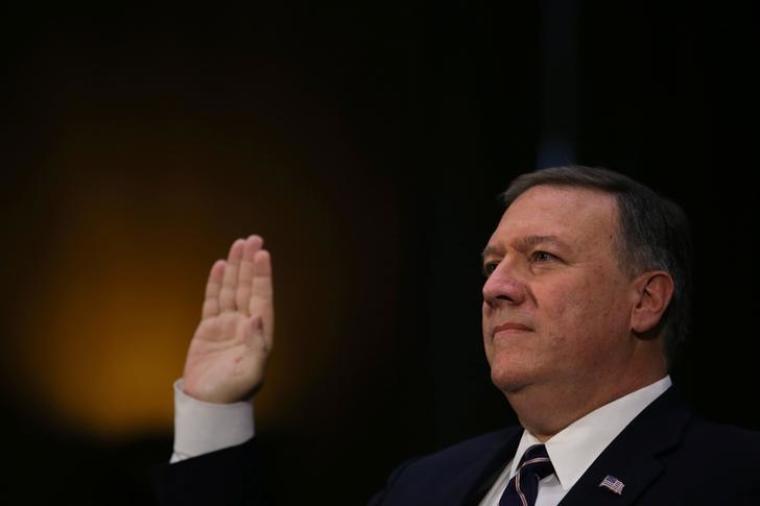 CIA Director Mike Pompeo, who is President Donald Trump's pick to be the next Secretary of State, was grilled on Thursday about his religious beliefs on homosexuality and his views on Islam at a U.S. Senate hearing.
Sen. Cory Booker, D-N.J., cited past statements made by Pompeo and asked whether he would specifically say that being gay is a perversion, to which the prospective Secretary of State replied: "When I was a politician, I had a very clear view on whether it was appropriate for two same-sex persons to marry. I stand by that." 
Pointing out that there are some gay persons in the State Department who are married, Booker then asked if he believed gay marriage should not be allowed.
Pompeo responded, "We have married gay couples at the CIA ... I treated them with the exact same set of rights ..." 
Before Pompeo could finish his statement, Booker again pressed him, asking, "You believe that gay sex is a perversion? Yes or no?"
The CIA director replied, "I'm going to give you the same answer I just gave you previously. My respect for every individual regardless of their sexual orientation is the same."
Tony Perkins, president of the Family Research Council, called the questioning a "litmus test" but said he was impressed by how Pompeo handled it.
"Not satisfied with Pompeo's pledge to treat everyone with respect and dignity, Sen. Booker demanded an endorsement of gay sex. Is this the Left's new litmus test for public service?" Perkins tweeted.
At another point in the hearing, Booker also pressed the CIA director on his views on Muslims, asking whether he believes that people worshiping "other gods" is a negative thing in America.
Pompeo responded, "You can look at my record. ... My record is exquisite with respect to treating people of each and every faith and no faith with the dignity they deserve, to protect the right to practice their religion or no religion, for that matter."
"I've heard these critiques ... I've worked closely with Muslim leaders, with Muslim countries, the CIA has saved countless, thousands of Muslim lives during my 15 months. This is at the core of who I am. ... I promise you that I will treat persons of each faith or no faith with the dignity and respect that they deserve," he added.
Booker then asked Pompeo whether he believes Muslims who do not speak out against extremist violence are complicit in such attacks, echoing some of the CIA director's previous suggestions.
Pompeo replied that every person, not just Americans, has a "special obligation" to oppose radical attacks, but said that Muslims are "better positioned" to do so in specific cases.
"For certain places, for certain forms of violence, there are some who are better positioned — folks who are more credible, more trustworthy, have a more shared experience. And so when it comes to making sure that we don't have terrorists brewing in places where Muslims congregate, there's a special place — they have an opportunity. It's more than a duty, it's an opportunity," he responded. 
Booker explained that he sought clarity on Pompeo's views due to a rise in hate crimes against gay individuals and those of other faiths. "You're going to be representing this country and their values abroad in nations where gays individuals are under untold persecution, untold violence. Your views do matter," he argued.
Much has been made about Pompeo's conservative views, with the evangelical Christian supporting a traditional stance on marriage and often warning in speeches throughout his career against radical Islam. He has also said that Jesus is the "only solution" for the world, and has talked about the Rapture and the return of Christ.
Dozens of religious freedom experts, including major persecution watchdog groups like Open Doors USA, have backed the nomination of Pompeo as secretary of state.
"With religious persecution on the rise globally, intertwined closely with issues of national security, I have confidence in Mike Pompeo's track record of demonstrating great concern for religious freedom internationally, combined with his broad understanding of national security and the importance of diplomacy and development," said David Curry, president and CEO of Open Doors USA.
"At this crucial point in time, we need a chief diplomat who grasps the vital importance of protecting freedom of faith around the world, recognizing that so often conflict and instability are linked to the denial and attack of fundamental freedoms."