Myanmar Official Uses Trump Mantra 'Fake News' to Deny Rohingya Genocide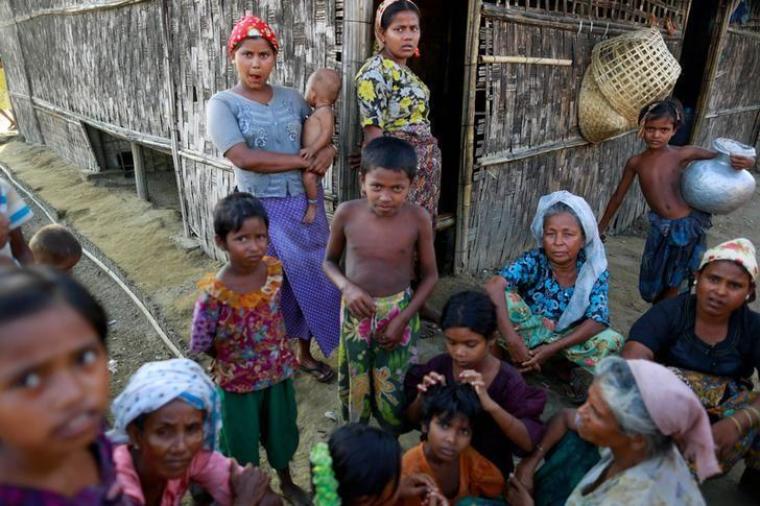 Denying that Myanmar is witnessing a major humanitarian crisis as ethnic Rohingyas are being attacked by the military, officials in the Buddhist-majority country are blaming the concerns being expressed by the international community on "fake news."
"There is no such thing as Rohingya. It is fake news," U Kyaw San Hla, an officer in the state security ministry in the western Rakhine region, where the majority of Rohingyas live, told The New York Times.
The ethnic Rohingyas, the majority of whom are Muslim, have faced discrimination and statelessness in Myanmar for decades, and torture, killings and rape in recent years.
Since late August, more than 620,000 Rohingyas have fled to Bangladesh, and this is their second exodus, as 87,000 had to flee last October due to to a similar brutal government crackdown following attacks on army and police by an armed Rohingya group.
According to estimates by the United Nations, children make up about 60 percent of the Rohingya refugees in Bangladesh.
Myanmar's military has been attacking Rohingyas in Rakhine state since Aug. 25, when the Arakan Rohingya Salvation Army, allegedly a "separatist" group, launched an attack on police posts and a military base there.
Al Jazeera reports that Rohingya girls and women in Bangladesh's Cox's Bazar are being sold as sex slaves.
A 15-year-old Rohingya girl, whose parents were killed by a mortar shell fired by the Myanmar military, told Al Jazeera she was sold into sex slavery after she arrived in Bangladesh by boat to escape a brutal military crackdown.
Pope Francis said last week he wept hearing the plight firsthand of Rohingya refugees in Bangladesh. "I wept, I tried to do it in a way that it couldn't be seen," AFP quoted him as saying. "They wept too. I told myself 'I cannot leave without saying a word to them.'"
According to the newswire, the pontiff told the Rohingya, "In the name of all those who have persecuted you, who have harmed you, in the face of the world's indifference, I ask for your forgiveness."
Last week, Ken Isaacs, vice president of programs and government relations at Samaritan's Purse, told The Christian Post that the Rohingya refugees in Bangladesh are "very grateful" for the help the evangelical humanitarian aid organization is providing. "They don't seem to have a problem."
The U.S.-based Christian group World Relief said last month that hundreds of thousands of people continue to face daily challenges to survive the fighting, while struggling to access food, safe drinking water, basic health care and safe shelter.
Muhammad Yunus, the 2006 Peace Prize laureate, recently sent a letter with the signatures of 12 Nobel laureates to the U.N. Security Council, urging it to take immediate action to stop the military attacks on civilians.
"The arguments that the Myanmar government is using to deny Rohingyas their citizenship are ludicrous," the letter said.
While Nobel Laureate Aung San Suu Kyi is the de facto leader of the country, the generals continue to control national security policy.