Christian Aid Group Helping Rohingya Muslim Refugees in Crisis, Talks Openness to Gospel (Interview)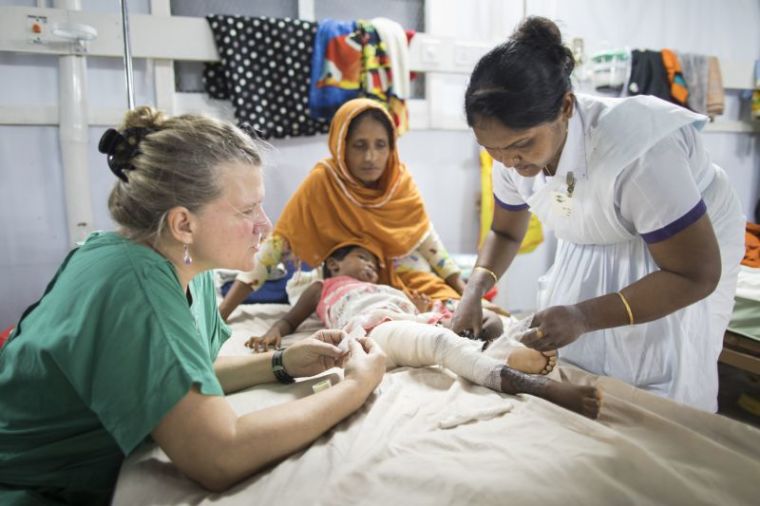 Samaritan's Purse, one of the largest evangelical humanitarian aid organizations in the world, has detailed its expanding efforts in Bangladesh to help suffering Rohingya Muslim refugees, revealing they've had positive interactions and sense an openness toward the Gospel.
Ken Isaacs, vice president of programs and government relations at Samaritan's Purse, told The Christian Post in a phone interview on Friday after returning from Bangladesh, where the relief group is providing medical aid and other assistance, that the aim for Christian aid workers is to be the hands and feet of Jesus Christ.
"I think that they are very grateful, they don't seem to have a problem. The atmosphere at the camp was not hostile. It was calm," Isaacs said about the Muslim refugees' reaction to being aided by a Christian humanitarian organization.
"I think that there is always an openness for the Gospel. I think that in closed populations, you need to be respectful, and you don't want to be alienating. But people respond to love and they feel love, and if that love is a genuine love, a Christ-driven love, they will see it, and they will have questions. These things open doors that no man can shut," he added.
Isaacs explained that he had the opportunity to share part of the Gospel with refugees there. He also told them about the parable of the good Samaritan, Jesus Christ, and Samaritan's Purse's mission.
"I think right now the important thing is to be there, to be the hands and the feet of Jesus, and I feel God gives opportunities and builds platforms," he said, even if "it may not be a platform [for] today or tomorrow or next week or next month."
Isaacs, who has more than 29 years' experience in international relief projects, revealed that some Christians inside Bangladesh "have been praying for the Rohingya for 50 years."
"So that's a long-term undertaking, and now that the Rohingya have come into Bangladesh, God has a plan. That is what I know," he said.
Over 620,000 Rohingya have fled to Bangladesh from Myanmar in the past three months as they continued to face torture, killings and rape. The United Nations and world governments argue that the violence against them appears to be ethnic cleansing.
Victims include men, women and children and human rights groups say the Myanmar army has burned down the ethnic minority's homes, driving them out of the country.
Faith leaders such as Pope Francis have also spoken out against the violence, calling the Muslim refugees "our Rohingya brothers and sisters."
But as The Guardian noted, he faces a difficult situation at the beginning of his three-day visit to Myanmar on Sunday.
The Buddhist-majority country has denied allegations it is carrying out an ethnic cleansing, with the government opposed to even using the word "Rohingya."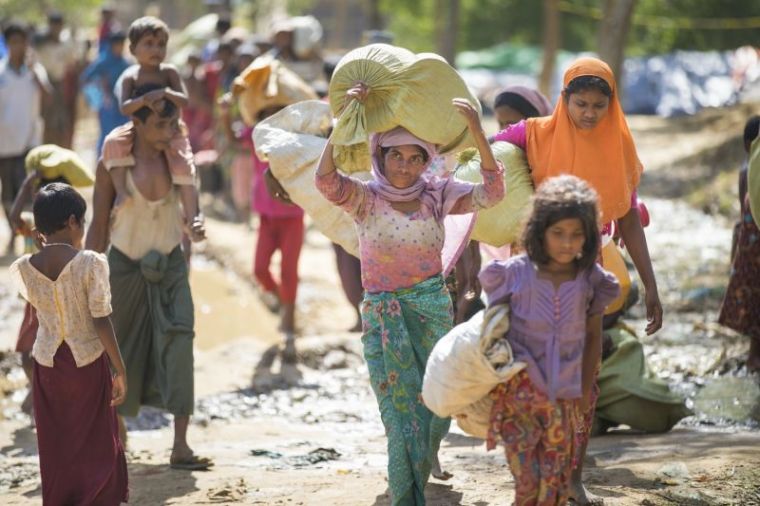 But the Muslim minority has been denied citizenship and has faced discrimination for decades in Myanmar, which does not consider the group part of the nation.
Tensions escalated to new heights in August when Arakan Rohingya separatists allegedly attacked police posts and a military base in Rakhine state, prompting retaliation from Myanmar's army, which has led to the most recent mass exodus.
Isaacs said that the relief group has heard tragic stories from the refugees, who say that the army burned down their markets and villages.
He has also heard from those whose relatives have been killed, as well as accounts of people being burned and children as young as 12, 13 and 14 years of age being taken in uncertain circumstances.
"I don't know if they've been trafficked or enslaved," or what could have happened to them, he said of the children. 
Samaritan's Purse has been working alongside other humanitarian groups operating in the region, including Christian organization World Relief, to help the Rohingyas.
Isaacs told CP that Samaritan's Purse is providing important medical help at a hospital to the Rohingya refugees who have made it into neighboring Bangladesh, and is preparing to open a surgical ward that will treat more people in need of urgent help.
"We're doing several things. There is a long-term Christian hospital in Malumghat that has surgical capabilities for complicated surgical cases," he said.
"There is a lot of trauma that happens to the people at the camps," he added, noting that many have been hit by cars or have conditions like bone infections.
Complicated cases that can't be handled by the local hospital are referred to Memorial Christian Hospital.
"We build a ward for the Rohingya with 24 beds, and we're now building a second ward and we're sending over surgeons, doctors, and nurses to increase the surgical capability," Isaacs explained.
The latest project was started about 12 weeks ago, and he noted that following the influx of refugees since Aug. 25, they have received a lot of patients with trauma from gunshots and landmines.
"That has decreased now, but there are still a lot of complicated orthopedic cases where they've crushed their hip or they've crushed their knee and have fractures to their arms and legs, and so that hospital is the only place that can really help."
Isaacs noted that Samaritan's Purse is in negotiations with the International Organization for Migration and the U.N. High Commissioner for Refugees over taking control of two zones in the refugee camps, which host in total between 40,000 to 60,000 people.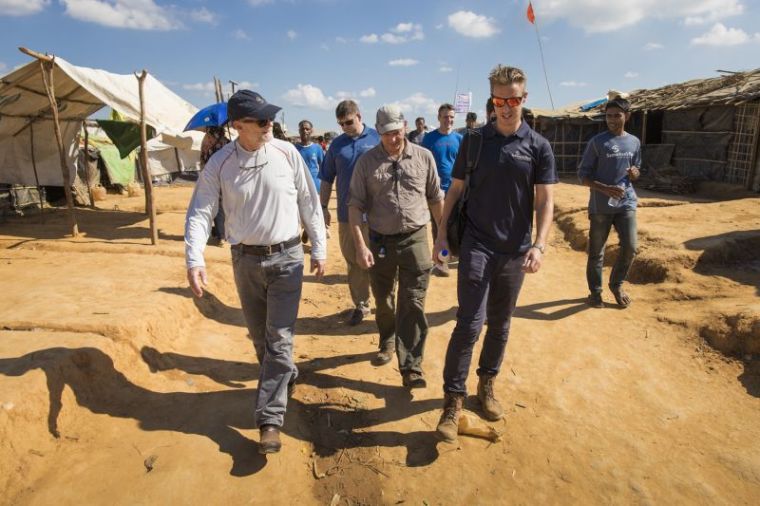 The relief group will be able to provide medical and nutritional care, which many of the refugees are in great need of.
The Bangladesh government is doing a "very good job" in hosting the refugees, Isaacs commented, noting that the army has been working there to build roads and provide other help.
Concern from human rights groups over the fate of the Rohingya has risen, however, with news on Friday that Bangladesh has signed a deal with Myanmar to start returning hundreds of thousands of the refugees within the next two months.
Amnesty International questioned whether a safe return for the refugees can be guaranteed. The U.N. refugee agency said that it hopes any agreement would "respect the right of refugees to return to Myanmar in a safe, voluntary, dignified and sustainable way."
Isaacs said that it is "hard for me to believe these people are going to go back like that, as they were so traumatized."
He doesn't believe the refugees will forcefully be sent back to Myanmar, but will be pressured to do so.
There are security and other big issues to be resolved, he insisted, as the Rohingya have been discriminated against for decades and have faced violence from not only the military but also by some of the Buddhist civilians as well.
"I don't know how they're going to work it out," he said of the U.N. and the other parties involved, "but it's going to be complicated. They will need to create some kind of environment that would induce people to go back, but not force them to go back."