New Video Shows Aftermath of Shooting Between Rival Pentecostal Church Members in South Africa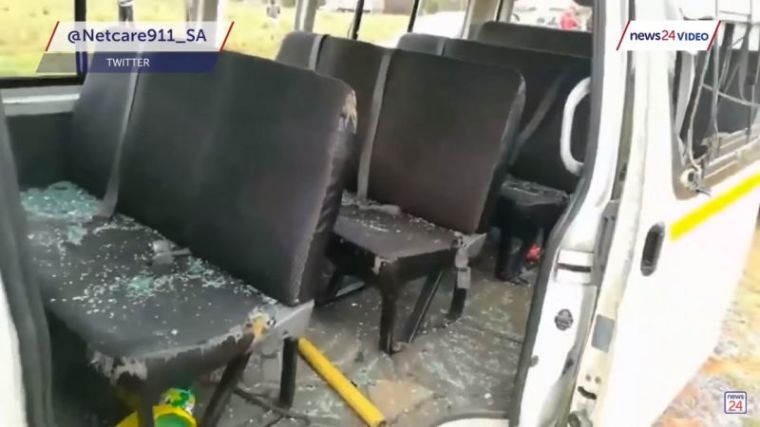 Footage of a shooting between two rival Pentecostal megachurch groups in South Africa has emerged a week after the violence destroyed 12 vehicles and left three people injured.
A video of the shot up and wrecked vehicles was posted by News24 on Tuesday, showing shattered glass and ripped up seats in cars and minivans outside the International Pentecost Holiness Church in Zuurbekom.
Gauteng police spokesperson Captain Mavela Masondo explained that the clash began on Thursday morning when one church faction arrived in a convoy and parked outside the worship building.
"As they were about to enter the church premises, another group which was inside the church charged at them. They confronted each other. During their confrontation, firearms were pulled out and three people were injured," Masondo said.
"One was shot in his shoulder. The three injured men were taken to hospital. We managed to seize loaded firearms," he added.
The attackers initially fled the scene, but then returned with over 100 black-clad security guards in an attempt to take over the church. They were blocked by police, however, who eventually forced both church factions to flee the area.
The 3 million-strong IPHC has been split apart in leadership battles following the 2016 death of Glayton Modise, who led the church for nearly 18 years.
Some church members said they were in shock at last week's shooting, which also reportedly included church members throwing stones at each other.
"All I could think about was God. God was with us because they fired many shots but only one person was injured," said one man, who wasn't named.
"God knows why this happened and He will avenge us," he added.
Another congregant claimed that the convoy of vehicles were attacked "for no reason."
"They just arrived in a large group, armed with guns, sticks and bricks, and charged at us. We then fled on foot, leaving our vehicles behind. They then damaged our cars and fired shots in our direction," he said.
SowetanLIVE reported that it was "business as usual" at weekend services at IPHC, though tight security was present to ensure order.
Guards stood at the entrance of the church while a private security patrol vehicle travelled up and down the road outside the worship building. A number of other police vehicles were stationed nearby.
Some church members who said they were from Limpopo, Mpumalanga, and Mozambique, also gave their version of the clashes on Thursday.
"We found the road closed with several vehicles. We got out of our vehicles to inquire what was happening and we were told that we have no right to be at the church. All of a sudden there were rocks being thrown. We started running once we started hearing the gunfire,'" said one congregant.
Watch footage of the shooting carnage below: