NewSpring Church Founder Perry Noble Announces Divorce From Wife of 17 Years, Asks for Prayers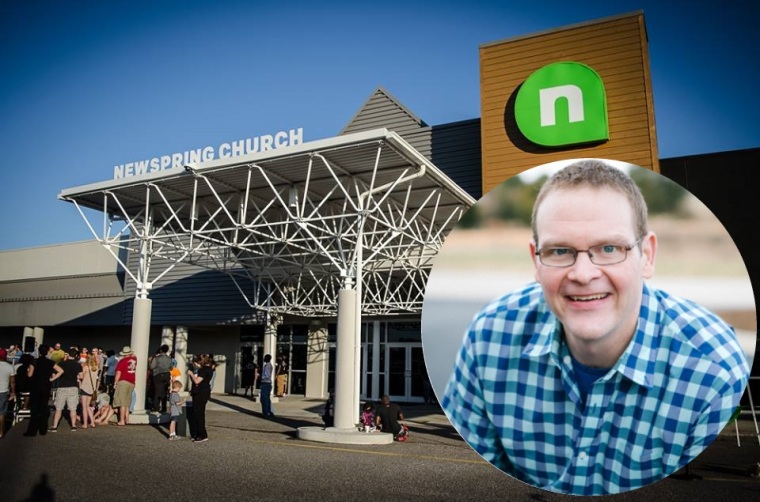 Popular founder of NewSpring Church in South Carolina, Perry Noble, who was fired in July 2016 for alcohol abuse and other "unfortunate choices and decisions," announced Wednesday that after 17 years of marriage he is getting a divorce from his wife, Lucretia.
In a statement shared with The Christian Post through his representative, Perry said he "never imagined" himself in this position.
"This is one of the most difficult things I've ever communicated and I understand it will be even more difficult for many of you to read. After being married for 17 years I have found myself in a place I never imagined I would be — as no one who has ever been married ever dreams in a million years that their marriage will one day end in divorce," Perry wrote.
"However, that is where I find myself at this point in time. I am doing my best to walk through this deeply personal and painful process with as much grace as possible," he continued before asking that the privacy of his family be respected at this time.
"I would ask for your prayers in this season as well as [I] humbly ask for privacy for my family in this matter as we work through this deeply personal situation," he said.
Commenting on Perry's firing last summer, NewSpring Executive Pastor Shane Duffey said they were forced to relieve him of his post at NewSpring.
"Over the course of several months our executive pastors met with and discussed at length with Perry these concerns regarding his personal behavior and his spiritual walk, Perry's posture towards marriage, increased reliance on alcohol and other behaviors were of continual concern. Due to this the executive pastors confronted Perry and went through the steps of dealing with sin in the church as outlined in Matthew 18," said Duffey.
"Because Perry chose not to address these ongoing issues and didn't take the necessary steps toward correcting them, he is no longer qualified as outlined in I Timothy 3 and the church's bylaws to continue as pastor of the NewSpring Church," he added.
After just seven months after his firing during which time he successfully completed a rehab program, Noble returned to the pulpit in February with the blessing of his friend and confidante, Steven Furtick of Elevation Church in North Carolina.
He also continued preaching at other churches while running a consultancy business called The Growth Company, which teaches churches how to grow.
Noble went on to file paperwork with the South Carolina Secretary of State to register a new spiritual venture called the Second Chance Church in July, but a week after he did so former colleagues of the ousted NewSpring Church founder declared him still biblically unfit to be a pastor.
And NewSpring's Teaching Pastor Clayton King explained why.
"We have been asked why Perry can preach at other churches but not at NewSpring. We cannot speak for other churches and how they make decisions. For us, Perry currently does not meet the biblical qualifications of a pastor, teacher, shepherd," King told the megachurch in what was described as a family meeting on July 21.
Noble, who has one child with Lucretia, later noted that he never felt qualified to preach at any point in his career and dismissed King's criticism as an unfair attack on his livelihood and the churches that have been hosting him.
"We're all sinful, we all fall short of the glory of God. But I feel like their characterization of me being unqualified was a direct assault on other churches who have invited me in to speak which was an attack on my livelihood, which I also felt was pretty unfair," Noble said.