North Korea Detains Korean-American Teacher in Pyongyang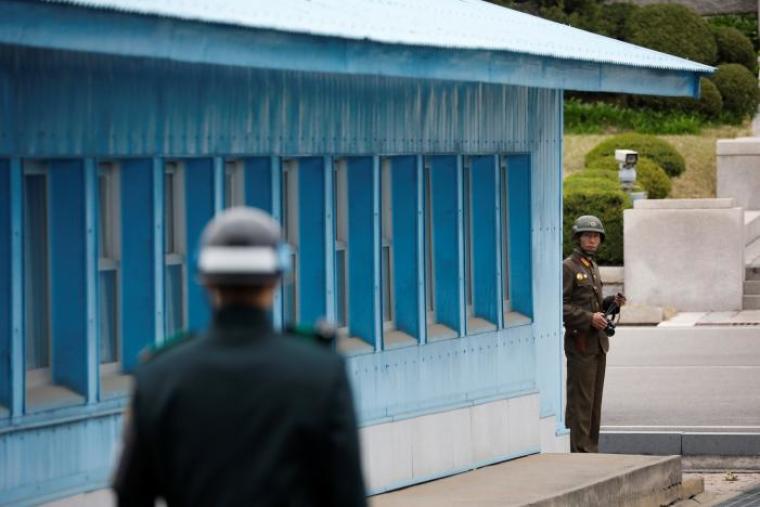 A Korean-American citizen, who teaches at a university funded by evangelical Christians and has reportedly been involved in aid and relief programs to North Korea, was detained at Pyongyang's international airport while trying to leave that country, according to reports.
Korean-American Tony Kim, who also goes by his Korean name Kim Sang-duk and is in his 50s, was leaving after having spent a month teaching an accounting course at Pyongyang University of Science and Technology. But the university's chancellor, Chan-Mo Park, said in a statement that the arrest was "related to an investigation into matters that are not connected in any way to PUST," Reuters reported.
"He had been involved with some other activities outside PUST such as helping an orphanage," Park said. "I sincerely hope and pray that he will be released soon."
The university, which is situated in a countryside outside of Pyongyang in a separate but close administrative region with permission required for access to Pyongyang, was founded by evangelical Christians. It opened in 2010, with students generally the children of the country's elite, and teaches subjects such as capitalism. Many of its volunteer faculty are evangelical Christians.
Kim is the third known American being held in North Korea. Last year, Otto Warmbier, a University of Virginia student, was sentenced to 15 years of hard labor in prison in North Korea after he "confessed" to trying to steal a propaganda banner. South Korean-born Kim Dong Chul, who is believed to have U.S. citizenship, is serving a sentence of 10 years for "espionage."
The Rev. Hyeon Soo Lim, a 60-year-old Canadian pastor who was born in South Korea, was arrested and given a life sentence of hard labor by a North Korean court in December 2015.
Lim is the pastor of the 3,000-member Light Korean Presbyterian Church in Mississauga, Ontario. Although he was visiting North Korea for a humanitarian purpose, state prosecutors accused him of using the "false pretense" of humanitarian aid to enter into North Korea to use religion in an attempt to overthrow the Kim regime.
According to Open Doors, between 50,000 and 70,000 Christians are suffering in labor camps in North Korea.
Last year, a report by Christian Solidarity Worldwide revealed that the communist government in North Korea has crushed Christians under a steam roller, hung them on crosses above raging fires, herded them off bridges and used other brutal forms of torture.
"Documented incidents against Christians include being hung on a cross over a fire, crushed under a steamroller, herded off bridges and trampled underfoot. A policy of guilt by association applies, meaning that the relatives of Christians are also detained regardless of whether they share the Christian belief."
Last November, Jung Gwang Il, a former North Korean political prisoner and founder of a South Korean-based, defector-led association that smuggles information about the outside world into information-deprived North Korea, sent Donald Trump a letter urging him to do eight key things when he got into office to help North Korean defectors and pressure the totalitarian Kim regime to end its systematic human rights abuses against Christians and others political prisoners.
Among his suggestions, Gwang said the U.S. should make human rights not "just one of the issues to be discussed, but the main issue on which all other relevant issues related to North Korea should be discussed." He also suggested that China should be pressured to stop repatriating North Korean refugees back to North Korea, where they are likely to be arrested, tortured and even killed for trying to defect from the country. Washington, he added, must "expedite the interview and vetting process for North Korean refugees who are in [third-world] countries who express a desire to seek asylum in the United States."