Octomom's Debt Breakdown; Owes Up to $1 Million
Nadya "Octomom" Suleman's Bankruptcy documents have been made public and the single mother of 14 reportedly owes between $500k and $1,000,000 to various creditors including DirectTV and Verizon Wireless it has been revealed.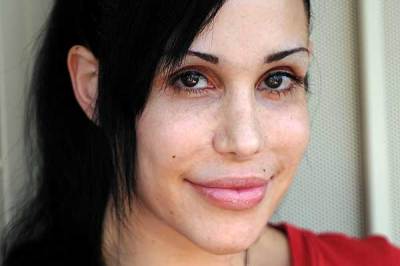 The 36-year-old filed for Chapter 7 Bankruptcy on Monday, weeks after her controversial decision to apply for welfare, and her creditors are listed below, according to TMZ.
Orkin Pest Control; William F. Turner Attorney at Law; Roberto Robles Gardening Services; Sparkletts (bottled water); Kaiser Permanente; The DMV; Farmers Insurance Group; Verizon Wireless; City of La Habra Water Dept.; So Cal Gas Company; So Cal Edison Company (power); Sylvan Learning; Superior Court of California; Whittier Christian School; and DirecTV.
"I have had to make some very difficult decisions this year, and filing Chapter 7 was one of them," Suleman said in a written statement Monday. "But I have to do what is best for my children and I need a fresh start."
Suleman now also risks losing her Orange County, Calif. home, which recently went into foreclosure.
"God forbid that we lose the house, I have a very good friend and her husband- huge house, and they're offering," Suleman told HLN's "Showbiz Tonight."
Although she had previously denied that she would ever act in adult films in order to support her children she recently signed a pornography film deal, but insists that she will not touch another "human's flesh."
WATCH VIDEO OF OCTOMOM'S FINANCIAL TROUBLES AND BANKRUPTCY
"I wouldn't even kiss somebody for money. I would not kiss somebody. I wouldn't touch somebody," Suleman told HLN's Nischelle Turner.
"If it's a job, and it's a well-paying job, and it's going to allow me to get us out of here and into a very safe huge home that they deserve, then I'm going to do it!" she said.
Suleman was recently suspected of welfare fraud after her hair stylist revealed that she recently paid $520 for hair care services despite claiming that she is broke and applying for welfare assistance.