'Outlander' Season 2 Has Jamie Fighting Black Jack & Stalling the Jacobite Rising in France
In Season 2 of the time-travelling fantasy "Outlander," Jamie has got a handful of things to do. Just out of Wentworth Prison, Jamie tries to stop the Jacobite Rising that has engulfed France and meets his old nemesis, Black Jack, who was presumed dead.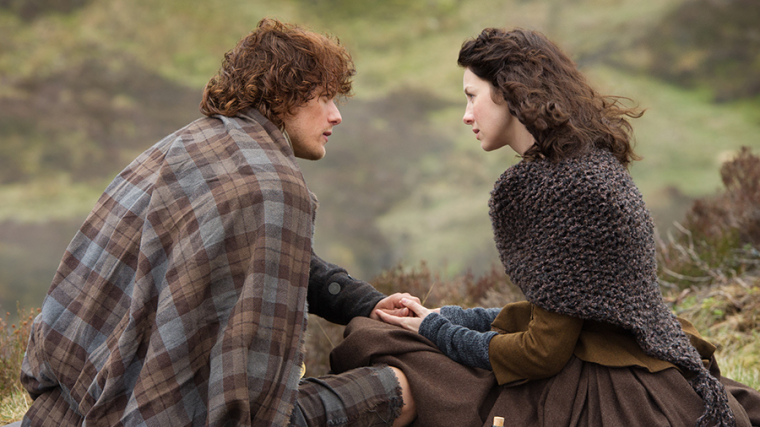 Even though Season 2 of "Outlander" is scheduled for release sometime in 2016, rumours and speculations are abound about the plot. It is now known that in the upcoming season, Jamie and Claire will travel to France.
Recently, some leaked pictures from the sets of "Outlander" Season 2 show Sam Heughan and Tobias Menzies shooting some fighting scenes together in Scotland. This confirms that the dreaded Black Jack is back from the dead. This also means that Season 2 will move back to Scotland during its second half.
The pictures were taken at Pollok Country Park in Glasgow where the filming took place and was posted on Scotland Now. In them, Jamie, played by Sam Heughan, and Black Jack, played by Tobias Menzie, are fighting a fierce battle with swords.
Scotland Now reported while posting photos of Menzies and Heughan that "The cast and crew were filming the much anticipated encounter between Jamie Fraser and Black Jack Randall, following their dramatic confrontation in the finale of the show's first season."
In the Season One finale of "Outlander," Jack was brought down but viewers did not know his fate. He must have recovered and followed Jamie and Claire to France this season to exact revenge.
If Jamie and Claire travel through time to France, Tobias Menzies will also do the same stunt. He will play the role of the 20th century's Frank Randall as well as his 18th century ancestor, Jack Randall, in France.
It is also confirmed the first part of Season 2 of "Outlander" will be set in France and will return to Scotland during the latter part.
Based on the book "Dragonfly in Amber" by Diana Gabaldon, the second season of "Outlander" is expected to air sometime in 2016.