Paige Patterson Returns, Blasts Women Who Falsely Accuse Men in #MeToo; Accused of 'Body-Shaming'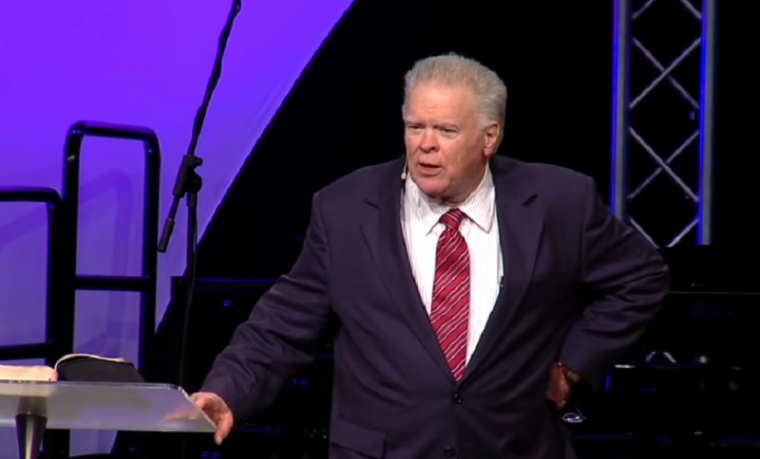 Ousted evangelical leader Paige Patterson returned to the pulpit last week, where he blasted women who falsely accuse men in the #MeToo movement.
Writing for The Washington Post, journalist Jonathan Merritt reported on Patterson's return to preaching last week at a revival in Pisgah, Alabama, months after he was ousted from the Southwestern Baptist Theological Seminary in Texas over allegations of mishandling sex abuse.
Patterson resigned from his position as president of SWBTS in May following numerous controversies, including comments made in 2000 about how the Bible sees women and why spousal abuse isn't grounds for divorce.
Last week, he preached on the biblical story of Joseph, who was falsely accused by an Egyptian woman of sexually abusing her.
The 75-year-old preacher then talked about the current movement in society where various male leaders in church, in politics, in Hollywood, and other institutions are being accused of abusing women.
"I'm all in favor of the #MeToo movement when there is a guilty party," Patterson said, insisting that men who abuse women are cowardly.
"By the same token, I have nothing good to say about a woman who falsely accuses a man. She runs the risk of ruining a life. She runs the risk of causing sorrow unknown when the person is, in fact, innocent," he added, however.
Merritt, son of former SBC President James Merritt, criticized Patterson for focusing on the latter, noting that studies have shown that false accusations of sexual assault make up only two percent against the 98 percent epidemic of real abuse.
Merritt also took aim at what he said was Patterson "body-shaming" a woman in another anecdote, where the former Southern Baptist leader talked about meeting a parishioner's mother.
Patterson, who said that he was able to persuade the woman to convert to Christianity, made several jokes about her weight, such as that she "filled the door," and that when she came to his church for baptism, they had to "fill the baptistery half full."
"She was not just fat. I mean to tell you what: I think she pumped iron probably an hour or so a day," he added. "She literally could have played guard for the Green Bay Packers."
Merritt argued that body-shaming women is not uncommon in American evangelical Christianity.
"But it is an especially inappropriate, even befuddling, choice of material for Patterson (who was coincidentally speaking in a state with the nation's third-highest obesity rate). After all, the furor that led to his demise was partially sparked by a sermon in which he objectified a 16-year-old girl's physical appearance," he added, referring to further comments that Patterson was criticized for earlier this year.
Patterson, who at the end of May lost his title of President Emeritus at SWBTS, was also accused of failing to report a rape allegation by a female student in 2003 to local law enforcement. The SWBTS board of trustees insisted that he lied about the situation, which led to his ousting.
Prominent Christian writers and speakers who have spoken out against sex abuse slammed on Twitter Patterson's remarks in the latest sermons.
Public speaker and abuse victim advocate Ashley Easter called the body-shaming accusations "disgusting."
Speaking of The Washington Post article as a whole, former Olympic gymnast and evangelical Rachael Denhollander, said that it highlights "the deep problems in evangelical culture with misapplying truths of redemption." Denhollander helped expose the sexual abuse of Olympic gymnast doctor Larry Nassar and testified against him in court. She has also been outspoken about the sexual abuse scandals at Sovereign Grace Ministries. 
Carmen Fowler LaBerge, host of The Reconnect, added: "My evangelical brothers, please, I beseech you, stand up, step up and speak up. Accountability is needed and it is needed now. You know that in the SBC a woman can't call Paige Patterson to account. You can."
Some Christian theologians, such as Norman Geisler, the Chancellor and the Distinguished Professor of Apologetics and Theology at Veritas International University in Santa Ana, California, and Distinguished Senior Professor of Theology and Apologetics at Southern Evangelical Seminary in Charlotte, North Carolina, have argued that SWBTS made serious mistakes in the way it treated Patterson, however.
Geisler said in an op-ed in The Christian Post in June that Patterson did "noting worthy of being fired."
"No biblical grounds were given, let alone, seriously considered. There are numerous Christian leaders who have committed sins worthy of discipline. Patterson is not one of them; he hasn't committed any such sins. On the contrary, he has done many things worthy of exaltation. In fact, he is one of the top conservative Christian leaders of our day," he wrote at the time.
"Many who opposed Dr. Patterson were apparently caught up in winds of the #MeToo movement of the day. But no doctrinal or moral charges were even offered, let alone proven by two or more credible witnesses against him," he added.