Paige Patterson Fired Over Lies, Rape Victim Comment, He Would 'Break Her Down,' Trustees Chair Says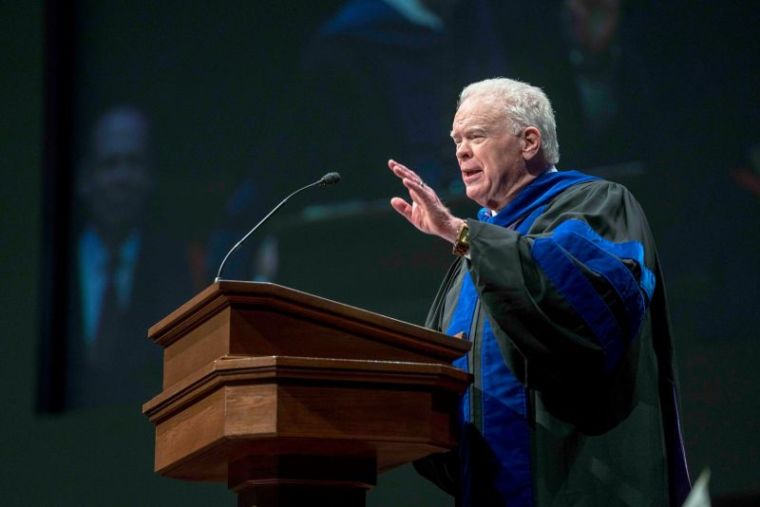 Dr. Paige Patterson, former president of Southwestern Baptist Theological Seminary, was fired because of a new revelation that he lied about how he handled sexual assault allegations by a student and wanted to meet an alleged rape victim all alone so he could "break her down," the school's board explained.
The decision to immediately terminate the 75-year-old Patterson, who had previously also served as president of North Carolina's Southeastern Baptist Theological Seminary, was "prayerfully considered and warranted" as well as "clear and unanimous," says Kevin Ueckert, the chair of the SWBTS board of trustees, in a statement.
Patterson failed to report a rape allegation by a female student at SEBTS in 2003 to local law enforcement, and later when asked by the board about it, Patterson lied, the statement suggests.
It adds that another female student at SWBTS reported to Dr. Patterson that she had been raped in 2015. "Police were notified of that report. But in connection with that allegation of rape, Dr. Patterson sent an email to the Chief of Campus Security in which Dr. Patterson discussed meeting with the student alone so that he could 'break her down' and that he preferred no officials be present."
Ueckert says Patterson's attitude in that email is "antithetical to the core values of our faith and to SWBTS." Further, he adds, "the correlation between what has been reported and also revealed in the student record regarding the 2003 allegation at Southeastern and the contents of this email are undeniable."
The victim's attorney, Stuart Cochran, further revealed that Patterson told the 2015 victim it was a "good thing" she had been raped and that her future husband wouldn't care if she was a virgin or not, according to the Star-Telegram. "He threatened to sic lawyers on her (mother) for questioning his leadership at the school when she asked why the assailant was allowed on campus."
"SWBTS denounces all abusive behavior, any behavior that enables abuse, any failure to protect the abused, and any failure to safeguard those who are vulnerable to abuse," Ueckert says.
Patterson initially only retired last month in response to several controversies, but the new revelations led the board to fire him.
Responding to the controversy, evangelist, author and Bible teacher Beth Moore tweeted:
"Break her down." —Mortal Man

"Raise her up." —Son of

God Taking her by the hand He said to her, "Talitha Cumi" which means, "Little girl, I say to you arise." Mark 5:41 
Russell Moore, president of SBC's Ethics & Religious Liberty Commission, wrote Saturday, "It's time to believe the Bible, and to do what it says... It's time to love Jesus, and to protect those he loves... It's time to care about character, not about power or 'influence.' ...It's time for a reformation in the SBC."