Pastor Barred From Leading Georgia School Football Team in Prayer After Complaint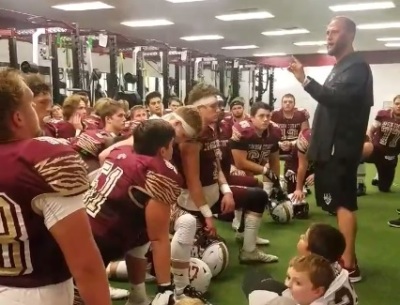 A Georgia pastor is no longer allowed to lead a public high school football team in prayer after a video of one of his prayers was seen by thousands online.
Dawson County Schools has responded to a complaint from one of the nation's largest atheist legal groups by barring Pastor Russell Davis from leading the Dawson County High School football team in prayer.
The decision comes as a video of Davis praying with the Falcons players and coaches was posted to Facebook on Sept. 7 and has been seen over 73,000 times as of Thursday afternoon. In the video, Davis prayed for the players to be able to "unite people together" and to know that God has purpose in their lives.
"The Word says when they came out they compelled Him to carry the cross, and then Jesus went to the hill and He won victory on the cross," Davis says in the video. "Your goal tonight is not to die on the cross. It is not to die on the field of battle. We're calling you out tonight to carry their cross."
The Wisconsin-based Freedom From Religion Foundation, which advocates for a strict separation of church and state, sent a letter to the school district's attorney on behalf of a concerned resident about two weeks after the Sept. 7 post. 
FFRF legal fellow Christopher Line argued that Davis' prayer with the team was unconstitutional and violated the Establishment Clause of the First Amendment. In response, Line received a letter on Monday from school district attorney Philip Hartley.
"The district is committed to complying with the principles set forth in the First Amendment including the Establishment Clause while protecting the rights of students to exercise their freedom of religion rights under the Constitution," Hartley wrote.
"The Superintendent has spoken with appropriate individuals and employees and is confident that any prayer in a school setting that involves students will be voluntary, student initiated and student led so as to protect the rights of all students in the district. This appl[ies] to staff as well as volunteers."
Davis, a pastor at Etowah Church in Dawsonville, had been listed as "character coach" for the team on the team's website, according to Dawson County News. However, his title on the team's website now labels Davis as a "volunteer."
Davis had previously stated on his Twitter page that he was a "chaplain," according to 11Alive.com. Davis' Twitter bio now just states: "Jesus follower. Husband. Daddy. Pastor. Encourager." His Twitter bio no longer references @football_dawson.
"We believe that our coaches have an understanding of those guidelines and will abide by them," Superintendent Damon Gibbs told the Dawson County News in an email.
The Christian Post reached out to Gibbs and Hartley for clarification on the school district's prayer policy. Responses are pending.
Davis politely declined to comment for this article.
FFRF Co-President Annie Laurie Gaylor said that she is "pleased" with the school district's decision.
According to Dawson County News, the players decided to pray without coaches in the Tigers' first game against rival Lumpkin County High on Sept. 21 after the school district's decision. The Tigers beat the Indians that night 36-3.
The district's decision to bar Davis from leading students in prayer comes after an Oklahoma school district put in place new procedures earlier this year to prevent a pastor from leading the Putnam City High football team in prayer.
Pastor Mike Keahbone of Cherokee Hills Baptist Church had become the chaplain of the Pirates football team. Keahbone took an interest in the team around 2016 when he learned there were some players whose parents wouldn't be at the games.
In September, the Blount County School District in Alabama banned pregame prayer over the loudspeakers before the start of football games. A community responded by reciting the Lord's Prayer at the next football game.
FFRF, which claims to have 32,000 members nationwide, regularly pressures schools and local governments to distance themselves from any perceived government entanglement with religion.
Last month, Canton Public Schools in Massachusetts announced that it would no longer allow prayer at school-sponsored events after the FFRF complained about the Rev. John Tamilio III of the Congregational Church of Canton being invited to give a prayer at the 2018 Canton High School graduation ceremony last spring.