Town Recites Lord's Prayer, Wears 'We Believe' T-Shirts After Prayer Banned at Football Games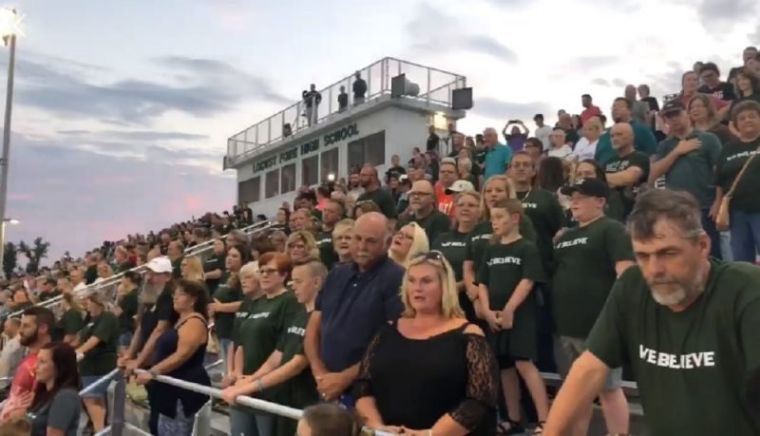 An Alabama school district has banned prayer over loudspeakers before the start of high school football games and Christian residents have responded with a T-shirt campaign and a mass recital of the Lord's Prayer.
Last week, the Blount County School District put an end to the practice of allowing a student or volunteer offer a communal pregame prayer over the public address system before high school athletic events after a complaint was filed by the Wisconsin-based atheist group Freedom From Religion Foundation.
Under a new policy, a nondenominational secular moment of silence will replace the pregame prayers before the playing of the national anthem.
Superintendent Blount County Schools Superintendent Rodney Green told CBS 42 that the policy change was made after the district's lawyers were consulted about the complaint. FFRF had argued that having a prayer over the loudspeaker for the whole stadium to hear was tantamount to a government endorsement of religion and a violation of the Establishment Clause of the First Amendment.
Many in the community were not pleased by the news and have responded with their own initiative to keep prayer and faith included in the games.
Gregg Armstrong, a parent of a Locust Fork High School student and the county revenue commissioner, vowed to a local ABC News station after the announcement last week that he and other Christians around the county would say the Lord's Prayer in unison during the moment of silence.
"We are not doing this by any way to be negative or anything like that," Armstrong explained. "We are just doing this with love and doing what we feel like God has called us to do. I believe if you have 1,000 people in those bleachers saying the Lord's Prayer vocally, not over a PA system, that is probably going to be a little bit more moving than just one person praying."
The Lord's Prayer initiative prompted area churches to ban together to create "We Believe" T-shirts.
According to AL.com, a sea of people wearing green "We Believe" shirts was seen at last Friday's Locust Fork's home football game. On the front of the shirt reads the words "We Believe." On the back are the words to the Lord's Prayer as written in Matthew 6.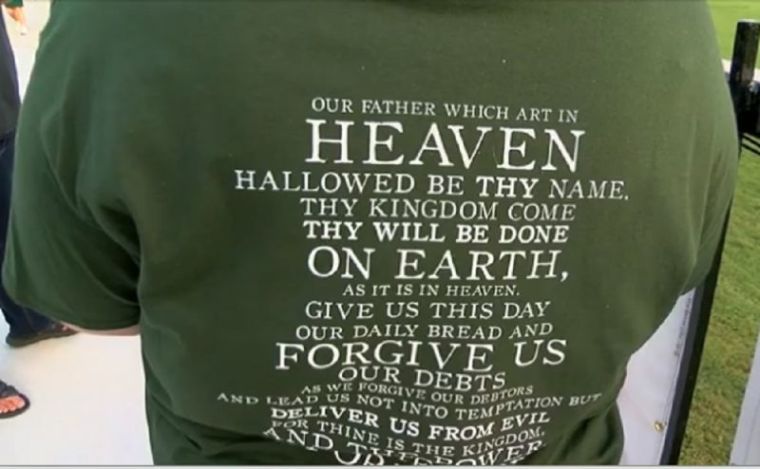 Over 1,000 shirts were made and given to the public for free before the start of Friday's game. They were paid for by five area churches: Locust Fork Baptist Church, Grace Community Baptist Church, Turning Point United Methodist Church, Pine Bluff Baptist Church and Edgewood Baptist Church.
An online video shows a spectator leading the crowd at the Locust Fork game by reciting the Lord's Prayer through a megaphone.
"I've never been more proud," Armstrong, who is also the minister of music at Locust Fork Baptist Church, told AL.com.
Armstrong added that there were also about 300 to 400 people who requested a shirt that were not able to get one. Armstrong explained that more shirts will be made in each of the Blount County school colors and will be ordered and sold for $5 each.
"[The shirts] mean that we are standing up for our Christianity and that no one can really stop us even if they try and put a lawsuit against us, it doesn't mean anything," one child named Kayla told WVTM 13 during the game. "We can still stand up for our Christianity."
Critics of the school district's decision include Roy Moore, Alabama's former chief justice who unsuccessfully ran for Senate in 2017 and was accused of sexual misconduct with teenagers when he was in his 30s.
Moore argued at a news conference in Montgomery last week that it's constitutional for students to pray over the loudspeaker before games as long as it's done so free of influence from school officials.
The Foundation for Moral Law, run by Moore's wife, Kayla, sent memos to all Alabama school districts last week, AL.com notes.
"As in every autumn, Alabamians are caught up in the enthusiasm of the football season. The competing teams, the cheerleaders, the band, the halftime performances, the crisp autumn evenings — it all comes together as a cherished and exciting tradition highlighted by prayer to God for protection of the football players, students, and those traveling to enjoy the event," the memo explains.
At the news conference, Moore cited a 2001 ruling by the U.S. Eleventh Circuit Court of Appeals in the case of Adler v. Duval County School Board.
The court's majority opinion stated:
"While school officials may make private religious speech their own by endorsing it, schools do not endorse all speech that they do not censor. We cannot assume ... that Duval County seniors will interpret the school's failure to censor a private student message for religious content as an endorsement of that message..."