School District Halts 'Teacher-Led' Christian Student Club After Atheists Complain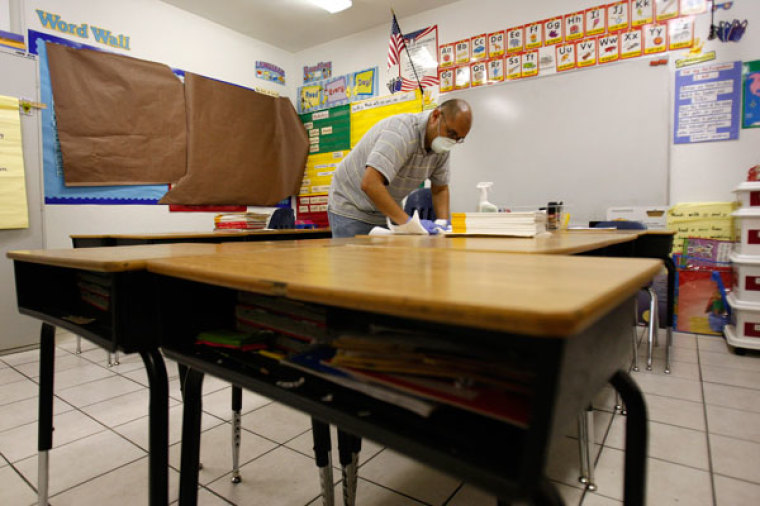 An Indiana public school district says it will no longer allow teachers to lead an extracurricular Christian club for elementary school students.
The Evansville Vanderburgh School Corporation has responded to pressure from the Wisconsin-based Freedom From Religion Foundation, which complained earlier this year about the existence of the Fellowship of Christian Students club that met at Daniel Wertz Elementary School.
FFRF initially sent a letter arguing that the FCS, which was being led and organized by three district employees, violates the Establishment Clause of the First Amendment.
The school district initially responded to the atheist legal group with a letter in April from EVSC Chief of Staff Rick Cameron which explained that the club doesn't pay rental fees to the school district because it "is a faculty-sponsored club similar in form and function to a chess club, a soccer club, or the GSA (Gay-Straight Alliance.)"
In a May 11 letter, FFRF attorney Ryan Jayne further argued that the three school officials leading the club used their positions and school resources to promote the club and even sent out a flyer and posted on social media.
"This club is undeniably school-sponsored," Jayne argued in his letter. "It would be disingenuous to argue that the club is student-initiated or student-run, especially given the young age of the students at Daniel Wertz Elementary."
The legal group again pressed the issue in correspondence dated from July 16.
Last Tuesday, the school district's attorney, Patrick Shoulders, sent a letter to Jayne suggesting that teachers will no longer lead the FCS group. The letter states that "no school in the Evansville Vanderburgh School Corporation will have a teacher-led Christian students club in the academic year 2018–2019 or thereafter."
"The EVCS will continue to comply with all federal and state laws governing clubs and organizations meeting on school property," the letter from Shoulders adds.
Although FFRF praised the school attorney's letter as proof it "convinced an Indiana elementary school to refrain from holding a teacher-led religious club," the school corporation objected to the characterization of Shoulders' July 31 letter.
"The Freedom from Religion Foundation has grossly misrepresented EVSC's response with their recent statement," EVCS Chief Communication Officer Jason Woebkenberg told The Christian Post in an email. "While we certainly understand the separation of church and state, the EVSC confirmed the right of students to express their religious beliefs in three separate communications with this organization. Understandably, adult supervision is an appropriate and necessary expectation whenever students gather in our schools."
Woebkenberg added that there are students and parents who are interested in continuing FCS meetings at the school. 
"School employees who are present will serve in a supervisory role," he said. 
FFRF, which advocates for a strict separation of church and state, regularly pressures public schools and government agencies to end actions it deems to be a government entanglement of religion.
Last year after FFRF sent a letter, a Georgia public school district issued a districtwide legal guidance to prevent a high school football coach leading the team in prayer. However, the coach was allowed to be present for the team prayers in a supervisory capacity.
Earlier this year, FFRF was successful in getting an Illinois public school district to bar a principal from inviting parents to participate in an annual prayer gathering.
In January, another Illinois school district rejected FFRF's request that it bar a pastor-led lunchtime leadership program for middle and high school students.
FFRF and other secular legal groups have been at the forefront of pressuring public school districts to prohibit coaches and other faculty members from being able to pray with their students.
One of the most notable cases is that of coach Joe Kennedy, who was dismissed from his head coaching job at a high school in Washington state because of his insistence of dropping to his knee in prayer at the end of games.
After Kennedy lost his appeal at the Ninth Circuit Court of Appeals in Seattle last year, the coach and his lawyers filed an appeal with the United States Supreme Court in June. There is no indication yet if the Supreme Court will hear the case.
Famed college football coach Bobby Bowden is among many influential voices who filed briefs to the Supreme Court, urging the high court to take up Kennedy's case. Other briefs were filed by members of Congress, the Billy Graham Evangelistic Association and 12 state attorneys general.