Coaches 'Don't Have to Flee' During Student-Led Prayer, East Coweta Football Coach Says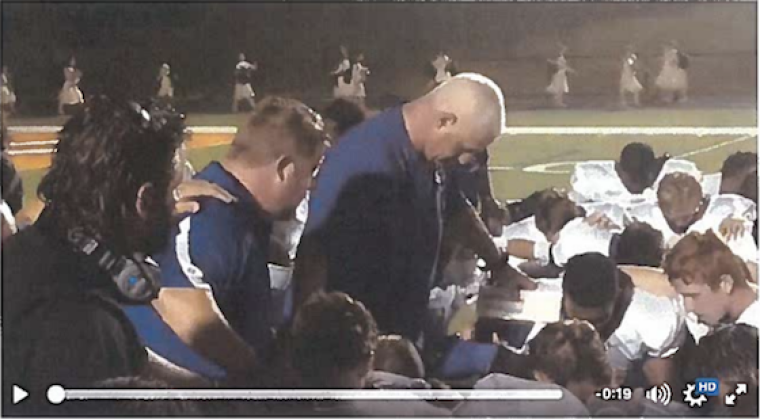 A high school football coach in Georgia who recently found himself at the center of a prayer controversy has assured that he and his coaching staff have not been banned from being with their players during team prayers.
John Small, the head football coach at East Coweta High School, told The Christian Post on Monday that he and the other East Coweta football coaches are in no way at odds with Coweta County School System Superintendent Steve Barker or the school board after a memorandum on "prayer in school" was issued in late October, explaining that staff "cannot participate in any student initiated/student led prayer or worship while acting in their official capacity."
Although the memorandum, which was obtained by CP, states that coaches can't participate, "bow their heads" or commit any other act that would "manifest approval" during student-led prayer, Small told CP that he and his coaching staff are not being forced to dissociate themselves when their student-athletes huddle in prayer before games.
"We are not allowed to be in the middle of it but we have a right to be there with our players. We don't have to flee [the scene]," Small explained. "If my head is bowed, nobody can tell me what I am thinking. I am not leading the prayer. I am there supporting my kids. Whether I am praying or not, nobody can say I am or I ain't."
The Oct. 30 guidance, which was drafted by school board lawyer Nathan Lee, came after Barker received a letter from the nation's largest secularist legal organization, the Freedom From Religion Foundation, complaining about Small's involvement in team prayer.
The letter included a screencap of a video that shows Small putting his hand on a player's shoulder and bowing his head as the team prayed before a game. The FFRF complaint argued that coach participation in prayer violates the Establishment Clause of the First Amendment to the United States Constitution.
In the interview with CP, Small explained that he has consulted religious freedom advocacy groups like First Liberty Institute and feels confidently that the guidance issued by the school system does not violate his rights as an employee of the school district and is in line with federal law.
"I can assure you, if I felt like our rights were violated, I would be the first to stand up to them and say, 'That's wrong,'" Small said. "They have my full support and I know they have been through a tough time."
"Our board, our superintendent and our coaches, they are all on the same page. There is nobody here that is against each other. Leadership is a tough position and you are not going to make everybody happy. But at the end of the day, I don't feel like our rights were violated at all by the stance our county took," Small added. "Even though we don't like the law, it is what it is and we are supposed to be obedient to that as well."
The guidance issued by the school system and the ensuing media coverage has caused quite an uproar in the Coweta community.
The Fellowship of Christian Athletes will be hosting a community prayer rally on Thursday night inside of East Coweta's Garland Shoemake Stadium.
"In the community, there is as a lot of people that wanted to join up and have a community prayer. We are obviously under attack all the time. This battle is not a fleshly battle. This is a battle against 'principalities of darkness.' That is what the word says," Small explained. "FCA is sponsoring prayer rally here at the school and anybody can come and anybody can be a part of it. It is just a great way for the community to get together and come together."
Rob Brass, an FCA director in the southwest metro Atlanta region, told CP that FCA's decision to hold a community prayer rally at East Coweta was "a natural reaction for us as followers of Christ."
"As coach said, this is a spiritual war. The first thing we are called to do is to pray. With all the misinformation and misunderstandings out there, we want to pull our community together in unity to pray for what's going on here," Brass said. "We don't like coaches not being able to pray with their players. That is clear. But if that is the way that it has to be, what it does is it forces, in some ways, our kids to step into that leadership role and take the movement of Christ and carry that banner forward themselves. Part of the beauty of this whole thing is that the kids are stepping up and leading."
"The rally really is not an end game. It's a launching pad into this next season of what we are entering into," Brass continued. "We want to make sure that the kids know that they have the keys to drive this thing — full ownership."
The players on the East Coweta High School football team have already taken ownership of the team's prayer tradition. In the first game after the prayer guidance was issued by the school system, East Coweta football players gathered near the hometown stands to pray with the audience before the game.
"Our students have done a great job and our students took it upon themselves to organize a prayer with our students in the stands before the game. Instead of it being 100 players praying, it turned into 400 students praying. That's their right and we are going to support them in that," Small said. "I think what is happened with this organization [FFRF], whatever their intent was, you tell teenagers they can't do something, surely they are going to do it. It has really turned into a positive because at the end of the day, we are trying to teach students about leadership and they should be the ones taking the charge on it anyway."